Tranquility Scents Wax Melt Reviews
December 19, 2020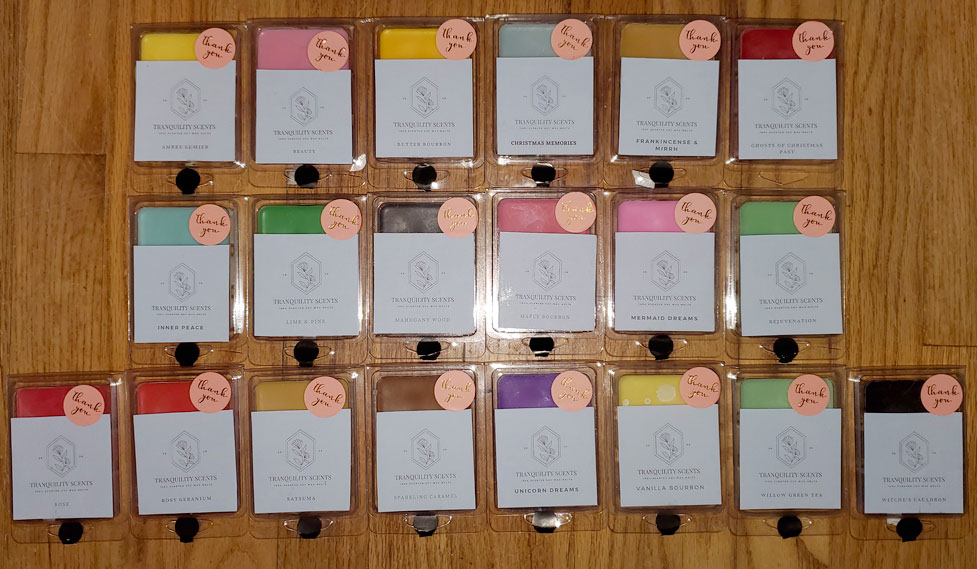 This is a review of Tranquility Scents wax melts. Tranquility Scents is an independent wax melt company that started in 2020. Their website is https://www.etsy.com/shop/TranquilityScentsUS, and they're also on Facebook.
Tranquility Scents wax melts are available in decorative clamshells (but you can request them plain and undecorated) and a variety of shapes. They're made with 100% soy wax which has no additives, stabilizers or inhibitors, and the fragrance oils they use are safe for skin and pets.
We enjoyed these wax melts. Customer service was fantastic. The labels are classy and minimalist; they were even sealed when we got them, which was a nice touch! The scents were quite nice. Throw on average leaned towards strong. The consistency of the wax was smooth but hard, not soft or crumbly like many soy wax melts. The cubes were unusually easy to break apart, and did so smoothly and cleanly, which was a nice plus.
Ambre Lumier
Exotic earthy fragrance. It opens with a subtle citrus sparkle which is followed by notes of earthy moss and oriental florals and finished with an amber, vanilla-musk, and Indonesian patchouli dry-down
This smells like amber perfume, caramel, vanilla, a hint of candy, and a smidgen of patchouli. Melted, I smell more of the amber and the patchouli, and it becomes more "incensey". Looking at the notes, I don't detect any citrus. It's an incredible scent!
Beauty
A luxurious mingling of lavender and lily blended with a hint of citrus
A nice, relaxing combination of lavender and a floral (rose? peony?). It's sweet but not overly sweet, and not a perfumey floral. Very nice.
Butter Bourbon
A sweet blend of buttercream and vanilla
I smell sweet vanilla buttercream... and chocolate! It's not a stinky, harsh chocolate, and it's kind of subtle, like a milk chocolate birthday cake with white frosting, or white chocolate. Yummy! I don't detect bourbon, and interestingly there's no chocolate in the scent notes.
Christmas Memories
Fruity spicy bouquet with cinnamon, clove, nutmeg and juniper notes with a sweet musky background
A very nice holiday scent that smells like cinnamon and cloves with a sweet apple note and just a smidgen of pine. It's not an intense red hot cinnamon, and it might have another fruit in it besides apple (or maybe even a bit of a floral). Melted, I smell mostly pine and smoke, with just a hint of cloves, and the cinnamon disappears.
Frankincense & Myrrh
Sandalwood and cedar wood are blended with nutmeg and ginger
A wonderful incensey scent that smells like Nag Champa with a hint of wood and smidgen of cinnamon. Different and very nice!
Ghosts of Christmas Past
Christmas tree scent with notes of citrus and fresh green pine, spice clove and cinnamon, and the dry down of cedarwood and caramel musk
A wonderful warm fragrance of sweet cloves, smoke, a bit of pine, and just a hint of cinnamon. The smoke is a nice, slightly hickory type smoke, but it's not overwhelming. Fantastic scent! Looking at the notes, I don't smell citrus.
Inner Peace
Soft and clean yet warm, inviting scent
This smells like fabric softener mixed with oceany water. It's soft and a little bit sweet (not as sweet as most fabric softeners), with a little bit of a laundry note (but not a harsh detergent note). It's a nice, relaxing scent that might have a smidgen of lavender even though I don't smell lavender per se.
Lime & Pine
Delightful blending of lemon and lime zests followed by a holly green middle note and finished with a woody pine base note with hints of cedar
A fantastic blend of sweet lime syrup and woodsy pine. It sounds like an odd combination, but pine blended with any other scent almost always ends up smelling great. This is an almost even blend of both scents, maybe 60% of the lime and 40% of the pine.
Mahogany Wood
Rich woody blend with notes of cedar and sandalwood
I thought based on the name that this would be a woodsy men's cologne scent, as many of those types of scents share the same name. But this is different from anything I've ever smelled, and I like it! I smell oud wood (a deep intense tarry woody scent with a hint of patchouli) with a burnt barbecue type note, which I normally wouldn't like but it really works for this scent. It's sweet, with maybe a bourbon or burnt caramel note. And it's quite smoky, kind of like an ashtray, which sounds terrible, but all the notes blend together to make this a very nice, very unusual scent.
Maple Bourbon
Rich vanilla, crisp apples and maple infused with bourbon
A yummy scent of butterscotch, caramel and maple with a rich buttery note. It also has an apple note, but less than most caramel apple scents, which makes this a bit different, in a good way. I don't actually detect any bourbon notes, although that might be what's contributing to this scent's richness. I love this one!
Mermaid Dreams
An enchanting combination of marine accords, sea moss, citrus fruits and water mint with a hint of magical tropical flowers and a subtle base of vetiver and cedar wood.
An oceany water scent with a hint of garden mint. It's only a little bit sweet on cold sniff and smells a bit like
ScentSationals Zen
. Melted, it has barely any sweetness and has a little bit of a musty note. It's just an okay scent for me.
Rejuvenation
Relaxing lavender mint scent with hints of floral
This smells like green grass, garden mint, and rose. It's a little sweet but more of an herbal scent than a floral. Looking at the notes, I don't really smell lavender. It's nice, and different!
Rose
Very tender and realistic rose scent
It's rose, what else can I say? It's a nice rose scent too, a bit like a tea rose, not perfumey and only a little bit like rose-scented soap. It even has a smidgen of bitterness that makes it kind of authentic. I like it.
Rosy Geranium
Genteel delicately provocative rose notes perfectly balanced with the geranium leaf
This smells just like the Rose scent to me. I don't notice a difference. Geranium has a very bitter note, but this scent is not bitter. Maybe it's very slightly brighter or crisper than the regular Rose scent, although if I didn't know it was a different scent I probably wouldn't notice it. Like the Rose scent, it's a nice authentic rose with a little bit of a soapy note.
Satsuma
Magical blend of mandarin slices & peel, bergamot, spices and exotic fruits.
A nice orange scent with maybe a hint of grapefruit. It's not satsuma though, which is a strong, pungent, tart, slightly sour citrus scent (in a really good way). Looking at the notes, I just smell orange (mandarin), no bergamot (which gives scents a cologney note), spices or other fruits. When melted, I do think there's something else in the background, like a honey note (although it's not an overly sweet scent). I like it!
Sparkling Caramel
A rich blend of buttercream and eggnog
This smells like rich, warm vanilla buttercream with maybe a smidgen of nutmeg way in the background, although it's not a pumpkin scent at all. Looking at the notes, eggnog? Yes, I guess I do kind of detect that. It's a nice scent.
Unicorn Dreams
A blend of amber with undertones of musk and patchouli
Despite the name, this is not the same scent as
DD Unicorn Dreams
from Hobby Lobby. This is a lovely perfumey scent with a warm ambery note, a hint of baby powder, and an incensey quality. Despite the amber note, it's different from the Amber Lumier scent (that scent has a caramel note and more patchouli, and this scent is sweeter and more perfumey).
Vanilla Bourbon
Thick vanilla cream infused with a splash of strong bourbon.
A nice sweet scent of butterscotch and vanilla, and I do smell the bourbon note.
Willow Green Tea
With notes of leafy, green tea and wood with hints of fresh ozone air, melon, bergamot, coriander, night blooming jasmine, watercress, earthen moss, peppergrass, white willow, pink cyclamen, cedar amber, sacred datura and white musk
A pleasant, fresh herbal scent of green grass and perhaps a light floral (although it's not a perfumey or floral scent, per se). If there's tea in this scent, it may be very subtle and way in the background. Melted, I don't really detect the floral, and it's more like sweet herbal grass. Quite nice.
Witches' Cauldron
A web of fiery cinnamon and seductive clove with an intoxicating blend of smoky patchouli
I smell cinnamon and cloves, with a sweet rich note that has a hint of a musty and incensey note, maybe patchouli, and possibly a smidgen of apple. It's mostly cinnamon though, like 80% cinnamon, 15% cloves, and 5% patchouli and apple. I'm not a fan of straight cinnamon scents, but this one is nice.