Tuscany Candle Winter Holiday 2023 Scented Wax Melts Reviews
November 8, 2023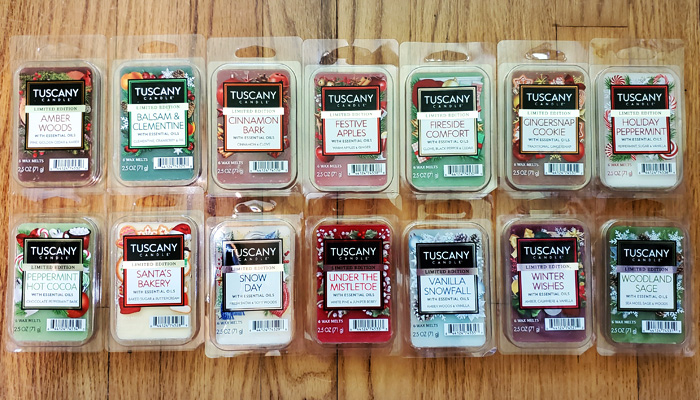 This is a review of the new Tuscany Candle Holiday 2023 wax melts, which will be available in October.
Tuscany Candle wax melts are available at Kroger, Meijer, Safeway, Albertsons, Fred Meyer, SuperValu, HEB, Menards, CVS, Rite Aid, and some Wegmans stores.
Amber Woods
Pine, Golden Cedar & Amber
A wonderful scent of equal amounts of raw wood and pine, with a strong fireplace type smoky note. It smells like a cozy night in a log cabin. I'm not getting amber or any perfumey type notes.
Balsam & Clementine
Clementine, Cranberry & Fir
A great scent that smells like cranberry and maybe a little orange, with a hint of pine, and possibly a tiny bit of red currant. Looking at the notes, they're spot on (clementine is like orange).
Cinnamon Bark
Cinnamon & Clove
This smells like the sweet, slightly buttery cinnamon filling of a cinnamon roll. I'm not getting cloves
Festive Apples
Warm Apples & Ginger
This smells like the apple center of an apple pie (no pie crust notes), with a tiny bit of fall spices (not as much as a typical fall apple scent), and maybe a bit of molasses which makes this different from other similar scents. I don't think I smell ginger though, but I think I'm getting a little bit of cinnamon.
Fireside Comfort
Clove, Black Pepper & Cedar
I'm getting black pepper first, then a sweet warm ambery note (but not really perfumey), and a tiny bit of pine, and a smidgen of smoke. Looking at the notes, I don't think I smell cloves. I really like it!
Gingersnap Cookie
Traditional Gingersnap
This smells like straight cinnamon, but it's quite sweet and I think I do get a bit of ginger in the background, but not enough for this to be a gingersnap cookie or gingerbread type scent.
Holiday Peppermint
Peppermint, Sugar & Vanilla
This smells like sweet peppermint candies, but not like a candy cane which would have more of a vanilla note.
Peppermint Hot Cocoa
Chocolate Peppermint Bark
I adore this yummy scent that smells just like a peppermint patty, with peppermint, milk chocolate, and maybe a bit of vanilla.
Santa's Bakery
Baked Sugar & Buttercream
This scent is incredible, but it's so sweet and rich that it's almost nauseating. It smells like super sugary vanilla syrup mixed with rich, buttery buttercream. But I'm also getting quite a bit of strawberry.
Snow Day
Fresh Snow & Soft Woods
A lovely, super sweet perfumey scent with a baby powder note, and a smidgen of sandalwood and vanilla.
Under The Mistletoe
White Pine & Juniper Berry
I'm getting pine, sage, cranberry, and a slight soapy note, not necessarily in that order. It's just okay for me, as it has tiny bit of sourness in the background that I don't care for.
Vanilla Snowfall
Amber Woods & Vanilla
A beautiful, sweet scent that smells like an equal amount of candy with a smidgen of a fruity note, and musk with a bit of a warm amber note, along with a little bit of vanilla buttercream. It's heavenly!
Winter Wishes
Amber, Cashmere & Vanilla
A very nice, super sweet scent of an equal amount of vanilla and perfume, with a warm amber note, and maybe even a smidgen of chocolate way in the background. It's kind of like the Vanilla Snowfall scent, but without the fruity/candy note.
Woodland Sage
Sea Moss, Sage & Woods
I can't figure out what I'm smelling, but I like it! It's kind of woodsy and herbal, but also a little sweet, with maybe a hint of floral, but not perfumey at all. Maybe also a fresh, watery note in the background? Looking at the notes, okay the sea moss might be the watery note, sage is the herbal note, and there's the woods.