Tuscany Candle Valentine's Day Wax Melts Reviews - 2020
January 31, 2020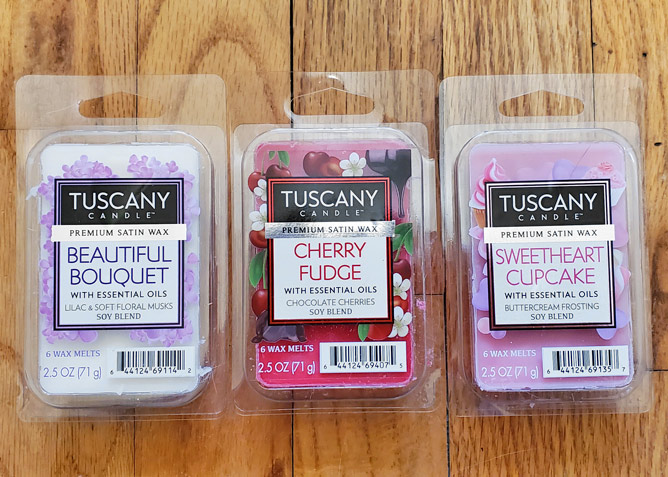 This is a review of 3 Tuscany Candle Valentine's Day Wax Melts from January 2020 - Beautiful Bouquet, Cherry Fudge, and Sweetheart Cupcake.
There are more Tuscany Candle Valentine's Day scents available, but these are the only three I found. Tuscany Candle melts can be found at Wegmans, Joann Fabric, Christmas Tree Shop, Kroger, Menards, Meijer, Albertson's, At Home, Safeway, Jewel Osco, Bi-Mart, and some other stores. Not all stores carry all scents all the time.
Beautiful Bouquet
Lilac & Soft Floral Musks
I smell lilac, rose, musk, a hint of a fresh air note, and maybe a smidgen of baby powder. It's a very sweet scent. I love it!
Cherry Fudge
Chocolate Cherries
I think this is a dupe of one of their cherry scents, maybe their black cherry scent. It's a harsh black cherry scent with a cough syrup note. I don't smell any chocolate, and it doesn't smell like chocolate cherries at all. But it's a very nice scent and I like it! I think mixing it with a little vanilla would tone down the harsh black cherry note, unless you like that note!
Sweetheart Cupcake
Buttercream Frosting
This smells burnt sugar and caramel with just a hint of a vanilla buttercream note. It's a nice scent, but definitely doesn't smell like a cupcake.