Yankee Candle Kohl's Wax Melt Reviews - Spring 2021
January 16, 2021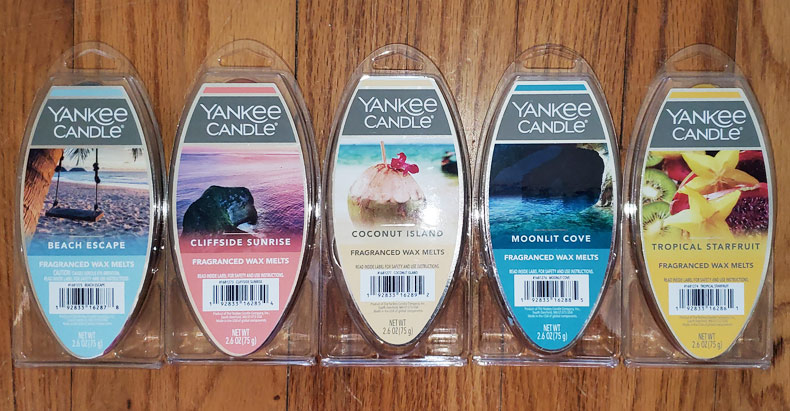 This is a review of 5 new Yankee Candle wax melts from Kohl's for Spring 2021: Beach Escape, Cliffside Sunrise, Coconut Island, Moonlit Cove, Tropical Starfruit.
This is the first time that Kohl's has come out with Yankee Candle wax melts.
Beach Escape
Top: Ozone, Watery, Green Palm; Mid: Sea Isle Muguet, Jasmine, Dandelion; Base: Barley Grass, Musky, Woody
A super fresh, watery, marine, slightly herbal/grassy scent. It's sweet but not overly sweet (not sweet enough to be a body wash type scent). On cold sniff there's a hint of floral, but I don't really smell that when melted. I really like it, and it's perfect for a bathroom. This one lasted all day, at least 12 hours.
Cliffside Sunrise
Top: Hibiscus, Strawberry, Dwarf Citrus; Mid: Nectarine, Red Fruit, Geranium; Base: Champagne Nectar, Praline
I smell sweet, candy-like strawberry (70%) along with some other type of sweet fruit like plum (10%), a hint of salty lemon (10%), a bit of sweet floral like gardenia (5%), and rich yummy vanilla (5%). It's a wonderful scent! Looking at the notes, there's the strawberry, and the hibiscus is the floral. There's the other fruit, and the praline is probably the rich vanilla. The lemon is probably the dwarf citrus (although why specifically "dwarf", I don't know, as fruit from dwarf trees smell and taste the same as those from regular trees!). I don't detect peach (nectarine) or champagne, although the nectarine may be way in the background. Geranium often gives scents a bitter note, which I don't detect.
Coconut Island
Top: Pineapple, Bergamot, Elemi; Mid: Cinnamon, Jasmine, Nutmeg; Base: Rice Milk, Coconut, Curry
A fantastic scent of vanilla, coconut, a bit of ginger, and a rich buttery nutty note (cardamom?). On cold sniff I think I also detect a smidgen of cologne and floral way in the background, but I don't smell that when melted. Looking at the notes, I don't detect pineapple at all. And definitely not curry, which is a pungent garlicky ginger scent typical of Indian food! Elemi supposedly smells like a dill pickle, with peppery, fennel, and citrus notes, but I don't detect anything like that in this scent. It's a really nice, yummy scent!
Moonlit Cove
Top: Citrus, Lemongrass, Ginger; Mid: Purslane, Nutmeg, Rainbow Eucalyptus; Base: Sea-Washed Amber, Cedarleaf
A beautiful super sweet watery scent with frankincense, Oriental spices, and possibly a smidgen of gardenia. I love this scent! Looking at the notes, I don't smell any of them except maybe the amber and cedar. Purslane is an herb that smells and tastes like spinach and watercress, but this is not really an herbal or grassy scent. I definitely don't smell any eucalyptus, lemongrass, ginger or nutmeg.
Tropical Starfruit
Top: Juicy Grapefruit, Pineapple, Ocean Breeze Accord; Mid: Jasmine, Lily, Starfruit; Base: Vanilla, Agave, Plum
This smells like peach and pineapple, like 70% peach and 30% pineapple. I'm not a fan of peach or pineapple scents, but this one is quite nice. It's very sweet, almost candy-like, and rich (almost to the point of being a bit nauseating), and I think there may be a bit a vanilla, a little bit of plum or blackberry, and possibly a smidgen of sweet floral way in the background. Looking at the notes, they're spot on, although I don't really detect grapefruit.