Yankee Candle Wax Melts Reviews - March 2022
March 12, 2022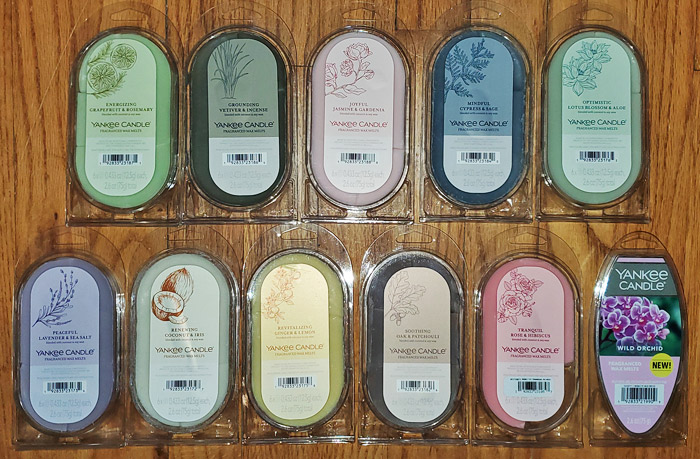 This is a review of Yankee Candle wax melts from the Well Living collection that came out in March 2022. These Yankee Candle wax melts have new packaging and a new wax blend that includes coconut and soy wax.
They're $5.50 on the Yankee Candle website, $5.49 at Meijer, and $5.99 at Bed Bath & Beyond. Meijer has additional scents that are not available at Bed Bath & Beyond, so I was unable to review those.
I think these scents are meant to be more atmospheric, background scents like something you'd find at a hotel, and there's a noticeable lack of fruity, tropical, and bakery scents.
I like the streamlined look of the new clamshells, but they're a bit flimsy and hard to open, and it's a little difficult to remove a cube of wax from the package. You also have to make sure to snap all 4 sides of the clamshell closed, as one or two sides will stay open. Even when you close them completely, some pop open, which can cause the scent to dissipate in a matter of weeks.
Energizing Grapefruit & Rosemary
Top: Pink Grapefruit, Lemon Zest, Bergamot; Mid: Tarragon, Fresh Mint, Eucalyptus; Base: Rose, Cardamom
This smells like grapefruit, lychee, a green herbal note, a hint of floral (rose?), and maybe a smidgen of lemon. It's an odd blend of notes, and it's very sweet, almost nauseatingly so. It's a nice scent, but not one of my favorites. Looking at the notes, I'm not getting mint or eucalyptus, but those are probably the herbal notes I'm detecting.
Grounding Vetiver & Incense
Top: Aromatic Elemi, Spicy Pepper, Bergamot​; Mid: Cypress, Coriander, Ginger Root, Incense​; Base: Black Vetiver, Olibanum, Musk, Amber
Rich wood with warm amber, musk, and maybe a hint of sweet tobacco, as well as a bergamot note that gives it a little bit of a cologney note (but it's not a cologne scent). It's quite sweet. Fantastic scent! Looking at the notes, elemi is a tree resin with clean, green, balsamic, citrusy, coriander, and pine notes, and I am getting all of that in this scent. I'm not getting black pepper or ginger.
Joyful Jasmine & Gardenia
Top: Fresh Nuts, Gooseberry, Plum; ​Mid: Velvet, Woolen Flower, Frangipani, Tuberose, Gardenia, Jasmine; Base: Clove Bark, Cedarwood, Autumn Musk
Fantastic super sweet scent of gardenia with tuberose (a creamy, super sweet, extra rich combination of gardenia and honeysuckle with a hint of lily), a bit of honey, a hint of neroli and musk, and maybe a smidgen of sweet vanilla. I LOVE this scent! Looking at the notes, I'm not getting nuts, berries, clove, or wood at all.
Mindful Cypress & Sage
Top: Cypress, Citrus, Fresh Green Accords; Mid: Pine, Iris, Orchid; Base: Cedarwood, Ebony Wood
I can't figure out what I'm smelling, but it's nice. It's sweet and herbal with a fruity note (blackberry?), bergamot that gives it a tiny bit of a citrusy cologne note (but it's not a cologne scent), a hint of wood (cedar?) and lemon, a tiny bit of pine, and a smidgen of floral way in the background. Looking at the notes, I'm surprised I don't see fruit. And despite the scent name, there's no sage in the notes (I don't detect any savory notes like sage anyway). I don't know how to classify this scent because it has so many different notes, but I'd say it's more fruity than anything else, but not by much.
Optimistic Lotus Blossom & Aloe
Top: Marine Accord, Dune Grass, Water Hyacinth; Mid: Blue Chamomile, Lotus Blossom, Aloe; Base: Vetiver, Sea Moss, Wet Stone Accord
A fresh, herbal, green scent with an oceany water note, a hint of lemon, and maybe a barely detectable smidgen of floral in the background (lilac?). It's a little bit sweet. Great scent! Looking at the notes, they're spot on. Hyacinth and lilac smell very similar, and vetiver is a lemony note.
Peaceful Lavender & Sea Salt
Top: Lavender, White Cyclamen, Pink Himalayan Salt; Mid: Coconut, Pear Blossom; Base: Figwood, Vanilla Bean, Salty Musk
This is a fresh but slightly salty oceany water scent with just a little bit of sweetness, a hint of lavender, and a smidgen of coconut. It's a little bland but pleasant. Looking at the notes, they're accurate; I do detect a smidgen of the fig, but I don't detect pear or any fruity notes.
Renewing Coconut & Iris
Revitalizing Ginger & Lemon
Top: Lemon Zest, Lime, Orange Peel​; Mid: Black Pepper, Cayenne Pepper, Peppercorn​; Base: Sesame Seeds, Grated Ginger​
This smells almost exactly like
Better Homes & Gardens Meyer Lemon Basil
, a salty, savory lemon scent with olive oil notes. Sniffing them side by side, Meyer Lemon Basil may have just a smidgen of sweetness, while this scent is more salty. But they're pretty much the same, and they smell fantastic! Looking at the notes, I'm not getting lime, orange, sesame seeds or ginger. I'm also not getting black or cayenne pepper, but the peppercorns, yes, as that's what's helping to make this scent so savory. Unfortunately the scent started to fizzle within 2 hours.
Soothing Oak & Patchouli
Top: Golden Amber, Copper Leaves; Mid: White Oak, Oriental Woods, Spiced Clove​; Base: Pink Patchouli, White Oak, Vanilla
Sweet warm ambery scent with sweet cedar and a bit of vanilla. I think I'm also getting a tiny bit of floral and possibly a smidgen of blackberry. It's a very nice scent. Looking at the notes, I'm definitely getting some incensey vibes, but no patchouli or clove notes. I like it!
Tranquil Rose & Hibiscus
Top: Rose, Muguet, Pink Grapefruit; Mid: Evergreen, Hibiscus, Heliotrope; Base: Cashmere, Powder, Orris
This is my favorite scent of the collection. It's rose with a rich, warm, slightly soapy, even slightly salty note that even has a teensy bit of smokiness (or the smokiness could be pine or spruce?). I think I also detect a tiny bit of red currant, a teensy bit of a very sweet floral like jasmine, and possibly a smidgen of some kind of fruit. It's very similar to
Hobby Lobby's DD Rosewood Blooms
, but that scent is slightly soapier and has a bit more of the red currant note, and sniffing them side by side, I really notice the tiny bit of smoky pine in this scent that the DD scent doesn't have. I ADORE this scent! Looking at the notes, muguet is another name for lily of the valley (which is what I think is jasmine).
Wild Orchid
Top: Sunny Ozone, Mandarin Blossom, Bergamot, Palm Leaf; Mid: Wild Orchid, Hibiscus, Strawberry Nectar, Midnight Jasmine, Banana Flower; Base: Fruity Musk, Sandalwood, White Amber
This is also a new scent but it's not part of the Well Living collection, so it's in the older clamshell and doesn't use the new wax blend that includes coconut and soy wax. It's a fruity floral with a candy-like fruit note that could be strawberry or some other fruit with a sweet floral like jasmine. But it also has a tiny bit of sourness from peach and/or cantaloupe that tempers a bit of the sweetness. It might also have a smidgen of coconut. It's an okay scent, but not one of my favorites. Looking at the notes, mandarin is orange, which I don't detect at all. I also don't detect banana. Palm is a nutty, woodsy coconut. I'm surprised I don't see peach or mango, because I do smell quite a bit of peach.