Yankee Candle Wax Melt Reviews - October 2021
October 28, 2021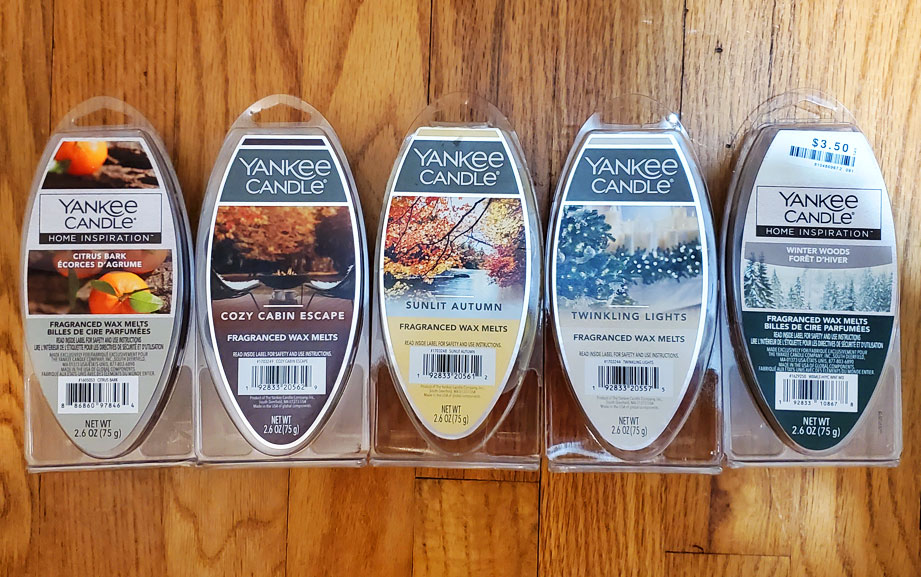 This is a review of Yankee Candle wax melts: Citrus Bark, Cozy Cabin Escape, Sunlit Autumn, Twinkling Lights, and Winter Woods.
Citrus Bark and Winter Woods are discontinued scents that I bought from Big Lots. The other 3 are newer scents from Kohl's.
Citrus Bark
Inspired by a late afternoon walk under shady oak trees with a touch of citrus and warm amber sweeping through the grove
Fantastic scent that smells like men's cologne with notes of wood, smoky pine and orange. It's a very sharp cologne scent, like cologne with a high concentration of alcohol. I don't normally care for "sharp" cologne scents, but the other notes make it smell great!
Cozy Cabin Escape
Top: Toasted Pecans, Salted Almond, Gooey Marshmallow; Mid: Caramel Cream, Agave, Brown Sugar; Base: Roasting Vanilla Bean, Smoked Tonka, Sugared Musk
On cold sniff this smells just like bittersweet chocolate covered caramel corn! I smell salted nuts, dark bittersweet chocolate or cocoa bean (although it's not overly chocolatey), and salted caramel. But when melted, I don't really smell the chocolate. It's very rich, and quite salty, and while it's also sweet, it's not as sweet as one would think it would be with those notes. It's so salty that it almost smells a tiny bit burned (but not enough to ruin the scent). It's a nice scent, but I think it would smell better mixed with a very sweet vanilla buttercream scent to offset some of that salty burnt note.
Sunlit Autumn
Top: Orange, Lemon; Mid: Cedarwood, Lavandin, Heliotrope; Base: Amber, Sandalwood, Oud
A fantastic rich, sweet, salty scent of oud wood (a deep, resinous, almost tree sappy type wood that makes scents smell classy), bergamot that gives it a cologney note (although it's not a cologne scent), a little bit of amber for warmth, a smidgen of citrus (lemon or orange), and maybe a smidgen of sweet floral and possibly vanilla. Very nice!
Twinkling Lights
Top: Almond, Peach; Mid: Milk, Jasmine, Frangipani; Base: Fir Balsam, Vanilla. With amber and sandalwood
A lovely delicate, powdery, super sweet, musky perfume scent with a strong baby powder note, a sweet floral like gardenia or jasmine, and a hint of milky vanilla. On cold sniff I also get a barely detectable smidgen of almond, but I don't smell that when melted. Looking at the notes, I don't detect peach or balsam at all (there are zero fruit or pine type notes in this scent). Frangipani is a gardenia type floral, which I definitely do get. I love this scent!
Winter Woods
This scent has been discontinued for a while, so I can't find the scent notes. It's a wonderful, super smoky pine scent. Or actually, a smoky scent with a pine note, because it's more smoky than pine, as well as savory and peppery, with possibly a smidgen of lemon (but not like a savory "salad" note). Fantastic and strong!