Aldi Odor Eliminating Wax Melt Reviews - February 2021
February 19, 2021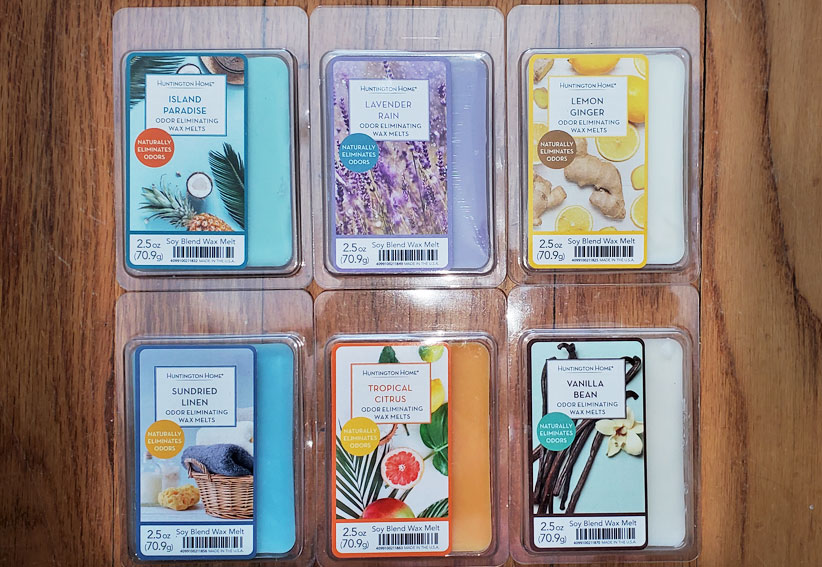 Read Aldi Odor Elminating Wax Melt Reviews from February 2021 (Huntington Home). The 6 scents are Island Paradise, Lavender Rain, Lemon Ginger, Sundried Linen, Tropical Citrus, and Vanilla Bean.
Aldi usually comes out with wax melts each season of the year, and just came out with spring scents 3 weeks ago. However, these are different, and not made by Hanna's Candle like their regular wax melts. These are a soy blend that say "odor eliminating" on the label. I don't think they're any better at eliminating odors than other wax melts, but they sure smell good. And despite the soy blend, they're hard wax rather than soft and messy. They cost $2.29, more than their regular melts which are $1.69.
Someone left a comment for the YouTube video saying that these are probably made by CandleWarmers, because they have the same scents. And she's right! So if you miss out on these Aldi scents, just search on Google for CandleWarmers and the scent name and you can probably buy them elsewhere, such as At Home and CandleWarmers' own website.
Island Paradise
Super sweet pineapple with another fruit (maybe a bit of strawberry) and a bit of a creamy note. I'm not a fan of most pineapple scents, but I like this one. It's very strong, almost nauseatingly so, so be sure to melt it in a large room! It smells almost exactly like
ScentSationals Pineapple Strawberry Smoothie
, except I think that scent has a bit less of the pineapple.
Lavender Rain
This is a typical, very nice lavender scent with nothing else added. It's neither a medicinal lavender nor a very sweet lavender (just a slight sweetness). I like it!
Lemon Ginger
Unlike many scents that have ginger in the name, this scent actually does smell like ginger! It's like 75% ginger root and 25% lemon. It's not a gingerbread, bakery ginger either, but like pure ginger powder. It's fresh and different, and I really like it.
Sundried Linen
This is a perfect laundry scent, and very strong. It smells like towels right out of the dryer. It's not a cozy fabric softener scent, really more of the laundry detergent. But it's also not a harsh, soapy detergent either. Maybe like 75% detergent and 25% softener. Fantastic scent!
Tropical Citrus
This is pretty much straight orange, with maybe a hint of tropical fruit. Very nice!
Vanilla Bean
This is not a vanilla scent... it's so much better!! It's a sweet, perfumey scent that smells like a combination of baby powder, warm rich amber, and a bit of sweet, milky vanilla. It could have just a barely detectable smidgen of patchouli or nag champa way in the background. It's an exquisite scent. I love it!