Better Homes & Gardens Aromatherapy Wax Melt Reviews from Walmart - 2021
April 23, 2021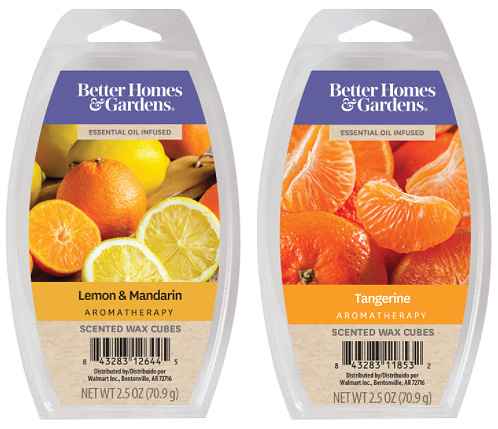 This is a review of the only 2 new Better Homes and Gardens Aromatherapy Wax Melts from Walmart for Spring 2021: Lemon & Mandarin and Tangerine.
Tangerine
This definitely smells like orange, but it's a non citrusy, slightly waxy orange that's only slightly sweet, not nearly as much as most orange scents. It's not bitter like orange rind though. Maybe like some kind of natural orange scented cleaner, but without any chemical or industrial notes. It's kind of nice, but without the citrus note and sweetness, it's quite boring and lacks depth. It's different from the
Better Homes & Gardens Aromatherapy Sweet Orange scent
, which is a bright, citrusy, kind of generic plain orange scent.
Join our
Facebook Group
for MORE discussions about U.S. store bought and retail brand wax melts.