Better Homes & Gardens Summer Cocktail Inspired Wax Melts Reviews
April 15, 2022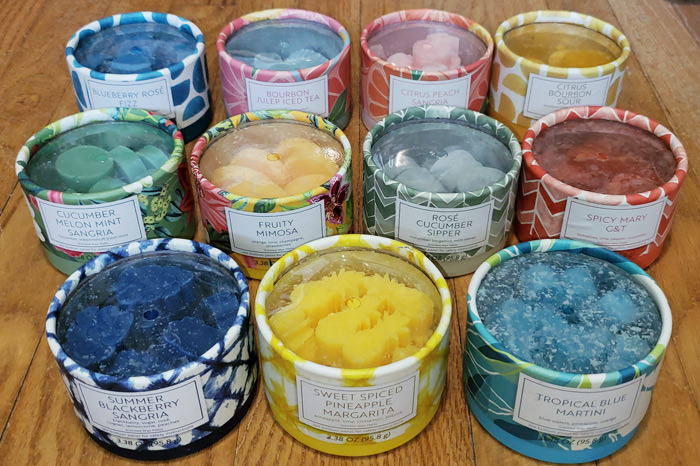 This is a review of the 12 Better Homes & Gardens summer cocktail inspired wax melts that came out at Walmart in April 2022.
I like the adorable shapes of the wax melts, each of which represents that scent. As far as scent quality, some of these were quite nice, although nothing really blew me away. I didn't like the ones that have that slightly sour, "pukey" note that many liquor/alcohol scented candles and wax melts tend to have.
PRICING
These summer cocktail inspired wax melts cost $4.87 per scent. The package is not included in the listed weight, so you are indeed getting 3.3 to 3.5 oz. of wax (I weighed some of the wax, and each scent varied by around .2 oz). But at $4.87, if the weight were 2.5 oz. (like most wax melts, including ScentSationals and other Better Homes & Gardens wax), these would cost $3.45 to $3.70 each, which is pricey.
MANUFACTURER
I believe that these are made by MVP Group (the company that makes Mainstays wax melts for Walmart), but they outsourced the manufacturing to a company in India; a lot of candle and wax melt companies are outsourcing manufacturing to other countries lately to cut costs. I was concerned, because many wax melts I've tried that are made overseas tend to not perform well in terms of throw. However, these do perform moderately well.
PACKAGING
The wax melts come in a 3.38 oz. round cardboard package lined with silver paper and a lid on top that's covered with a thin sheet of plastic with a hole in the middle (I assume to sniff the scent without opening the pack). The package is not made to hold the scent in for many months the way clamshells are, so if you don't use them within a few months, the scents may start dissipating as air gets to the wax. In addition, the top and bottom of the packaging is flimsy; the plastic on top and cardboard on bottom break easily around the edges. I didn't have too much trouble getting the 4-packs shipped, as the box was just large enough to hold them, and was separated 4 ways inside so that the packages couldn't really move around.
Another issue with this type of packing is that it's easy for someone to steal a couple of melts at the store, or even melt a couple and then return them, without it being noticeable. I think that happened with a few that I bought at the store, because it looked like there was less wax in the container and they weighed considerably less.
Blueberry Rosé Fizz
A citrus fizz of blueberry granita and sparkling rosé wine poured over creamy coconut gelato accented with just-picked basil - the perfect way to celebrate summer
Blueberries, Coconut, Honey, Basil
A very nice scent of fake blueberry (in a good way) with a hint of pineapple and maybe a smidgen of coconut that gives it a little bit of a tropical vibe. I think I'm also getting a barely detectable savory herb like oregano or even garden mint, but I'm not sure. Looking at the notes, I'm not getting the alcohol type notes that most of these scents have.
Bourbon Julep Iced Tea
The rich essence of aged bourbon spikes iced, orange pekoe tea steeped to perfection and illuminated with the freshness of just-picked mint sprigs
Orange, Lemon, Bourbon, Fresh Mint, Tea
A savory, slightly sour scent of herbal citrus and garden mint, with a hint of orange and possibly a smidgen of lemon. It's not sweet at all. I like it.
Citrus Bourbon Sour
Sunny skewers of sugared orange slices and sweet maraschino cherries dress up the classic cocktail of aged bourbon, shimmering lemon, and tart limes
Bourbon, Lime, Lemon, Sugar, Orange, Cherry
I think this is the same scent as
Mainstays Amaretto & Blood Orange
, although I no longer have it to compare. Like that scent, this smells like badly burnt orange, like an orange that was charbroiled but left on the grille way too long. It smells like an electrical fire. But unlike the Mainstays scent that it smells like, I didn't have to open the windows after removing this one from the warmer, because it's not very strong. According to the notes, this scent should smell fantastic, like orange, cherries, lemon and lime!
Citrus Peach Sangria
Effervescent notes of citrus lime and a splash of sweet orange sparkle atop dry, white wine spun with sunny peach nectar and juicy peach slices
Peach, White Wine, Lime, Orange
A savory, sour herbal citrus scent with a note of peach (the bland, slightly waxy outside of the peach rather than the sweet, juicy inside) and a hint of orange. It's not sweet at all. It has a little bit of a refreshing quality, and it's an okay scent, but I don't quite care for it.
Cucumber Melon Mint Sangria
Delicious white wine sangria scent mixed with fresh sliced cucumber, watermelon, and a splash of pressed lime decorated with fresh sprig of garden mint
Cucumber, Watermelon, Fresh Mint
Cucumber with a bit of a green, grassy, fresh, very slightly savory herbal note, and a tiny bit of garden spearmint. And I'm not getting that weird sourness that most of the other scents have. Looking at the notes, I do detect a smidgen of watermelon, but it comes across as more of a fresh grassy note because it's not really sweet. And the savory note might actually be the lime, although I don't think I'm getting lime per se. I quite like this one.
Fruity Mimosa
A sweet and zesty orange juice stirred with the sparkling fizz of pink champagne blended with hints of summer strawberries
Orange, Lime, Champagne, Strawberries
I smell grapefruit with a hint of pineapple, lemon (and lime?) and a bit of orange, with that slightly savory, sour note and maybe a hint of soda fizziness. It's just an "okay" scent for me. Looking at the notes, there's the fizziness, and champagne does tend to have a grapefruity note. There's a teensy bit of a sweet fruit in the background that's probably the strawberry (although I'm not smelling strawberry, per se).
Rosé Cucumber Sipper
The citrus zing of fresh lemon swirls with sweet elderflower and aquatic cucumber stirred into crisp rosé wine chilled to perfection in this delightful summer sipper
Cucumber, Bergamot, Mint Leaves
An herbal, grassy scent of cucumber and a hint of a grassy, very slightly sweet floral. Like the other scents in this collection, it does have that slightly sour note, but it's very subtle in this scent. It's fresh and spring-y scent, and despite that I don't like a lot of cucumber scents, I do quite like this one.
Spicy Mary G&T
Freshly picked cherry tomatoes muddled with dry London gin, sparkling with lemon-infused juniper, finished with sweet lime, spicy pepper, and tangy Worcestershire sauce
Tomatoes, Lime, Pepper, Cucumber
A salty, savory scent that does indeed smell like tomato juice mixed with a little bit of peppery herbs and a hint of lemon. It's not a totally authentic tomato scent, but if I didn't know it was supposed to be tomato, I would still smell tomato! It doesn't have any alcohol or odd sour notes that some of the other scents have. I actually like this one!
Summer Blackberry Sangria
Summer-ripe blackberries and springs of garden basil stirred with rich tones of aged cognac and sparkling rosé wine infused with fresh-sliced peach and juicy plum
Blackberry, Sugar, Rosé, Cognac, Lemon, Lime, Peaches
This smells a bit like blackberry lemonade, although not quite as sweet and fruity (although it does have a hint of sweetness). It has a tiny bit of that same sour, savory note that all of these scents have, but in this scent it's very subtle and I barely smell it. I like this scent!
Sweet Spiced Pineapple Margarita
Zesty orange, sweet lime, triple sec liqueur, and top shelf tequila blended with sugary pineapple juice served in a chilled cinnamon sugar-dipped glass
Pineapple, Lime, Cinnamon, Tequila
Strong, sweet pineapple with something rich and extra sweet in the background, like pineapple syrup. It's so rich and sweet that it's almost nauseating. When it first started melting, I got that slightly pukey note that I didn't like at all, but after another half hour, that note disappeared, and it actually smells really good. Looking at the notes, I'm not getting any orange or cinnamon.
Sweet Strawberry Margarita
Premium tequila blend with sun-ripened strawberries pureed with freshly squeezed lime juice to create the perfect summer margarita
Strawberries, Lime, Sugar Tequila
I found this one at Walmart a few days after I did my review. It smells like strawberry lemonade. I do get the strawberry, which is sweet but not nearly as sweet as most strawberry scents. I also get the lemon, along with a tiny bit of a savory note. Actually, I think it's lime rather than lemon. This scent has only a teensy bit of that sour note that I don't like, so I do like this scent. And the wax melts are, of course, shaped like strawberries!
Tropical Blue Martini
The crisp freshness of chilled vodka stirred with sweet, tropical pineapple and shimmering orange infused with Blue curacao for the perfect summer escape
Blue Waters, Pineapple, Orange
A sweet tropical scent with a bit of pineapple and maybe a smidgen of a fresh, watery note. The sour note is very, very subtle in this scent and barely noticeable. But the scent itself is just okay for me.
There are three 4-scent variety packs on the Walmart website for $19.48 per 4-scent pack. I think they're only available for shipping, not in stores.