Mainstays Fall 2020 Wax Melt Reviews (Walmart)
August 21, 2020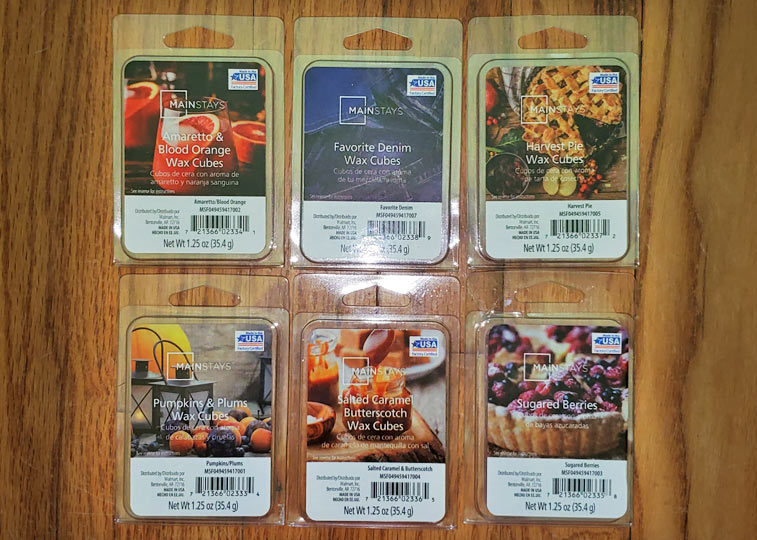 This is a review of the Mainstays Fall 2020 Wax Melts from Walmart (Amaretto & Blood Orange, Favorite Denim, Harvest Pie, Pumpkins & Plums, Salted Caramel Butterscotch, and Sugared Berries).
These are the first new Mainstays wax melt scents since August of 2019 (they skipped spring and summer). I think they changed the formula again a bit. The wax was always very soft and quite messy, and then in fall of 2018 they changed it to hard wax. This new wax, however, is somewhere in-between (soft but not nearly as soft as before).
Amaretto & Blood Orange
This fragrance opens with striking nuances of blood orange and black salt. Sweet amaretto is accentuated with praline, tonka and vanilla
Amaretto smells like almond, so I was expecting (and hoping) that this would smell like a combination of orange and almond. But instead, it smells like badly burnt orange, like an orange that was charbroiled but left on the grille way too long. No almond. I don't like this one at all. It did last all day though, but it made my place smell like there was an electrical fire somewhere. Looking at the notes, I wish I smelled sweet amaretto, praline, tonka and vanilla!
Favorite Denim
Shimmers of sunshine florals and ripe berries drape notes of aromatic herbs, coniferous fir and tree moss wrapped with soft cotton aldehydes, cashmere amber and warm woods
The scent name sounds like this would be a laundry type scent, but it's not at all. It's a fresh men's body wash or cologne type scent. It's rich and a little salty, not overly sweet, with maybe a hint of lemon. It's quite similar to ScentSationals Dapper, but very slightly fresher and saltier. I like it. Melted, it takes on an even saltier note and smells a lot like ScentSationals Agave Lime, which is also a great scent. Looking at the notes, I just sniffed this again and I suppose there could be a smidgen of something in the fruity in the background, but it smells more like apple to me, or the ripe berries note could actually be the citrus note I'm detecting.
Harvest Pie
The perfect fusion of fall fruits come together to create this harvest blend of juicy pears, dark berries and cherries with a hint of citrus
This is a super sweet fruity scent of apples, strawberry and a hint of cranberry. But it also has a very creamy note that smells like skin lotion or fruity scented lip balm, but in a good way. It's a fantastic scent, and the scent lasted all day. Looking at the notes, I was way off with the fruits, but apples and pears are quite similar. I don't detect any citrus though.
Pumpkins & Plums
Layers of plum, pomegranate and dried peach are blended with pumpkin then topped with crunchy almond and decadent vanilla sugar
This smells a lot like Mainstays
Apple Pumpkin
(which is almost the same scent as
Better Homes & Gardens Farm Apple Pumpkin
, in that it's super sweet apple with a little bit of nutmeg. But this scent is richer and with a clove note. I'm not sure if I smell plums per se, but that might be the source of the richness. It's a fantastic scent! The scent started dissipating within 2 hours or so. Looking at the notes, now that I know they include peach, I think I do detect a smidgen of peach. And sniffing it again, a hint of nuttiness way in the background, which is the rich note I was trying to figure out. No apples or cloves in the scent notes though!
Salted Caramel Butterscotch
The aroma of rich, creamy smooth caramel and English toffee stirred with gooey butterscotch and brown sugar
On cold sniff this is the most butterscotchy butterscotch scent I've ever smelled. It's not just caramel, it's actual butterscotch, like real super buttery butterscotch candies. It's also a bit salty from the caramel. However, when melted, the butterscotchness dissipates a bit and it becomes more of a just a slightly salty caramel scent. Which is okay, but there are already a lot of caramel scents out there. I really wanted that unique butterscotch note to come through when melting.
Sugared Berries
Ripe juicy black berries, sweet blueberries and tart red currants swirl with plum and cranberries, candied pure cane sugar, and a hint of vanilla essence
This smells like berries that are sweet but also quite tart and a little acidic. The label shows raspberries and blueberries, and I think I do detect raspberries, but I believe it's mostly cranberry, although without any cinnamon that cranberry scents sometimes tend to have. I think there's also a peach note in there, and/or apple. It's a nice scent if you like tart fruity scents. I wasn't sure if I liked the scent on cold sniff, but it smells great when melted! The scent started dissipating within 2 or 3 hours.