Candle-Licious Wax Melt Reviews
June 27, 2017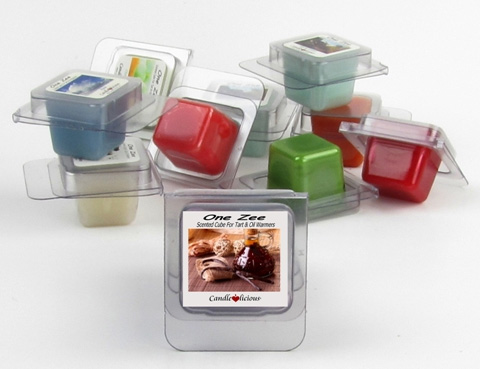 This is a review of Candle-Licious wax melts, which can be purchased on their website at https://www.candle-licious.com.
I purchased the "One Zee Cubes" which is a smaller amount of wax than their regular clamshells. The website says each one weighs 0.09 pound, which equals 1.44 oz. (a regular clamshell is 2.5 oz.), and each one costs $.89 which sounds like an incredible deal! I bought $15.76 worth of One Zee Cubes (not including shipping). When I got my order I saw that the One Zee Cubes were actually just ONE standard sized cube of wax each! One cube is 0.4 or 0.5 oz, which equals .03 pounds, one third of their advertised weight of 0.09 pound! This was disappointing, as $.89 is actually not a good deal for one wax cube, since it's equivalent to $5.34 for a standard clamshell. I contacted Candle-Licious and was told that I was "confusing shipping weight with product weight, we do not state the product weight". Huh? So I weighed one cube inside its tiny plastic package, and it was 0.7 oz. (0.04 pound), still less than half of what's advertised on the website. Since I only received one third of what I paid for, I requested two thirds of my purchase price back ($10.50). They refused and said I could send my order back instead. No, I wanted to keep my order, plus shipping with a return receipt would be over $8, plus with the heat wave they'd be liquefied by the time they got there. I also requested that they change the website to reflect the correct weight of the One Zee Cubes. I never heard back. As of the date of this review, the One Zee Cube web pages are still showing 0.09 pound, although at the bottom it does say "One cube, about 1/2 oz." and I'm not sure if that was there before. So why not change the weight at the top of the page where it's seen first?
I will say that the One Zee Cubes are a very clever idea. They're a great way to test scents to see if you'll like them before committing to purchasing a larger quantity. I don't know of any other wax company that does this. Wax vendors do provide 1oz. "scent shots", but I don't think I've seen any that sell one half ounce cubes. So I do give Candle-Licious major points for ingenuity in that respect. Although those tiny little plastic packages are extremely difficult to open, and the writing on the labels is so tiny I needed thick glasses to read them.
However, customer service and integrity are extremely important to me and, based on my experience, I felt that this company was lacking in both, so I will not order from them again. But product quality is a separate issue, so no matter how unhappy I might be in dealing with a company, I'll always be honest about the quality of their wax. And in general, their wax was fairly good.
9/27/17 UPDATE: I see that the 0.09 pound weight has been removed from the One Zee Cubes pages, possibly due to complaints from other customers.
2020 UPDATE: A note on the Candle-Licious website says they're going in a "different direction", and there are no longer any candles or wax melts on their website.
Aloe and Clover
Clean, fresh fragrance with the soothing quality of aloe. Reminiscent of Bath and Body Works Green Clover And Aloe. Zesty lemon, fresh floral, muguet, crisp apple. Mid notes of prune, juniper berry, sage and aloe, rose, lavender and gardenia. Amber musk completes the fragrance.
This is a zesty scent with a hint of lemon and herbs. It's not a green herbal or spa type scent at all, which I would have expected from a scent called Aloe and Clover. It's a savory scent, not sweet at all (clover should be a little sweet). And I don't smell the aloe, which should have a watery cucumber scent. Looking at the scent notes, I don't smell the florals at all, or maybe they're way in the background. After melting for about a half hour, the scent faded and I could barely smell it even with my nose a few inches away.
Balsam Cedar
Woodsy blend of pine, eucalyptus, and cedar, finished with sweet balsam. Orange, raspberry, and plum. Middle notes of lily, carnation, and hyacinth. Base notes of balsam, pine, eucalyptus, and cedar.
A nice smoky spruce scent. This is not a biting pine scent. It's a standard Christmas tree scent though, and I don't smell any of the fruit or floral notes. I do detect a bit of the eucalyptus note.
Beehive Honey (Honey Bee)
Sweet honey balanced by hints of wildflower nectar
On cold sniff this is a slightly sour, bitter honey scent. It's not very sweet, and smells kind of burnt. Melted, it smells a little like some of the tobacco and honey scents I've smelled. It smells better melted than on cold sniff, but I'm still not a fan
Black Pepper
A sultry blend of soothing amber warming the senses with just the right jolt of black peppercorn to awaken your curiosity. range flower, cinnamon bark, clove, nutmeg, white jasmine, pine, amber crystals, cinnamon spice, vanilla absolute, oak wood, musk
This is a nice, light cinnamon scent with a sweet vanilla background and maybe even a smidgen of a perfume note. It's not a harsh "Big Red" type cinnamon, but it's also not a bakery "cinnamon bun" type cinnamon. It's a nice scent, even if you don't like cinnamon, and it actually has a Christmasy feel. But it's absolutely not black pepper.
Chilled Sangria
Inspired by the traditional red-wine Sangria, our fruity Sangria is loaded with fresh fragrances. ed & black cherry a hint of orange, lemon, white grape, crisp apples.
This does smell like sangria. I smell bright, rich cherry and orange with just a smidgen of a fizzy soda note. It's a fantastic summery scent!
Crackling Fire
This interesting and complex fragrance will take you back to a cozy fire on a fall day. A favorite of any earthy aroma lover. Herbaceous pine, balsam, and citrus bergamot with middle notes of white flowers and earthy sandalwood, and base notes of woodsy patchouli and vi
This is a rather nice smoky scent, but it's not a true "fireplace" or smoky wood type scent, more like a fake sour smoky scent that almost has a burnt toast note. It sounds bad, but it actually smells pretty good, although it's not my favorite scent.
Dragon's Blood
Amber, cedar wood and a hint of patchouli combines sweet and spicy notes
Fantastic nag champa/patchouli type incense scent. The Dragon's Blood scent tends to be a little sweeter and more "incensey" than Nag Champa. Nag Champa tends to be a little more soapy with slightly more patchouli. Both scents smell very similar though, and this scent is no exception. Fantastic scent, and it lasted the entire day!
Drakkar
Reminiscent of Drakkar Noir, a men's fragrance by Guy Laroche, this masculine scent possesses a blend of lavender, citrus, spicy berries and sandalwood. Sharp, spicy, lavender, and amber fragrance.
This smells nothing like Drakkar men's cologne, although it is a nice fresh cologne or men's body wash type scent. It has that slightly sour, bitter chemical note that I've been smelling in a lot of these scents. I thought it was just the plastic from the packaging, but I smelled it when I sniffed this scent from close-up while it was melting. But I don't smell the sour, bitter note in the room. However, I couldn't really smell this scent in the room anyway because it didn't throw well.
English Garden
Refreshing with hints of fresh floral, all perfectly blended to fill your room with the pleasant smelling aromas of an English garden. Sweet William, Delphinium, Fox gloves, Geraniums, Forget-Me Not, Lavender Hollyhocks, and Violas.
On cold sniff, this smells like honeysuckle perfume with a very slightly bitter green note. Melted, it smells like authentic honeysuckle or, well, an actual flower garden. It's a lovely scent! But unfortunately the scent started fading within an hour, and in two hours it was almost gone.
High Tide
Remember walking along the shore on the oceanfront? The salty sea air and pounding waves are wrapped up to create a true ocean mist "sensation".
A pleasant fresh salty soapy watery scent. It's not very sweet, and actually has a bitter note that makes it smell like an expensive cleaner or shower gel. I like this one; it's different. The scent notes shown for this scent are wrong, and are the same scent notes used for a different scent.
Hinoki Wood
Both enticing and magical, Hinoki is an unusual and clean fragrance. Warm essences of blonde wood, cedar and patchouli with vanilla musk, cinnamon & clove, uplifted with notes of eucalyptus, lavender, orange blossom, jasmine and rose.
I can barely detect anything on cold sniff, maybe a slightly perfumey but bitter "green" scent with a hint of fresh mint? When melted, I don't smell anything, even up close.
Japanese Cherry Blossom
Japanese cherry blossoms, butterfly lily, Kyoto rose, mimosa petals, vanilla rice, imperial amber, silk musk, cedar, sandalwood, Asian pear, and Fuji apple
On cold sniff, yep this is cherry blossom, that pleasant perfumey floral with a slight baby powder note. It kind of smells like scented toilet paper, but in a good way. Melted, it doesn't smell as much like cherry blossom, but more like a classy, sophisticated perfume. Very nice scent!
Mayan Musk
A warm blend of woods and musk create this sensual fragrance. Musk with sweetened hints of vanilla, and rose balanced with patchouli, cedar wood, and sandalwood for warmth.
Lovely sweet musky scent with an incense note like nag champa, but much sweeter. It might also have a hint of vanilla (and there it is in the scent notes). This is a very sweet incense scent, not a perfumey scent. When melted, I get the incense notes more than the musk.
Merlot
A robust bouquet of select spiced cranberries. Very fragrant with the perfect amount of mouth-watering tartness. Cranberries, orange zests with hints of ginger, nutmeg, and cinnamon.
This is a standard fall spiced cranberry scent with a little cinnamon. It's an okay scent, but not at all what I would expect from a scent called "Merlot", which should be more of a grapey type scent. Looking at the scent notes, I see that this is indeed supposed to be a cinnamon cranberry scent.
Moroccan Spice
The exotic spiciness of this scent is very delicate, soft, feminine, seductive and attractive. Earthy scent lovers this is for you. Spice medley of coriander, cinnamon, clove, ginger, with middle notes of geranium, balsam and amber, base notes of patchouli and musk.
On cold sniff this smells like incense with a bit of a nag champa note, but there's also a bit of soapiness to it and maybe some other spices that I can't identify. It's very nice. But when melted, it just smells like old soap, not too sweet and a little bitter. Strangely though, I kind of like it.
Odor Eliminator
ool and refreshing! A fresh, clean aroma like the smell of the great outdoors brought inside. Carnations, lily of the valley, and hyacinth, underlined by oakmoss and white musk.
On cold sniff I don't smell much of anything, but when melted it's a very bland scent that I can't even describe. Maybe cucumbers and fresh air? I'm not sure if I like it or not. Looking at the scent notes, I expected a sweet floral, but this scent is not sweet at all. However, the scent notes might be wrong; they're the exact same scent notes for High Tide (although I don't think they're correct for High Tide either, since that's not a floral scent either).
Plum and Berries
A sweet, candy-like fragrance of sugared plums with a tart overtone of wild berries.
This is not a fruity scent. In fact, it's not really sweet; it's very bitter. But yet it has a rich creamy note, but also a slight waxy note. It's an odd scent that I thought I would hate based on cold sniff, but it's actually pretty nice. It's almost like this should be the Merlot scent, since it has that a bit of that "winey" vibe. Looking at the scent notes, no there's no sweetness, but yes, it's definitely tart.
Red Ginger
Top notes of floral apple, sweet grape, orange, muguet and jasmine. Middle notes of gardenia, carnation, rose, clove leaf, ginger, lilac and orange flower. Base of violet, powder and musk.
A lovely sweet perfumey gardenia scent. When melted, I detect a smidgen of something else, like an incense or oriental spice note, very faint. Looking at the scent notes, I don't smell fruit at all, although it could be way in the background.
Strawberry Daiquiri
True strawberry, not too sweet, just perfect and very strong.
Ooh this is a yummy rich strawberry scent, like strawberry jam or strawberry ice cream. It smells a little like
Scentsy Strawberry Swirl
, but not as sweet, and it doesn't have that creamy note. It doesn't smell like daiquiri though, but that's okay. It's a fantastic scent!
Twilight in the Woods
Gentle masculine fragrance with wisps of jungle moss, patchouli, and white musk. Top notes of Mandarin balm, tangelo & eucalyptus, with middle notes of jungle moss & patchouli, and a base of red wood, amber and musk.
This is a sweet, warm, kind of perfumey cashmere type scent, a little bit like
Better Homes and Gardens Sugared Lavender Twist
, or an ambered lavender (although it's not a lavender scent), with that slight "pink sugar" note. I don't smell orange (mandarin & tangelo) at all, or eucalyptus.
XO Cigar Reserve
The smell of money, status and masculinity are wrapped into this blend of aromatic bergamot with fresh lemon zest spritzing a heart of velvety cognac essences and rich, spiced tobacco leaves. A true Cognac & Cuban blend of aromas. Bergamot, Lemon, Orange; Mid notes of Cognac, Nutmeg, Crushed Tobacco Leaves; Base of White Woods.
Thankfully this doesn't smell like cigars! It does smell a bit like tobacco and maybe a hint of cigarette ashes, which sounds bad, but because it's a little sweet it's actually a pretty nice scent. I don't smell lemon or orange at all.