Candle-Lite Essential Elements CBD Oil Wax Melts Reviews
January 20, 2022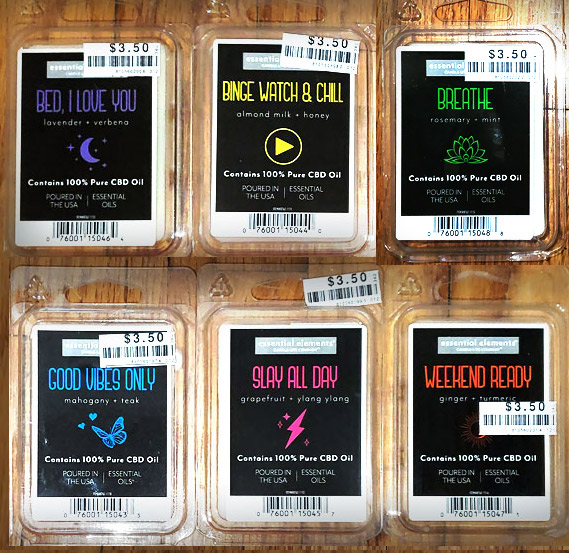 This is a review of Candle-Lite Essential Elements wax melts from Kroger, Big Lots, and other retailers. They contain 100% Pure CBD Oil.
CBD oil in wax melts and candles is a marketing ploy. The amount of CBD oil used is miniscule, and it's not a high grade CBD oil. You won't get any CBD oil benefits from these wax melts, although the scents themselves are quite relaxing.
Big Lots recently raised the prices of their wax melts from $2.99 to $3.50, which is too expensive when Walmart sells fantastic quality wax melts for $2.00 (just raised to $2.22, a much more reasonable price hike).
More information about Candle-Lite Company's CBD-infused candles and wax melts can be found HERE and HERE.
Bed, I Love You (Lavender & Verbena)
Lavender, lemon, orange zest, eucalyptus, jasmine, and vanilla sugar
This is my favorite of the collection. I definitely get the lemon verbena first (a sharp, bright lemony scent with herbal undertones) along with a hint of lemongrass (slightly savory lemony herbal scent with a soapy, slightly citronella note, although I don't get citronella from this scent at all), and a hint of lavender. It only has a smidgen of sweetness. Looking at the notes, I don't smell orange, although there may be a smidgen of eucalyptus in the background. I'm not getting jasmine or vanilla notes at all, although that may be the barely detectable smidgen of sweetness. Fantastic scent, and it lasted most of the day!
Binge Watch & Chill (Almond Milk + Honey)
Honey nectar, sweet mandarin, orange, soothing almond milk, sandalwood, and vanilla
A nice slightly perfumey scent with vanilla, a bit of sandalwood, a hint of almond, and maybe a smidgen of cocoa butter. I don't smell honey or orange. It's not overly sweet or floral, but more like a luxurious skin cream. I like it!
Breathe (Rosemary + Mint)
Rosemary, spearmint, lavandin, pine needles, eucalyptus, and white flowers
A very nice scent of spearmint (a more garden mint type of spearmint rather than a toothpastey spearmint) with just a hint of lemon verbena (not lemongrass, as there are no citronella notes). I'm not getting any herbal notes like rosemary, and I'm surprised I don't see lemon in the notes. Lavandin is a pungent, medicinal type of lavender (rather than sweet and floral), and I don't smell any lavender type notes in this scent, or pine or eucalyptus. I do get the sinus clearing effects from the mint. I really like this scent! It sounds similar to
ScentSationals Zen
, but it's totally different (that scent has just a smidgen of mint, and is a bit sweeter, with a bit of a laundry note, and no lemon or spa type notes). It's also different from
ScentSationals Inner Zen
, which is intense spearmint with a bit of a toothpastey note and no spa or lemony type notes.
Good Vibes Only (Mahogany + Teak)
Apple, mahogany, citrus zest, ozone, pepper, sandalwood, and oakmoss
A nice, classy scent of an equal blend of mahogany and sweet cedar, with maybe a hint of sandalwood. It has a hint of a men's cologne note, but it's not really a cologne scent, and much less cologney than most mahogany based scents I've smelled. It's just a little bit sweet. I really like it! Looking at the notes, I don't get apple or citrus at all.
Slay All Day (Grapefruit + Ylang Ylang)
Zesty grapefruit, aromatic bergamot, orange, lemon, ylang ylang, lush greens, and cedarwood
A sour, slightly zesty grapefruit scent (the sourness is similar to satsuma, aka "sour orange") that smells great. I detect a smidgen of an herbal or floral note way in the background (even though this scent has no sweetness at all), which is probably the ylang, but ylang is a note that's extremely difficult to reproduce successfully in candles and wax melts.
Weekend Ready (Ginger + Turmeric)
Sparkling ginger, mandarin, spicy turmeric, clove, eucalyptus, fir needles, and white musk
This smells like ginger and lemongrass, a nice spa type scent with no sweetness. I think I also get a tiny bit of the turmeric (a ginger type scent with an earthy, slightly bitter, slightly orange note). I also get a bland soapy note, although both ginger and lemongrass have soapy notes. I like this, and it would be a great mixer for other spa type scents like lavender and lemon verbena. Looking at the notes, there could be a smidgen of clove way in the background, but I'm not getting fir, pine, or eucalyptus.