Flying Mallard Candle Co. Wax Melt Reviews
July 14, 2017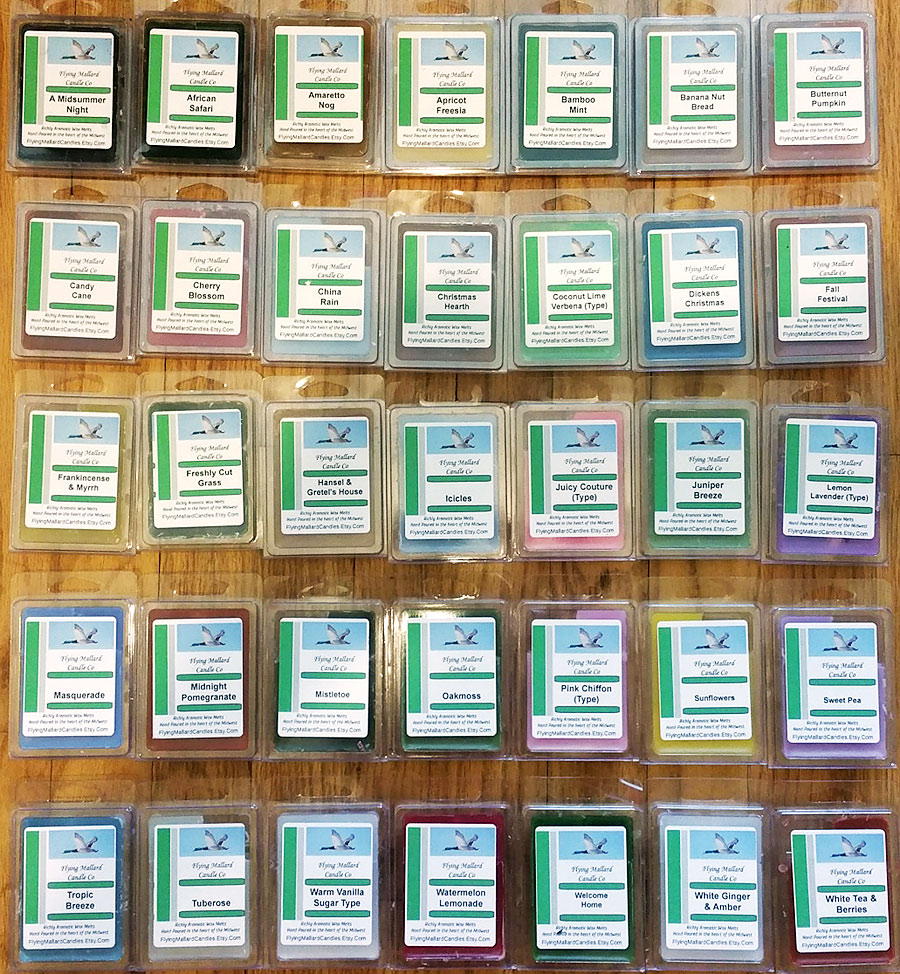 This is a review of wax melts by Flying Mallard Candle Co., a small business in Peoria, Illinois that makes scented wax melts, votives, body lotion, and shower gel. Flying Mallard Candle Co. can be found on Etsy and Facebook.
As of September 2020, Flying Mallard Candles is CLOSED.
I was very happy with my order, the quality of the scents, and the owner's excellent customer service and friendly, professional demeanor. The only negative I had about the melts is that the wax was very difficult to get out of package, and the consistency of the wax was like nougat, hard yet sticky. I had to cut out each block with a butter knife as they were stuck to the inside of the clamshell. But this was not at all a deal-breaker, as the quality of the scents more than made up for the slight inconvenience. The average throw of all of these scents combined was good to very good, and most of the scents had very good throw.
A Midsummer Night
This rich and alluring masculine scent is reminiscent of lying on the hood of a car in the middle of a field on a hot summer night, watching the stars twinkling above, without a care in the world.
Based on the scent name, I assumed this would be a dupe of Yankee Candle Midsummer's Night, and it's even the same deep blue color. But it smells nothing like the Yankee scent, which is a spicy men's cologne. This scent is a nice clean slightly soapy perfumey scent, not a men's cologne scent but could be a men's body wash type scent.
African Safari
This delicious scent encompasses everything 'safari' that is too majestic to describe in words. It's rich, edgy, masculine, adventurous!
An expensive soapy men's body wash scent with a bit of a green, grassy, maybe slightly raw wood note (but not smoky). It's not very sweet, and it's not a harsh cologne scent. I really like it.
Amaretto Nog
A relaxing blend of sweet almond and vanilla.
This is a very nice sweet candy like scent with an almond note and a little bit of a perfumey note.
Apricot Freesia
This is an upbeat blend of fruit and floral. If you don't like fruit scents because they are too sweet, try this one. The freesia really tones down the syrupy notes while the apricot livens up the freesia.
This is a rich milky peach scent, and it's not very sweet. It smells like the fuzzy outside of the peach. I don't smell freesia or any floral though.
Bamboo Mint
A clean, refreshing blend of fresh green bamboo and mint comingled with deep florals and musk. Top notes open with fresh pear, mint, black pepper and galbanum. A heart of bamboo, black currant, ozonic lily and tuberose are wrapped in a base of sandalwood, musk and violet.
A super rich watery herbal soap scent. It smells like you're taking a shower or you're at the spa with an expensive herbal shower gel. Fantastic scent, and perfect for a bathroom.
Banana Nut Bread
The mouth-watering aroma of oven fresh banana bread. This delicious combination of walnuts, ripe banana, vanilla, and a touch of spice is sure to spark your appetite.
This smells fantastic! It's a rich, buttery banana and nut scent. I almost want to eat the wax!
Butternut Pumpkin
This is a perfect autumn fragrance with a blend of butternut squash, pumpkin puree, cinnamon, clove and vanilla.
A sweet molasses scent with a pumpkin note, kind of like pumpkin butter. There are some spices in there like cinnamon, but this is a bit different from a lot of "typical" fall scents and doesn't have that typical pumpkin note.
Candy Cane
The sweet smell of the holiday favorite.
A nice sweet peppermint scent with a warm vanilla note, which makes it a little different and richer than other candy cane scents I've smelled, almost with a cake-y note. It's not overly minty, and time went on it became less and less minty. Very nice scent.
Cherry Blossom
A fresh-woody floral white-cherry blossom type with top notes of green rosewood, middle notes of lily-rose, and a light woody background.
I barely smell anything on cold sniff, maybe a slightly sweet soapy scent. Cherry Blossom scents in general always seem to have weak throw, no matter which company makes them. Melted, it's a sweet delicate floral with a baby powder note. The scent faded within a half hour.
China Rain
A soft white floral bouquet of carnation, lily and crisp white grapefruit. The heart is a radiant blend of jasmine, tuberose, cyclamen and violet. The base combines vanilla beans, East Indian sandalwood, rose crystals and long lasting sexy musk.
I love this scent. It's a delicate rose scent with a very sweet, fresh soapy note. Like a sweet rose scented soap. Looking at the scent notes, there's the "rose crystals". I don't smell grapefruit at all, but I do smell the musk a bit, and maybe a smidgen of sandalwood in the background. Fantastic scent, and perfect for a bedroom or bathroom. Even though the throw is bold, the scent itself is light, so it's not overwhelming.
Christmas Hearth
A nutty bouquet with maple, cinnamon and clove top notes with a syrupy sweet background.
What a nice and different scent. It smells like orange with cinnamon and caramel and maybe a hint of nut. But it's not an orange pomander scent, which I don't like as it has that soapy gaggy note. This is a very nice scent. Looking at the scent notes, I'm surprised I don't see orange, since orange is the predominant note.
Coconut Lime Verbena (Type)
A duplicate of the popular Bath and Body Works fragrance, a luscious blend of juicy citrus fruits such as lemon and lime on a delicate heart of creamy coconut and fresh florals. Vanilla notes and sandalwood round out the blend.
A nice fresh watery coconut scent. This one is not sweet, and has a smidgen of lime which is not really noticeable when melted. It doesn't smell very fruity as the scent notes would suggest.
Dickens Christmas
A fruity, spicy bouquet with cinnamon, clove, nutmeg, and juniper notes with a sweet, musky background.
A nice warm apple spice scent with cinnamon, clove, and a hint of wood and may be a smidgen of pine. Looking at the notes, they're spot on.
Fall Festival
Top notes of sparkling citrus, cinnamon, and Macintosh apple with mid notes of blush rose, clove buds and crushed greens on a base of raspberry jam, scarlet peach and sugared vanilla.
Ooh I like this one. I've been over fall scents for a while now, but although this is a fall scent, it's different from "the usual". I smell apples and cloves and cinnamon and kind of a "dirt" note, but in a good way. It's like apples that have fallen on the ground or are a little overripe. But the way all the notes work together, it's different than a typical fall scent. Looking at the scent notes, I see citrus, rose, raspberry and peach, which are not typical fall notes. I don't smell any of those notes, maybe a smidgen of the raspberry perhaps which gives this scent a sweet richness.
Frankincense & Myrrh
This fragrance embodies the classic and enchanting aromatic blend of frankincense and myrrh, with bergamot, patchouli and sandalwood.
A fantastic incense type scent, very similar to Nag Champa, with that baby powder note, but just slightly less sweet and not as soapy. The scent lasted all day.
Freshly Cut Grass
This scent is fresh, clean and vibrant. It's a single note fragrance smelling of... fresh cut grass! It's crisp, sweet and green. You'll love it!
I barely smell anything on cold sniff, although the little bit I do smell does have kind of a sweet green grassy scent.
Hansel & Gretel's House
A rich base of cocoa and vanilla bean supports mid notes of nutmeg, honey, ginger and clove with top notes of lemon and orange.
I smell caramel, cinnamon, brown sugar, and a little bit of ginger. Yummy, and super rich! Looking at the scent notes, I don't smell lemon, orange, or cocoa at all. Although it does have a little bit of a "fudgy" vibe, so the cocoa might be way in the background and might be contributing to the extra richness. Melted, it smells like a pancake breakfast with butter and lots of syrup!
Icicles
Top notes of ozone and cypress with mid notes of jasmine and spice on a base of cedar, sugar and moss
I smell mint and a slightly sweet spice, kind of peppery. Looking at the scent notes, I don't smell jasmine specifically, but I guess that's adding to the slightly sweet note. It's a chilly wintry type of scent even though it's not overly minty.
Juicy Couture (Type)
A fruity floral fragrance with mandarin, watermelon, green apple, marigold, lily and crème brûlée notes. The base of this fragrance is a woody vanilla complex including Sandalwood, Cedar, Vanilla, and a touch of musk.
I've never smelled Juicy Couture so I don't know how accurate this scent is, but it's a nice perfumey scent. It's one of those more modern type perfumes (not an older sophisticated classic), and it's more of a young girl's perfume, quite sweet but it doesn't have a candy note like a lot of the young girl perfumes have. It's quite nice. Looking at the scent notes, I don't detect the fruity notes but they could be way in the background.
Juniper Breeze
A duplicate of the popular Bath and Body Works fragrance, this has a blend of floral, green and fruity notes with a slight musk undertone.
Based on the scent name I expected this to smell like a Christmas tree, but it doesn't. It's better! It's a sweet fresh watery scent with a soapy note. It smells a little bit like
ScentSationals Bali Shores
, but not as sweet.
Lemon Lavender (Type)
A beautiful blend of lemon, French lavender, and green leafy hints with geranium, rose and eucalyptus oil on a base of Virginia cedarwood and vanilla.
On cold sniff, this is a nice clean lemon Pine Sol type lemon mixed with lavender. But melted, I smell the lavender more, mixed with a little bit of salty lemon but it doesn't have as much as an "industrial" lemon cleaner scent as it does on cold sniff. Very nice scent. Looking at the scent notes, it's probably the eucalyptus that gives it that lemon verbena/industrial cleaner note. And geranium has a bitter note.
Masquerade
An ozonic blast of crisp mountain air, citrus, and leafy green freshness mingled with a hint of berries that weaves into Colorado blue spruce, white pine and ivory geranium.
I thought I wasn't going to like this based on cold sniff. It kind of smells like salty Play-Doh on cold sniff and I wasn't even going to bother melting it. But I'm so glad I did! It smells really good, kind of a floral with a bit of a green savory note, very hard to describe. Looking at the scent notes, now that I know spruce and pine are in this scent, I do smell that, which is the savory note. I don't smell citrus or berries, but they're probably where the sweetness is coming from. The scent faded within 1 hour.
Midnight Pomegranate
A duplication of the Bath and Body Works fragrance, this has a deep and sensual scent with a sweet tart twist. Sparkling notes of citrus, dewberry, and cassis dress up the deeper notes of Musk, sandalwood and vanilla.
This smells like cranberry with a little bit of a clove note, and it's not very sweet.
Mistletoe
A festive pine scent with a top note of sweet berries and green apples.
A fantastic spruce scent with a hint of eucalyptus and maybe a smidgen of berries. It's not a biting pine scent. Looking at the scent notes, I don't smell apple at all.
Oakmoss
A blend of jasmine and rose on an undertone of cedarwood and patchouli with a strong background of moss, which is a very popular masculine fragrance.
A nice slightly sweet soapy scent with herbal notes and maybe a patchouli note. It smells a little bit like a men's body wash. Looking at the scent notes, there's the patchouli. And on cold sniff I think I do smell a hint of rose, but I don't smell that when melted, or the jasmine. If you've ever smelled a "sage and citrus" scent, it smells kind of like that (sage & citrus scents don't really have sage or citrus notes).
Pink Chiffon (Type)
A duplicate of the popular Bath and Body Works type, this scent has top notes of sparkling pear, peach nectar, and wild berries with mid notes of water lily, apple blossom, tiare flower and jasmine on a base of vanilla orchid, sandalwood, coconut milk, and chiffon musk
Super rich Pink Sugar scent with a bit of a marshmallowy vanilla buttercream note, and a bit of a perfume note. Fantastic scent! Looking at the scent notes, I do detect a smidgen of coconut. And maybe just a hint of berries although way in the background.
Sunflowers
A sophisticated, musky floral scent.
Sunflowers don't actually have a scent, but this is a pleasant floral perfume scent with a little bit of warmth. It's not overly sweet or an overly girly perfume. Melted, it has a little bit of a mild kitchen cleaner scent, like Palmolive dish detergent, but not harsh at all. It's almost like a kitchen lemon scent, but without the lemon.
Sweet Pea
Light and airy, this elegant fragrance captures the sweet and floral essence of an English Garden.
Yep, it's sweet pea, a sweet warm delicate floral scent. This one is slightly less sweet and slightly more soapy than some other sweet pea scents I've smelled, which is a good thing. It's a nice bedroom, bathroom, or baby's room scent.
Tropic Breeze
A saucy blend of all scents from the tropics – exotic fruits, salty sea air, and crisp blue water – all rolled into one fabulous scent!
A yummy, happy summery scent! I smell pineapple, strawberry, creamy vanilla, and a little coconut. Looking at the scent notes, I don't smell fresh air or salty ocean notes.
Tuberose
Rich floral notes highlighted by delectable fruits, woods and stem green notes.
Tuberose is one of my favorite scents, and hard to find in wax melts. It's a super strong, rich, slightly perfumey honeysuckle/gardenia type scent. And this one does not disappoint. Fantastic! Looking at the scent notes, I don't smell fruit at all, and not wood either, although I do smell a smidgen of green notes that help to make this scent smell more authentic and not too perfumey.
Warm Vanilla Sugar (Type)
This is a very accurate duplicate of one of Bath and Body Works best selling fragrances.
A fantastic super sweet vanilla buttercream marshmallow burnt sugar scent with a warm cashmere perfumey note.
Watermelon Lemonade
Just like the popular Bath and Body Works fragrance, this is a refreshing blend of watermelon and freshly squeezed lemons.
The perfect combination of watermelon and lemonade. It's the ultimate summer scent! On cold sniff, I smell the sweet watermelon first, but I definitely smell lemon as well. When melted, however, I smell a nice sweet candy-like watermelon scent but no lemon. Which is okay, because it smells fantastic. It smells almost exactly like
Hanna's Candle Watermelon Lemonade
. But the Hanna's version had an excellent throw of 5 out of 5 that took over the entire house.
Welcome Home
It is a warm feeling of coming home to a house filled with aromas of cinnamon leaf, jasmine, agave nectar, fig, and French lavender with a rich base of cypress, cassia root and golden sandalwood.
This is a green herbal grassy scent with maybe a smidgen of cinnamon. It sounds like a weird combination, but it works. It's not very sweet. Looking at the scent notes, those are some interesting combinations! Fig tends to tone down sweetness and makes everything smell classy. I don't smell lavender or jasmine per se, but I think I detect the sandalwood. This scent is so "different", and I really like it!
White Ginger & Amber
This Bath and Body Works duplication is an exotic mix of precious woods and vanilla notes highlighted by coconut and muguet.
I love the scent of white ginger. It's a delicate sweet incense type scent with a hint of woods, not the spicy type of ginger, more like a floral ginger. I smell that in this scent, along with a warm amber note. Looking at the scent notes, I didn't smell coconut but now that I know it's in there I think I detect is very slightly in the background. And the muguet is the floral note.
White Tea & Berries
A tantalizing tincture of herbal tea and dew-covered raspberries, blackberries, and elderberries.
Ooh I love this scent! It smells like super sweet strawberries and cranberries with a sugary almost slightly Pink Sugar note, like berry scented lipstick. But it's also succulent and rich, with just a smidgen of tartness. I think I do smell a very slight green tea note, but if I didn't know it was in there due to the scent name, I probably wouldn't detect it.