Goose Creek Candle Wax Melt Reviews - April 2023
April 30, 2023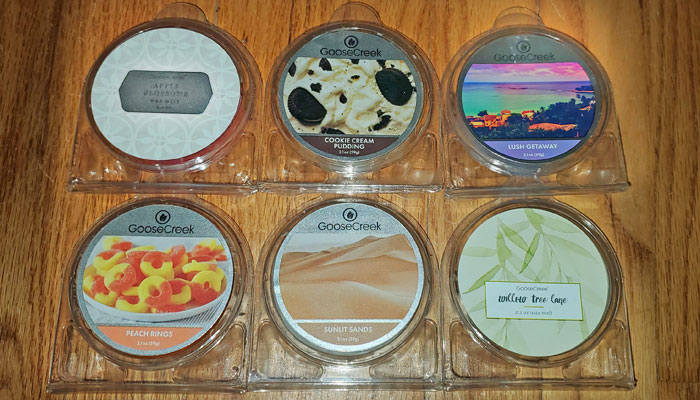 This is a review of 6 new Goose Creek wax melts scents April 2023: Apple Blossoms, Cookie Cream Pudding, Lush Getaway, Peach Rings, Sunlit Sands, Willow Tree Lane.
Most of Goose Creek Candle's wax melts are now using the new clamshells that I described in my March review, as Goose Creek wax melts are now being sold not only on the Goose Creek Candle website, but also at Walmart. I believe only certain "core" scents will be sold at Walmart.
Apple Blossoms
Crisp Apple, Soft Blooms, Woods & Spring Breeze
A perfumey scent with an apple note, a hint of vanilla, a slight fresh air note, and maybe a smidgen of floral and candy. It's not as "apple-y" melted as it is on cold sniff. Looking at the notes, they're spot on, although I'm not getting any woodsy notes, but maybe it has a tiny bit of a very subtle sandalwood note. I like it!
Cookie Cream Pudding
Chocolate Cookie, Vanilla Cream, Cocoa Powder & Chilled Milk
This smells like a combination of a Hershey's Milk Chocolate bar and Hershey's white chocolate, specifically Hershey's Cookies 'N Creme. It's a combination because it's not quite as chocolately as milk chocolate, but more chocolatey than white chocolate, and it has a milky note. And it's specifically a Hershey's bar, as Hershey's has that unique, almost slightly burnt (not in a bad way) quality to their chocolate. It's not a chocolate bakery or chocolate milk scent. And it's fantastic!
Lush Getaway
Top: Strawberry, Raspberry; Mid: Soft Island Coconut, Vanilla; Base: Cotton Candy, Warm Citrus
Toothachingly sweet scent of pure sugar and milky vanilla with a bit of coconut and marshmallow, and a smidgen of fruit (strawberry?). It has a cotton candy vibe, but it's not entirely foodie as I think there may be a smidgen of gardenia or musk way, way in the background that also makes it smell a little bit like a cotton candy scented skin cream. I adore this scent! Looking at the notes, I'm not getting nearly as much fruit as the notes suggest, and no citrus at all.
Peach Rings
Juicy Peach, Gummy Candy & Sour Sprinkled Sugar
This is a pungent, slightly "earthy", peach scent. It might have a smidgen of a lemony or savory note way, way in the background, but I'm not sure about that. It's not really sweet, but that's what differentiates it from other peach scents. I'm not a fan of peach scents in general, but this one is okay for me because it's different.
Sunlit Sands
Warm Sands, Pineapple, Mango, Coconut & Soft Banana
I'm getting coconut, vanilla, a hint of sandalwood, and possibly a tiny bit of a salty oceany water note. On cold sniff, I'm also getting a strong almond note, but I don't smell almond when melted. Unlike a lot of coconut or beachy scents, I'm not getting pineapple. It's sweet but not overly sweet, and not perfumey. It smells kind of like a nice almond/coconut skin cream, although it's also a little bit foodie. It also reminds me a little bit of their
Vanilla Sands
scent, which combines oceany water and a sweet vanilla cookie, but I like this scent much more. The longer it melts, the less sweet it gets, but it's still a great scent! Looking at the notes, I'm not sure what "warm sands" smell like, I'm not getting mango per se although I think there is indeed a smidgen of a sour fruit note way way in the background, and I'm not getting any pineapple or banana notes at all. And even though vanilla is not listed, it's in the description, which is "A soft dessert breeze fills the air with a complex, sandy vanilla aroma." ("dessert" should be spelled "desert"). I really like it!
Willow Tree Lane
Willow Trees, Sweet Melon, Soft Moss & Blooms
A slightly savory, "green", herbal plant type scent that's only a little bit sweet, with a tinge of cantaloupe or maybe sweet tea in the background, and perhaps a tiny bit of a grass or grassy flowers note way in the background. It's also a tiny bit soapy, but not like a body wash type scent, not even a little bit, but that tinge of soapiness gives it a little bit of a tomato leaf type note, not really tomato leaf, but maybe a leaf of some kind of garden vegetable plant (in a good way). It has just a teensy bit of a vinegary or metallic note, but it's so subtle that it doesn't ruin the scent. I wasn't sure if I'd like it based on cold sniff, but it's quite nice when melted.