Goose Creek Candle Wax Melt Reviews - January 2020
January 30, 2020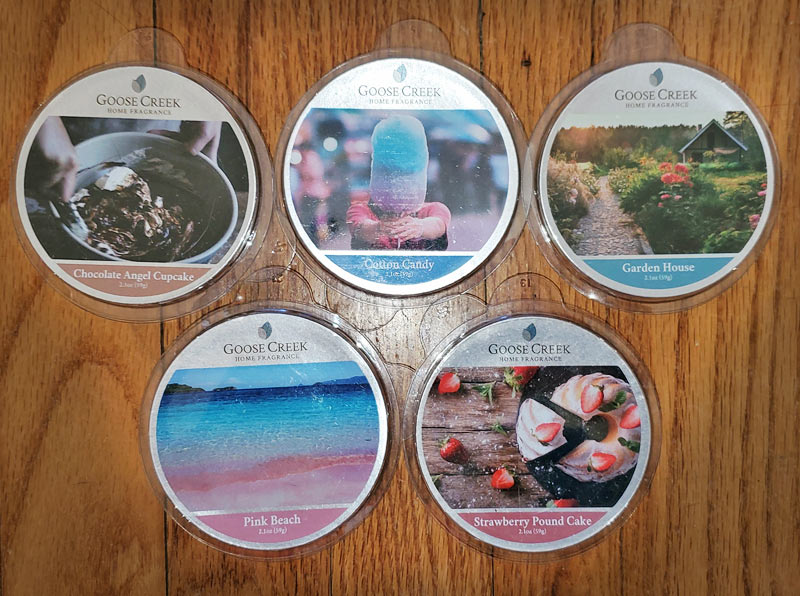 This is a review of Goose Creek Candle Wax Melts from January 2020. These are fantastic, super strong scents! Goose Creek Candle wax melts and candles can be found on their website at goosecreekcandle.com.
In April 2017 Goose Creek Candle switched their wax formula over from soft wax to hard wax. With these new scents, they've switched from the hard wax back to soft wax, as soft wax enables the wax "to have a higher fragrance load". I actually don't mind having to scrape some of the wax from the clamshell with a butter knife if it means stronger throw! And apparently it works, because most of these scents are strong throwers, and two are bold throwers!
Chocolate Angel Cupcake
Top: Angel Food Cake, Fluffy Milk Chocolate; Mid: Whipped Cream, Soft Pear; Base: Cream Cake, Warm Sugar
How do you make Goose Creek's
Angel Food Cake
scent even better? Add chocolate! This is the same scent, but with chocolate added. Like the Angel Food Cake scent, it smells like slightly burnt sugar (in a good way) and milky vanilla, with a toasted marshmallow note, and maybe a barely detectable smidgen of some kind of fruit. I do smell milk chocolate, but it's subtle. It's a sweet, rich scent, but not cloyingly sweet. On cold sniff I thought it might have a perfumey note, but when melted it's only slightly perfumey, and the chocolate note that smells more like cocoa butter on cold sniff gets stronger and more like regular chocolate. Looking at the scent notes, the fruit I'm detecting is the pear, but it's barely noticeable. I really liked their Angel Food Cake scent, but adding the chocolate takes it to another dimension. I like this scent even more, and it lasted all day, at least 10 hours straight! Probably would have gone longer if I hadn't turned it off for the night.
Cotton Candy
Top: Cotton Candy, Fluffy Spun Sugar; Mid: Blue Raspberry, Pink Berry; Base: Strawberry, Warm Sugar
A sweet, sugary blue raspberry scent. Not really cotton candy because it has a little bitterness, but still a nice scent, although it seems to be missing something. Despite some similar notes as
Unicorn Candy
(notes are Top: Blue Raspberry, Candied Sugar; Mid: Rock Candy, Peach Crème; Base: Wild Currant, Mixed Berry), this is a different scent, as Unicorn Candy has that slight lemony tartness that Cotton Candy does not have and I think smells more like cotton candy! If I had to choose between the two, I prefer Unicorn Candy, plus the fact that throw is a 5.00.
Garden House
Top: Garden Blooms, Bright Pomegranate; Mid: Geranium, Green Leaves; Base: Leafy Greens, Garden Breeze
A beautiful fruity floral of blackberries, and a rich floral like jasmine, and maybe a hint of strawberry. It's sweet but not overly sweet, and not perfumey or even a floral type scent. Looking at the notes, okay the fruit is pomegranate. This scent is definitely more fruity than the notes would suggest, especially when melted; in fact, I smell mostly the blackberry (well, pomegranate I guess) and very little of the floral when melted. I love it! It smells like a cross between the new
ScentSationals Mystic
(but more fruity) and
ScentSationals Festival Vibes
(but not as rich and fruity) scents.
Pink Beach
Top: Bright Pink Citrus; Mid: Island Berries, Gentle Musk; Base: Soft Sandalwood, Sea Spray
A very nice scent that smells like coconut, honeydew melon, and red berries. People have said they think this might be a
Yankee Candle Pink Sands
(and
Yankee Pink Island Sunset
) type scent, which I've described as "sweet and slightly floral and smells like a luxurious body cream with a hint of honeydew melon, coconut, and vanilla, and maybe a smidgen of tropical fruit". And the notes are quite similar (Yankee Pink Sands notes: Top - Citrus, Melon, Berry; Mid - Osmanthus; Base - Spicy Vanilla, Musk, Woody Notes). I no longer have the Yankee scent, but based on my description, I'm assuming that they are indeed quite similar. Looking at the notes (for both this scent and Yankee), there's no coconut, but I'm sure I smell coconut.
Strawberry Pound Cake
Top: Dense Strawberry Cake, Vanilla; Mid: Sugary Icing, Mixed Berries; Base: Vanilla Bean Sugar
A super rich, super sweet strawberry scent that smells like strawberry fudge. I think I detect a hint of chocolate, or maybe it's white chocolate. And spun sugar. I think there's a smidgen of a yellow cake note, but it's barely detectable. This doesn't really smell like cake to me, but more like, well, strawberry fudge! But it's not an authentic strawberry scent at all, more like fake strawberry candy, but in a good way. It's fantastic and SOOOOO yummy!!!