Hanna's Candle (Candlemart) Black Sands Pirate Wax Melts Reviews
August 30, 2019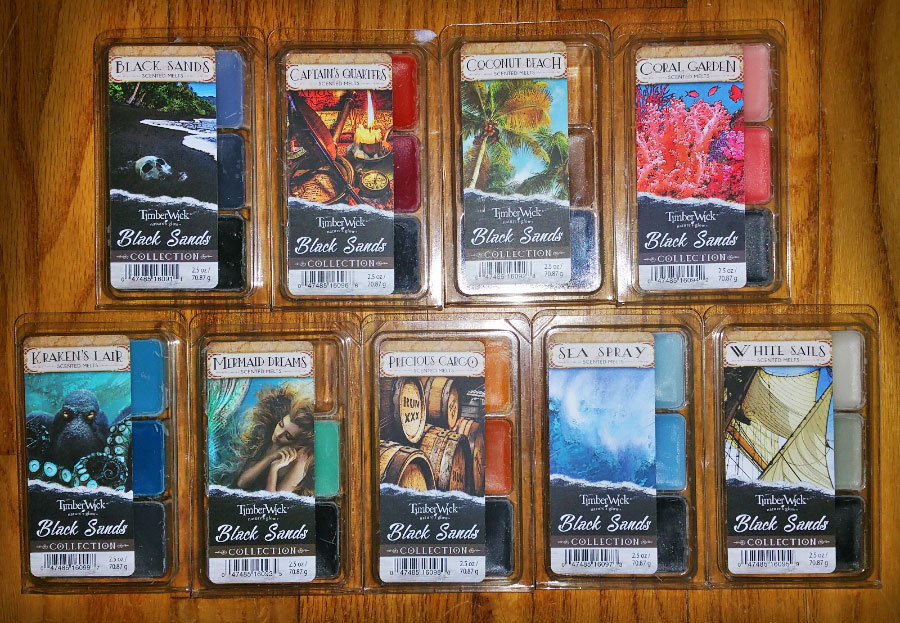 This is a review of Hanna's Candle (Candlemart) Black Sands Wax Melts, a pirate themed collection that can be found on the Hanna's Candle (CandleMart) website.
The website says, "Get lost at sea with the intense aromas in our Black Sands Collection. On ship, the Captain is in his quarters, plotting the course to a coconut beach ahead. The ship is tossed back and forth, white sails billowing in the wind; while sea spray washes the top deck and the precious cargo is raided by the crew in a secret stash. Mermaids float through coral gardens below, carefully avoiding the Kraken's Lair." And all of the scents in this collection are mentioned there!
Black Sands
Orange, lily, bergamot, jasmine, rosewood, heliotrope, and musk
This is the same as their regular
Black Sands
. It's a sweet super warm scent with strong amber and musk notes, baby powder, and a smidgen of a cologne note. There's a nice floral note in there that I can't identify that almost has a foodie quality like vanilla. Looking at the scent notes, I don't smell orange at all. The floral note is most likely the heliotrope, which is a "delicious powdery scent that oscillates between marzipan, vanilla, cherry pie and almond (hence its alternative name "cherry pie flower")". This is a unique scent and I really like it.
Captain's Quarters
Bright autumn pumpkin blends with softly spiced apples, ground cinnamon sticks and sweet clove buds accented with creamy praline, hints of autumn chestnuts and black vanilla
I've smelled this scent several times before, and I'm never able to figure out the notes. It smells like Better Homes & Gardens Enchanted Pumpkin Valley,
Yankee Candle Beautiful Fall Pumpkins
,
Tuscany Harvest Hayride
, and
At Home Essence Harvest Pumpkin
. It's a pumpkiny scent with a harsh, biting, earthy spice, maybe ginger and something else. I do smell some of the actual scent notes, but it's overtaken by this other unknown note that's not listed. It's not a bad scent, but not my favorite.
Coconut Beach
Coconut, lily of the valley, honeysuckle blossoms, amber sands, vanilla bean, Egyptian musk, and cedarwood
Coconut with a slight nutty, woodsy, buttery note. It's not sweet, and it's not a foodie scent. It would make a good mixer to tone down scents that are too sweet, while also adding a hint of coconut.
Coral Garden
A delicate blend of pink mini-roses, orange blossom, cyclamen, neroli, and jasmine dusted with a hint of musk
This is my favorite scent of the collection. It's a super sweet fruity floral scent with jasmine, a little bit of strawberry, a hint of a girly perfume note, and maybe a hint of vanilla. Which sounds like the description for Pink Sugar, but it's not; this has more of the fruity note and less of the perfumey note than Pink Sugar. It's fantastic and hoardworthy! Looking at the scent notes, I'm surprised I don't see any berry notes.
Kraken's Lair
Lemon sparkle, fresh air, star jasmine, French lavender, oakmoss, blonde woods, and black sands
A rich warm, but fresh, men's cologne scent with mahogany, a hint of lavender, and a smidgen of lemon. It also has teensy bit of saltiness (in a good way) which adds to the richness. It's not overly sweet or cologney. It's a fantastic scent. Looking at the scent notes, they're spot on, and no salty type notes.
Mermaid Dreams
A beautiful floral creation of blooming violet, white rose, jasmine, gardenia, tuberose, and lily
I've smelled this scent before and I think it's a dupe of something else, but I'm not sure what. I want to say
Passion Flower
or
Peony & Rose Bouquet
, but the notes are different. It's a floral and I do smell the delicate gardenia and lily notes, but it's overtaken by a bitterness that ruins it for me. However, I'm sensitive to any bitterness in scents; only one of our other 3 reviewers noticed the bitterness and didn't like it, but the other 2 reviewers just smelled a soapy violet or jasmine, and one said it smells like grass (I don't detect that at all).
Precious Cargo
Caramel, rum, orange, butter, ginger, crust, maple, vanilla, sugar, and cardamom
Looking at the label, I was expecting a rum scent, and that's kind of what this is. It's more of a slightly salty butterscotch scent with caramel notes, a buttery bakery note, and that smidgen of rum. Looking at the scent notes, they're spot on, although I don't smell orange.
Sea Spray
Pink sea salt, fresh ozonic notes, apple, green notes, water, muguet, cyclamen, cardamom, rose, neroli and musk
Fantastic and unusual scent that smells like lemon and fresh water, with an aloe, herbal or peppery agave note. It's only a tiny bit sweet, but more fresh, oceanic and herbal. Looking at the scent notes, I can't believe there's no lemon in this, since lemon is the predominant note that I'm smelling. And I don't smell any of those sweet notes, like muguet, rose, neroli or musk. Or apple.
White Sails
A balancing blend of dewy ozone, delicate white florals, and soft cyclamen floating above a breezy background of sheer musk
This smells like authentic flower petals, but it's not a perfumey floral scent, and it's not overly sweet. It also has a bit of an oceany water note. It's quite nice. The notes are the same as
Early Morning Mist
, but I described that scent a little differently, so I'm not sure if it's the same scent.