Tuscany Candle Fall Wax Melts Reviews - 2018
September 23, 2018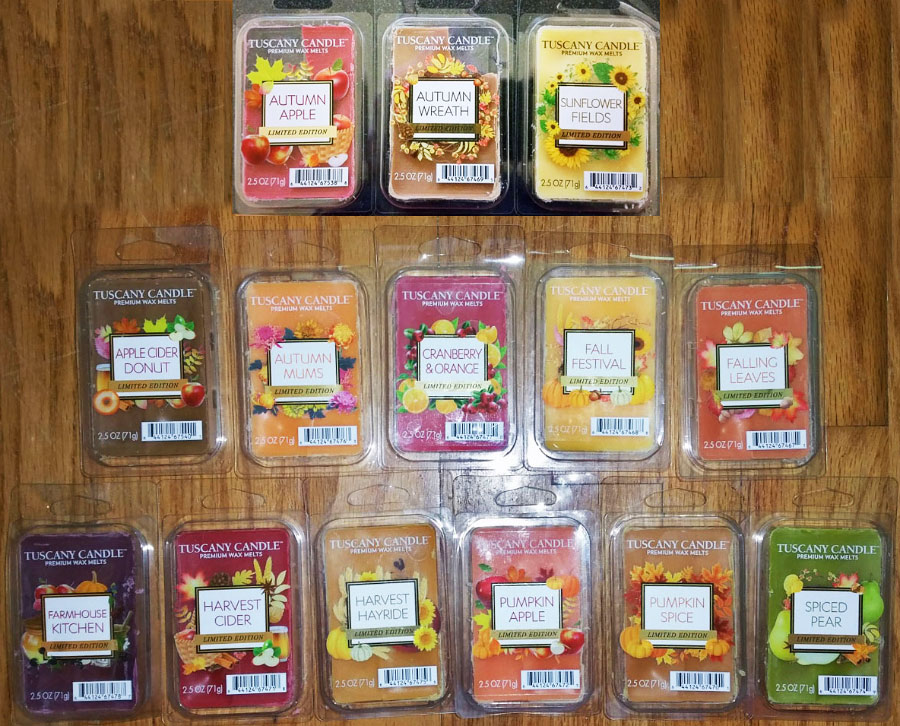 This is a review of Tuscany Candle Fall Wax Melts from 2018. Some of these smell fantastic, some don't smell at all like the scent name, some are generic, and some don't throw well.
When I reviewed the first three Tuscany Candle Fall 2018 scents, Wegmans only had those three. When I went back, I found the rest of them.
Apple Cider Donut
A nice yummy scent that smells more like gingerbread than a donut. Although there might be a hint of apple in it but I'm not sure if that's because I'm expecting it to be there.
Autumn Apple
Fantastic authentic crisp apple scent, like standing in the middle of an apple orchard. The most realistic apple scent I think I've ever smelled! I don't detect any other notes like cinnamon or caramel.
Autumn Mums
I adore this scent! It definitely doesn't smell like chrysanthemums though (which really don't have much of a scent). It's a sweet perfumey scent with a warm cashmere or amber note and rich vanilla that makes it smell yummy even though it's not a foodie scent. It may also have a barely noticeable smidgen of fruit like plum or blackberry.
Autumn Wreath
This smells almost exactly like
Better Homes & Gardens Pure White Woods
, and a little bit like
ScentSationals Vanilla Woods
. It's not really a fall scent. It smells like an expensive furniture store. I definitely smell the wood, but it's also sweet although not in a perfumey way. It's not a patchouli or tobacco or cologne type scent either. It's a fantastic scent.
Cranberry & Orange
Cranberry & Pine would have been a better name, because that's what this smells like. I don't smell orange at all. I like this scent. It's nice and Christmasy.
Fall Festival
I think Fall Festival and Falling Leaves are the same scent, just a basic pumpkin pie scent.
Falling Leaves
I think Fall Festival and Falling Leaves are the same scent, just a basic pumpkin pie scent.
Farmhouse Kitchen
I expected a spicy scent based on the name, but there's nothing kitcheny about this scent. It smells like sweet raspberry and grape juice! It's a nice scent though, and I like it.
Harvest Cider
A fake apple cider scent, but I like it. It smells like apple potpourri.
Harvest Hayride
This is a weird scent and I can't figure out the notes. It's kind of pumpkiny with maybe an old apple or apple cider note, but there's a strong earthy aromatic slightly savory spice of some kind that's taking over, with maybe a bit of ginger or even sage. It smells like the old Better Homes & Gardens Enchanted Pumpkin Valley, and
Yankee Candle Home Inspirations Beautiful Fall Pumpkins
.
Pumpkin Apple
This smells similar to Fall Festival and Falling Leaves in that it's a pumpkin pie scent. But on cold sniff I do smell a little bit of apple cider in the background. I like this one! It's a completely different type of scent from
Better Homes & Gardens Farm Apple Pumpkin
. Melted though, I don't smell the apple note, and it's just another pumpkin pie scent.
Pumpkin Spice
I expected this to be a pumpkin pie scent, but it's really not, and that's a good thing. I do smell pumpkin spices first, but with a super sweet rich vanilla marshmallow note. I love this one!
Spiced Pear
This doesn't smell like pear at all. It smells like a super salty pretzel with maybe a hint of caramel and a barely detectable smidgen of apple. I've smelled this before. Wait, this is the same scent as
ScentSationals Pumpkin Apple Muffins
. Sniffing them side by side, I really can't tell the difference. Which is strange, because they're made by different companies.
Sunflower Fields
This smells almost exactly like Autumn Mums. And it doesn't smell like sunflowers (which don't have much of a scent). I love them both. Side by side, Sunflower Fields is slightly sweeter, richer and more perfumey, so I like that one a little more.