Mia Bella's Mia Melt Reviews (Scent-Sations)
October 28, 2017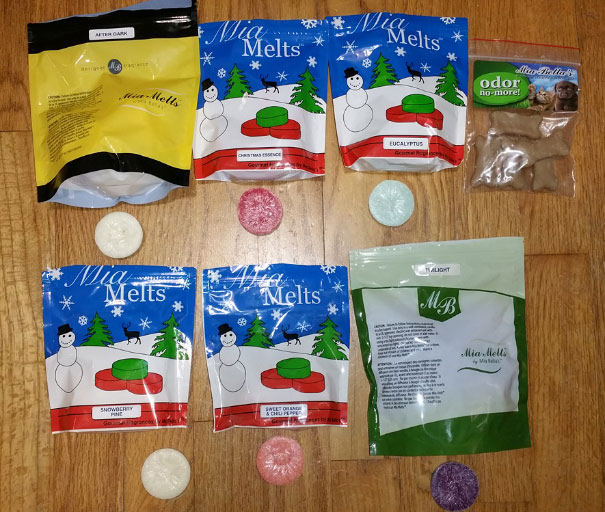 This is a review of Mia Bella's Mia Melts wax melts made by Scent-Sations, Inc., which makes wax melts, candles and other products and sells them through their website as well as through distributors (direct sales reps, similar to Scentsy).
The Scent-Sations website is https://www.scent-team.com, and they can also be found on Facebook, Twitter, Instagram and YouTube.
These are uniquely packaged scents in resealable bags rather than clamshells. Each wax "cube" is a round disc that, because of the texture of the wax, looks like a banana slice! The texture of the wax is hard and the surface has that crystallized slightly iridescent look of palm wax. Their wax is a proprietary formula "comprised of vegetables and other natural, renewable resources". They use 100% palm wax from sustainable plantations in Malaysia. Palm wax is safe and green, harder than paraffin and soy, and works well in just about any warmer, from 15W warmers to 25W bulb warmers. And once the wax cools and hardens, it's easy to pop out of the warmer.
One disc is 0.4oz., which is equivalent to one cube of wax from a regular 2.5 oz. clamshell. Each bag comes with 12 discs, so the total weight for each bag is around 4.8 oz. Their line of winter melts, however, are sold in 6-packs instead of 12-packs.
When reading these reviews, keep in mind that these are only 7 scents out of over 100 scents that they carry, so it's not a fair representation of the overall quality of their melts.
This is a different company from Mia Bella Scent Co.
After Dark
A premier signature fragrance created with world-class perfumes that are both elegant and alluring. This sensual, captivating fragrance has depth of character and is sure to leave a lasting impression.
Oh I like this one. It smells like a nice upscale women's perfume with a laundry note and maybe a smidgen of baby powder. It's not a floral, musky or candy-like scent, and it's not overly sweet or "girlish".
Christmas Essence
The spirit of the holiday season is captured with a smell similar to a combination of fruits and herbs that is sure to fill your home with holiday cheer!
This is a smoky pine scent but there's another note in there, some type of herb like rosemary. Looking at the scent notes, it does mention herbs but not which ones. I don't smell fruit. And this scent is not sweet at all. I like it; it has a cozy comforting quality.
Eucalyptus
This refreshing and invigorating scent will brighten any room. Calming and comforting, it is also soft and romantic.
This is the most authentic eucalyptus scent I've ever smelled in a wax melt. It has a menthol sinus clearing effect even on cold sniff. It's not a pine scent or a mint scent, like many other eucalyptus wax melts, and it doesn't smell like Vicks VapoRub. It's fantastic!
Odor No More
Vanilla is one of the most loved fragrances around the world. We combined the highest quality Madagascar Vanilla perfume with a mixture of exotic herbs to give you a scent that will mask any unwelcome odor!
Fantastic scent that smells like lavender and vanilla, but with some other notes I can't figure out, maybe sandalwood? It's a sweet scent but not floral or foodie. And it's super strong on cold sniff! Actually, this smells exactly like
Scentsy Lavender Vanilla
, which I believe is the same as (or similar to) Bath & Body Works Lavender Vanilla.
Snowberry Pine
This incredible scent is a blend of Balsam Pine, with semi-sweet winter berries, and an exhilarating hint of mint. A perfect holiday fragrance!
I love this scent! It's very similar to the Christmas Essence scent, with a smoky pine and another note that smells like rosemary or some kind of savory herb. But I also detect a smidgen of some kind of berry, maybe cranberry. This is not a sweet or fruity scent at all. I thought based on the name that it would be similar to
Scentsy Snowberry
, but it's a different scent entirely. Looking at the scent notes, I don't smell mint at all.
Sweet Orange & Chili Pepper
A zingy, zesty, orange-eeee smell that you will never forget! It rose to the top as one of our most popular fragrances immediately! Here's one more way to enjoy our signature scent!
I smell orange with a nice clean soapy note. It's not a sweet, candy, or citrusy orange. And it's not really a sweet scent, maybe just a pinch of sweetness. I don't smell pepper at all. Even though it has a soapy note, it's not like an industrial cleaner scent, nor a body wash scent (not nearly sweet enough). It smells a little like a facial mask I have, with a bit of a green, herbal, natural note. Looking at the scent notes, no, this is definitely not a zingy, zesty, orange-eeee smell! Which is good, as those scents are quite common. I like that this scent is unique.
Twilight
Irresistibly intoxicating, this fragrance is infused with top notes of Indian Ginger accompanied by bottom notes of earthy walnut. Whether you are a "lion" or a "lamb", this fragrance will transport you.
A luxurious women's perfume with a vanilla note and maybe a hint of caramel. Very nice scent! Looking at the scent notes, I don't smell ginger or nut at all.