Mia Bella Scent Co. Wax Melts Reviews
September 15, 2021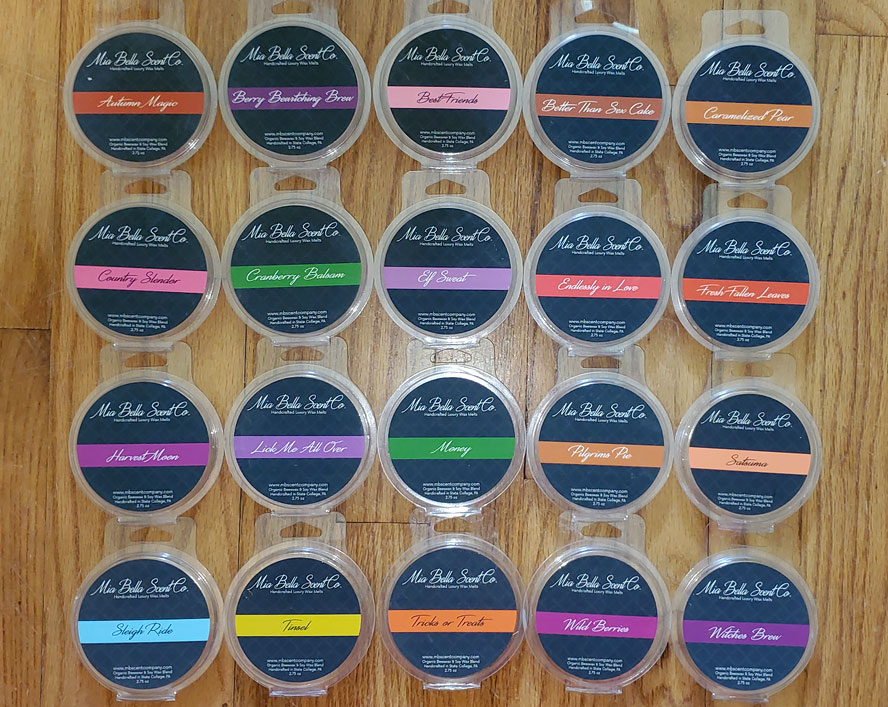 Mia Bella Scent Company is a crafter of organic and dye-free scented wax melts. They use their own proprietary blend of beeswax and soy waxes, handcrafted and hand poured in State College, Pennsylvania, using the highest quality standards possible. Mia Bella's product offerings are always growing. Visit them today at www.mbscentcompany.com and use promo code WMREVIEWS to save 20% off your order.
We enjoyed reviewing these wax melts. In general, great scents and very good throw. Although the wax is beeswax and soy, it's not soft or crumbly; the surface of the wax is a bit greasy, but the wax itself is quite hard and not messy, and it's easy to break off a cube. We found that the lids may leave gaps when closed (which can cause the scent to dissipate within weeks or months), so be sure that when you close the clamshell, it's snapped shut all the way around.
This is a different company from Mia Bella's Mia Melts made by Scent-Sations, Inc.
Autumn Magic
Top: lemon and apple; Middle: anise, cinnamon, ginger; Base: woods, musk, vanilla
On cold sniff, the easiest way to describe this is pumpkin pie blended with a perfumey floral, with cinnamon, then nutmeg, and maybe a smidgen of ginger, and maybe a smidgen of apple (fresh sweet apple rather than fall or caramel apple). Melted, however, the nutmeg (pumpkiny) and apple notes disappear entirely, and it's a super sweet cinnamon scent with musk, and notes of incensey, tobacco, and/or patchouli. Fantastic scent! Looking at the notes, no floral or any incensey or tobacco notes, but it does have musk. I don't detect anise at all (which smells like licorice, which I don't like), or lemon. I do get a tiny bit of woods as well as vanilla. It's different, and I love it!
Berry Bewitching Brew
Top: peach, apricot, blackberries; Mid: mandarin, cinnamon, rose; Bottom: hint of woodsy musk
I smell black cherry, but it's not an intense, biting black cherry. Nor is it a light maraschino cherry. I'm also getting some other sweet fruits that I can't identify (maybe pomegranate?) I also detect a hint of orange, as well as a smidgen of floral. It's very nice! Looking at the notes, I don't get peach/apricot at all (which is good, as I'm not a fan of peach), or cinnamon. Yes, I guess the floral could be rose.
Best Friends
boysenberries, elderberries, strawberries, guava and pomegranate with a down of soft vanilla
Black cherry with a hint of some other fruits I think (I'm pretty sure I also smell strawberry and maybe boysenberry). It's sweeter than most black cherry scents, which tempers much of the harshness that black cherry scents tend to have. When melted, it takes on a tiny bit of a chemical note, but not enough to ruin the scent. It's super strong on cold sniff.
Better Than Sex Cake
German chocolate cake blended with semi-sweet chocolate chips and laced with crunchy toffee bits. Vanilla crème and butterscotch syrup create a luscious undertone, while hints of almond and coconut complete the yummy blend.
Sweet almond, vanilla, chocolate, and coconut, in that order. It may also have a hint of caramel. It's incredible!
Caramelized Pear
Crimson pears sprinkled in caramelized brown sugar with maple butter, drizzled with honey and vanilla
A yummy combination of pear and caramel. It's sweet and rich, but not overly sweet, and has a teensy bit of a sour (or even burnt) note that I can't figure out, but not nearly enough to ruin the scent. It might have a smidgen of cloves in the background.
Country Splendor
Apples, oak, balsam, fir, and pine, with a background of cinnamon and clove
A nice apple cider scent with cinnamon, a bit of cloves, and a little bit of mulling spices that give it that slightly sour apple cider note (not in a bad way), as well as a hint of woodsy brown leaves, and possibly a smidgen of pine way in the background. It's mostly apple cider, like 80% apple cider, 15% wood, and 5% pine. A nice fall scent! The scent notes are spot on.
Cranberry Balsam
fresh balsam fir needles and hints of citrus, rose, nutmeg and jasmine, with bold notes of tart cranberries, and fresh greenery
A fantastic scent of pine, wood (with a smidgen of smokiness), cranberry, and vanilla. On cold sniff it's mostly pine and only a tiny bit sweet, but when melting, much of the pine and woodsy notes disappear and the scent is sweeter, with more cranberry. Looking at the notes, I don't get citrus at all, nor do I get jasmine, rose or any floral notes (but some of the sweetness could be from the florals, although I don't smell floral notes per se). I think I detect a hint of cloves, which might be nutmeg instead (although there aren't any pumpkiny notes in this scent). It's a really nice scent, but I liked it better on cold sniff when the pine note was stronger.
Elf Sweat
A bubbly, magical blend of candy, candy canes, candy corn, and syrup, with effervescent spicy soda pop bubbles to provide a unique, magical top note
A fantastic super sweet vanilla and lime scent with a smidgen of a fizzy soda note, but not nearly enough to be bothersome. Great scent! Looking at the notes, I'm not getting candy cane since there is no peppermint (or any mint) in this scent at all. And I'm surprised I don't see lime in the notes, because the main note is indeed lime (unless the soda pop note consists of lime).
Endlessly in Love
a green fruity floral bouquet with apple, rose and jasmine top notes with a sweet woodsy musky background
Apple is the predominant note, with a sweet floral (rose? lily?) and maybe a bit of pear. It's a really nice, "fresh" apple scent that smells a little like a high quality apple scented air freshener spray. Looking at the notes, I don't get wood or musk (it's not perfumey). The scent dissipated within 1 to 2 hours.
Fresh Fallen Leaves
This is not a typical apple/brown leaves type fall scent at all. It's a green, slightly zesty (but not like a salad, and no acidic lemony notes), slightly woodsy, very soapy bamboo type scent with a hint of floral (although it's not actually a floral scent and it's only a little bit sweet). It doesn't smell like leaves at all, and if I had to classify it I guess I'd call it herbal, although it's not totally that either. Either way, it's a fantastic scent that smells like it belongs in a bathroom because of the soapiness.
Harvest Moon
Top: pear, blueberries, pineapple; Mid: juniper berries and eucalyptus; Bottom: spruce, woods, Douglas fir, cedar, white musk
A perfect combination of pine and fruit (could be cranberry, not sure) with a bayberry note. Looking at the notes, I do detect all of them except blueberries and pineapple (maybe that combination smells like cranberry?), and musk (there are no perfumey notes and this scent has only a smidgen of sweetness from the fruit). I love this scent!
Lick Me All Over
raspberry, cantaloupe, and watermelon, middle notes of jasmine and violet, and fresh top notes of grapefruit and kumquat
I smell apple and some other fruits (berries? melon? peach?), along with a hint of floral, but the scent has a tiny bit of sour fruit note (not at all in a bad way) that I can't figure out. It could be a smidgen of pine or even grapefruit, although it's not bitter. Okay, I just found that kumquats are sweet/tart, with hints of lemon and pine! I don't smell lemon at all, but I think there could be a smidgen of a sour citrusy note way in the background. If it were much sweeter and didn't have the sour note, and had more apple, it might be similar to Endlessly in Love. It's really hard to describe, and I wasn't sure if I'd like it on cold sniff, but when melted, it's fantastic!
Money
This wax melt actually smells like the cotton in money, as well as the fresh ink top notes. Now you can say that you have MONEY to burn!
What a weird idea for a wax melt scent, but it kind of works! It's supposed to smell like paper money, which tends to have a slightly woodsy scent with ink notes when the bills are new. And this sort of smells like that. I get the woodsy note and what I assume is supposed to smell like ink and kind of does, like when you're at a print shop. But it also has a little bit of a green plant note, not grass, but something earthy and natural. It's an unusual scent, and when melting it takes on a bit more woodsiness with a tiny bit more smokiness, and less of the ink note. This would make a great gift! ("Here's some money for your birthday!")
Pilgrims Pie
Top: pumpkin and lemon; Mid: champagne, grapes, nutmeg, and smoked cinnamon; Base: vanilla, tea leaves, and hickory
This might be one of the yummiest scents I've ever smelled! It smells like pumpkin pie with extra nutmeg, rich salty caramel, and the note that totally differentiates this scent: a hint of mesquite (and very slightly smoky, but like a smoky bakery note rather than smoked wood). It sounds like a weird combination that wouldn't work, but it works incredibly well and smells SO good! Looking at the notes, I don't detect lemon, champagne, grapes, or tea at all. But there's the hickory (which I thought was mesquite), nutmeg, and cinnamon. The vanilla is probably what I thought was caramel. Melted, I don't get as much of the richness, and just a tiny bit of the smokiness, and the combination ends up smelling more like nutmeg and cloves. Which is still very nice, but it smells so much more incredible on cold sniff.
Satsuma
orange, mandarin, mango, peach, lime, jasmine, and orange flowers
Satsumas smell like sour oranges (but not at all in a bad way) with notes of grapefruit and lemon, and that's what this smells like. It's barely sweet at all (although the real satsuma fruit is sweet). Looking at the notes, I don't get peach (but maybe that's what I think is grapefruit?), jasmine, or flowers at all, but I do get a smidgen of the mango. Great scent! And try mixing it with pine for an incredible blend!
Sleigh Ride
Pine, apples and cinnamon, bayberry, holly, and a hint of vanilla
I expected based on the name that this would be a minty or pine scent, but it's not. It's a very nice apple caramel scent with a hint of cinnamon, with sweet creamy vanilla and a smidgen of something else I can't identify, maybe wood or pine. Looking at the notes, they're spot on. The pine is barely noticeable, but I do get the smidgen of bayberry and holly notes that give this scent a holiday feel.
Tinsel
pomegranate, strawberries, raspberries, with a subtle hint of fresh peppermint leaves and fresh vanilla
I'd expect a scent with this name to be a minty or piney scent, but instead this is very nice, sweet, creamy strawberry and vanilla with a bit of pomegranate. Actually there might be a smidgen of peppermint, but it has no sinus clearing effects, so I'm not sure. Looking at the notes, they're spot on, although I still barely smell the peppermint.
Tricks or Treats
Top: pumpkin, persimmon, apple; Mid: blueberries, elderberries, currants, orange, cinnamon; Bottom: sugar cane and vanilla
This is a pleasant, cozy, cinnamon apple scent that might have a smidgen of cloves and a hint of a candy note. It kind of smells like sweet apple juice with cinnamon, rather than cider, and there are no mulling spices (which would have a sour note). I think there's also another fruit, like pear or plum. The cloves give it a little bit of cozy warmth, and the cinnamon is like cinnamon candy, not a harsh Big Red cinnamon. It's a fantastic cold weather scent! OK looking at the notes, there are a lot of other fruits in here besides apple, although apple is definitely the main note; I don't smell currants or orange at all. And pumpkin? Not really, since there's no nutmeg note, only the cinnamon and cloves
I knew I recognized this scent! It's very similar to ScentSationals Welcome Home (and ScentSationals Home Sweet Home, AmbiEscents Comforts of Home, and ScentSationals Cozy Cottage), but this scent is sweeter and richer (so I like it even more).
Wild Berries
sour cherries, fresh blueberries, and ripened raspberries
A really nice, fruity scent of sweet strawberries, a hint of blueberries, and maybe a smidgen of raspberries. Looking at the notes, I don't detect cherry, although on cold sniff there's a bit of sour note that I don't smell at all when melted.
Witches Brew
This smells like fruitcake! I smell fruit like plums and brandied cherries, along with raisins and ginger that gives it a gingerbread note, and a hint of cloves. It's a fantastic, rich, yummy scent. No scent notes provided, but from sources I've found online, Witches Brew scented oils include cinnamon, clove, berries, apples, cedarwood, amber, and patchouli.