Michaels (Ashland) Wax Melt Reviews - December 2020
December 13, 2020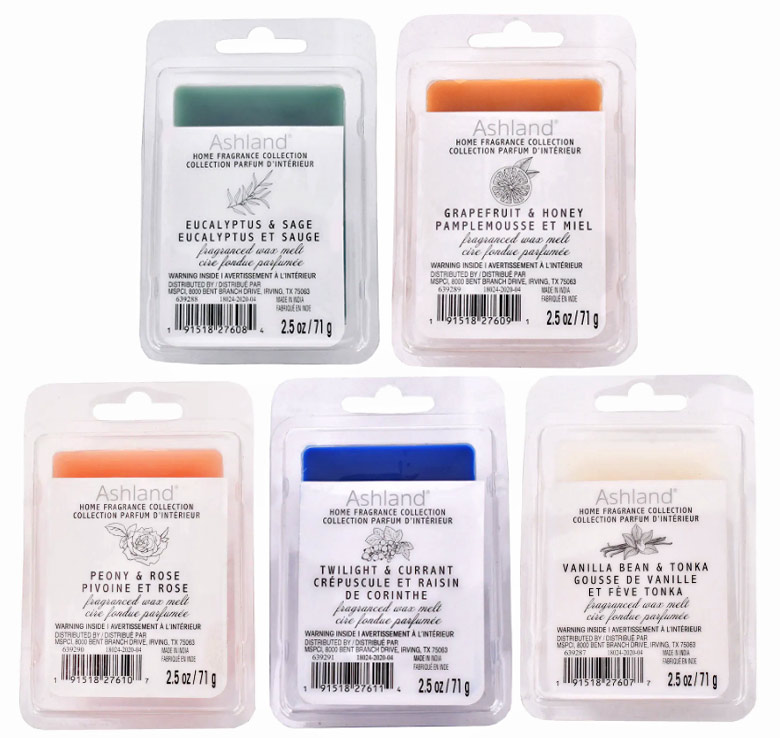 These 4 new Michaels Ashland wax melts (Eucalyptus & Sage, Grapefruit & Honey, Twilight & Currant, Peony & Rose, Vanilla Bean & Tonka) are quite nice, and throw better than most of the Michaels Ashland wax melts I've reviewed in the past 2 or so years.
These wax melts cost $4.99 each, which is quite expensive, but currently they have a 20% off discount and may have additional sales.
These scents are fantastic, with excellent throw. But I believe these are not made by their usual manufacturer, which is why the quality is so much better. They should switch to this company permanently! I reviewed several other scents from this collection in January 2022.
Eucalyptus & Sage
A fantastic, "upscale" combination of incense and herbal notes that smells a bit like Claire Burke's Original scent. I get a hint of patchouli and nag champa, but although it's a bit sweet it's not as sweet as most incensey scents. It also has a hint of a grassy, herbal, very slightly savory note. It doesn't smell like eucalyptus at all (no pine or nasal clearing effect). I adore this scent!
I bought more in January 2022 and compared it side by side with the Eucalyptus & Sage I reviewed above, but it's a totally different scent! The new version is nice too, but I like this older version much more. I reviewed the new one HERE.
Grapefruit & Honey
Twilight & Currant
A fantastic, extremely sweet, soapy watery scent (but not like body wash or cologne at all) with maybe a sweet floral like gardenia, maybe a hint of a warm, soft ambery perfumey note, and possibly a barely detectable smidgen of coconut that most people won't notice. It's a lovely high quality "upscale" type scent. I don't detect currant or any fruity notes. It's a little like a much sweeter, more perfumey, less coconutty version of
ScentSationals Boardwalk
.
Peony & Rose
Vanilla Bean & Tonka