Michaels (Ashland) Wax Melt Reviews - January 2022
January 31, 2022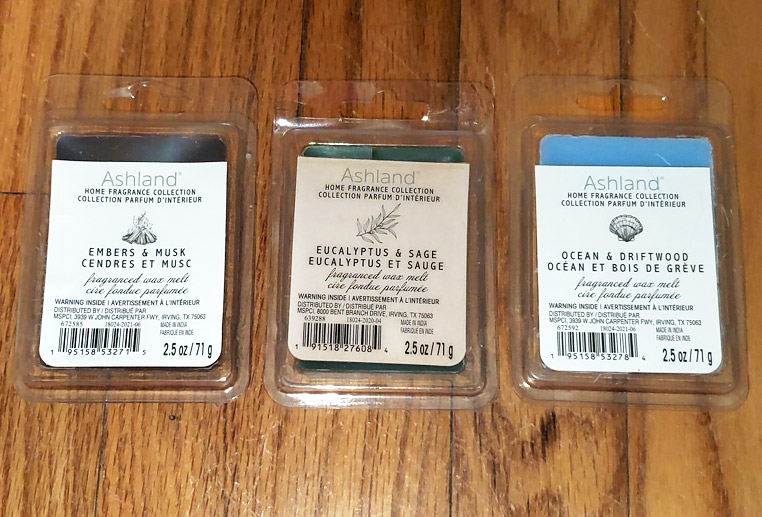 This is a review of Michaels Ashland wax melts (Embers & Musk, Eucalyptus & Sage, Ocean & Driftwood), which are $4.99 each (much too expensive).
These scents are in the candle aisle year-round, as opposed to the seasonal Ashland wax melts that come out, well, every season and are located in a kiosk along with seasonal candles (I no longer review the seasonal wax melts because of poor quality). I reviewed several other scents from this collection in December 2020.
Embers & Musk
Eucalyptus & Sage
I originally reviewed this scent in
December 2020
, but when I went back in August 2021, it was a totally different scent. The old scent smelled a bit like Claire Burke's Original scent, with notes of patchouli, nag champa (but not as sweet), grassy, herbal, and very slightly savory notes. It was a fantastic, "upscale" scent with strong throw. This scent, however, is a very nice garden spearmint scent. It's sweet but not too sweet, and not toothpastey spearmint. It might have a smidgen of eucalyptus, but that generally has a pine note, which this scent doesn't. Sage is a savory herb, and this is not a savory scent. I really like it, but I liked the original version much more.
Lavender & Violet
This scent is not what I expected based on how good the other scents in this collection smell. I get the lavender, but no violet or other floral notes. It's a little bit of a medicinal lavender ("lavandin"), although it's also slightly sweet. But it has a weird note that makes it smell either like cheap, old, poor quality lavender scented soap, or even a bathroom with cheap lavender scented air freshener and you can smell a smidgen of the old urine in the background. I love lavender scents, but this one is awful. I didn't bother buying it.
n/a
Ocean & Driftwood