Pier 1 Fall 2019 Wax Melt Reviews
August 12, 2019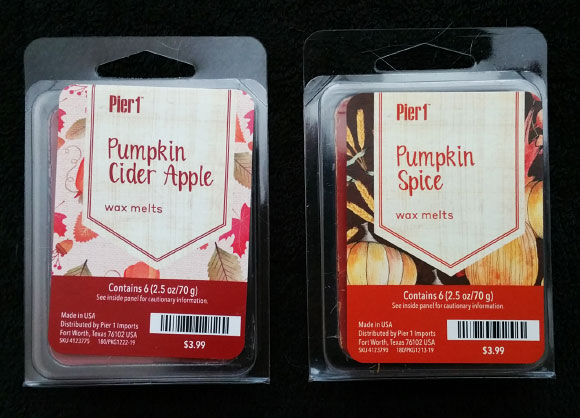 Pier 1 CLOSED in 2020.
This is a review of the two new Pier 1 Fall 2019 wax melts (Pumpkin Cider Apple and Pumpkin Spice). They're nice scents, but rather standard, so not worth the $3.99 price (although Pier 1 wax melts often go on sale).
Also see Pier 1 wax melt reviews from Christmas 2018 and Spring 2019.
Although Pier 1 filed bankruptcy and closed their stores in 2020, the new owners launched an online store, but they do not carry wax melts.
Pumpkin Cider Apple
This smells like apple cider, the natural opaque type. I smell the cinnamon and maybe some other spices, and the fall apples that have that smidgen of a dirt note (but in a good way). It's a nice scent, maybe better than most apple cider scented wax melts I've smelled because it smells like the real thing. It may have a hint of nutmeg, but I don't really detect any pumpkiny notes.
Pumpkin Spice
This smells like a cross between pumpkin pie filling (with only a smidgen of the pie crust) and a sweet cinnamon roll. It's quite nice.