Pier 1 Christmas Wax Melt Reviews 2018
November 1, 2018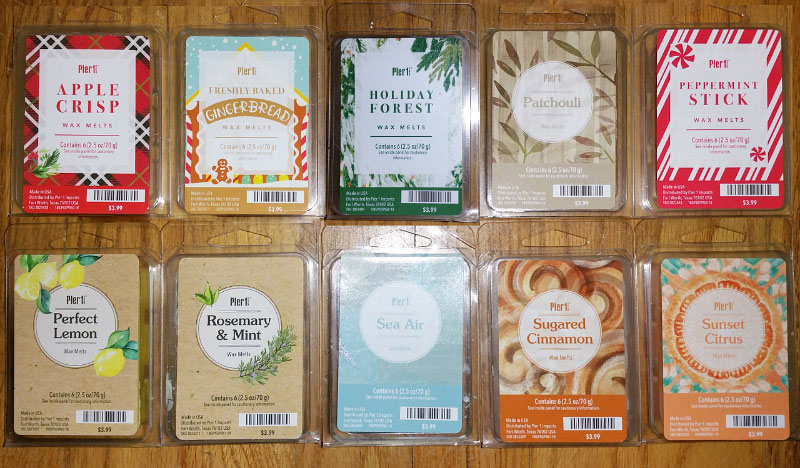 Pier 1 CLOSED in 2020.
This is a review of the Pier 1 Christmas 2018 wax melts. Pier 1 wax melts are brand new as of October 2018, and these Christmas scents are fantastic! All are very strong on cold sniff, they smell great, and they throw very well.
Also see Pier 1 wax melt reviews from Spring 2019 and Fall 2019.
Although Pier 1 filed bankruptcy and closed their stores in 2020, the new owners launched an online store, but they do not carry wax melts.
Apple Crisp
Savory spiced apples, sugared cinnamon and a touch of lemon zest to evoke the flavor of a delicious apple crisp
There are a lot of apple and clove type scents out there at this time of year. But this one is spectacular. It's a deep rich clove scent that might have a hint of tobacco or patchouli in it, and a strong sweet apple with possibly a smidgen of cinnamon. Looking at the notes, I'm surprised I don't see clove. I don't detect lemon at all. It lasted 12 hours and might have lasted longer if I hadn't turned off my warmer.
Gingerbread
Top notes: Citrus, fruit - Middle notes: Ginger, cinnamon cookies - Base notes: Gingerbread, vanilla, buttercream
A sweet warm gingerbread cookie scent. It smells better than some other gingerbread scents I've smelled, sweeter and not as intense with the ginger. Looking at the notes, there may be a hint of cinnamon, but absolutely no citrus or fruit.
Holiday Forest
A snow-tipped holiday fragrance of evergreen, balsam and pine, warmed with Texas cedar and Spanish moss
I only found this one after I'd already reviewed the other scents. It's a nice high quality pine scent with a hint of smokiness. Comparing it to ScentSationals Perfectly Pine (I scent I love), this scent smells richer and more authentic. But I'm not sure it's worth paying double the price!
Patchouli
Earthy patchouli leaves and French vanilla, balanced by almond-like tonka and just a hint of musk
This is a perfumey patchouli soap scent with a hint of oriental spices and a smidgen of baby powder. I smell the woodsiness of the patchouli behind sweet musky perfume, with a subtle base of a bland Ivory soap type note. It's a fantastic scent! Looking at the notes, I don't smell vanilla or almond at all. It lasted 12 hours and might have lasted longer if I hadn't turned off my warmer.
Peppermint Stick
Top note: Cool mint - Middle notes: Peppermint - Base notes: Peppermint, vanilla
A perfect peppermint hard candy or candy cane scent. It's a very strong peppermint (not spearmint or herbal mint), with a sweet slightly rich vanilla note. Fantastic!
Perfect Lemon
Top notes: Citrus, green - Middle notes: Lemon, lime, bergamot - Base notes: Wood, floral, musk
This is the same scent as
Better Homes & Gardens Meyer Lemon Basil
, a salty savory herbal lemon scent. It's very nice, although some people have said that Meyer Lemon Basil smells like celery (I don't detect that). It lasted for 8 hours but probably would have gone longer if I hadn't turned my warmer off at night.
Rosemary & Mint
Unwind and recharge when you breathe in this savory blend of aromatic eucalyptus, crisp mint and distinctive rosemary resting on a bed of woodsy moss and musk
This smells like fresh garden mint with another note that I can never figure out in these types of scents. It's a savory herbal note, but it's very subtle, definitely not as strong and savory as actual rosemary. It also has a tiny bit of a soapy note, like a cleaner, but not in a bad way. It smells a lot like
ScentSationals Zen
, but it's not the same scent. It's not as sweet as Zen (actually not a very sweet scent at all), and the mint is more pronounced. The mint is a fresh herbal garden mint, not spearmint ("toothpaste") or peppermint. But it's a subtle mint. It's more of an herbal, slightly spa type scent. Looking at the notes, I suppose there could be a smidgen of eucalyptus, although that has a pine type note which I don't detect in this scent.
Sea Air
A breezy blend of tropical jasmine, white lilac and gardenia, with just a splash of peach
This smells a lot like
Better Homes & Gardens Caribbean Sea Breeze
, but it's not exactly the same. The coconut is a bit more subtle, and I also smell a hint of a perfumey floral that I think is lilac (which is not in the BHG scent). It also smells a little like
ScentSationals Fresh Air
(a sweet, fresh, clean scent with musk, floral like gardenia, and possibly coconut), but with coconut. So it's like Caribbean Sea Breeze mixed with lilac mixed with a hint of ScentSationals Fresh Air. Looking at the notes, I'm surprised I don't see coconut, as that seems to be the main note. I love this scent.
Sugared Cinnamon
Cinnamon and nutmeg, sweetened by crystallized sugar and blended with a dash of vanilla and caramel
On cold sniff this smells like a cinnamon roll. It's a strong cinnamon scent with a little bit of vanilla buttercream note. It's very authentic, much more so than other similar scents I've smelled
Sunset Citrus
A bright, fruit-filled scent that blends grapefruit, tangerine and black currant with raspberry, vanilla and soft sandalwood
A fantastic orange scent with a hint of grapefruit. It's more of an orange candy scent than an authentic orange, but in a good way. This smells a lot like a ScentSationals brand orange that I've smelled before, but I'm not sure which one. It's not like
ScentSationals Molten Orange
, which is stronger, richer, slightly less citrusy, and more intense.