Pier 1 Wax Melt Reviews - Spring 2019
January 4, 2019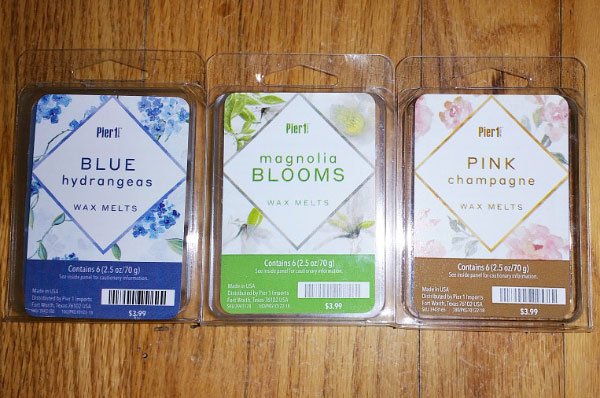 Pier 1 CLOSED in 2020.
This is a review of the Pier 1 Spring 2019 wax melts. I was expecting to be as amazed by these three new Pier 1 Spring 2019 wax melt scents as I was with the Christmas scents last month. But the Magnolia Blooms and Pink Champagne scents, although they're nice, are not unique or strong enough to justify the $3.99 price. Wait for a sale.
Also see Pier 1 wax melt reviews from Christmas 2018 and Fall 2019.
Although Pier 1 filed bankruptcy and closed their stores in 2020, the new owners launched an online store, but they do not carry wax melts.
Blue Hydrangeas
Top - Sweet hydrangea blossoms, delicate violets, white lilac, jasmine, May rose; Base - Ambered musk
This smells like a cross between lilac and hyacinth, and although it's sweeter than the real thing, it smells authentic. It's a fantastic scent that smells similar to
Mainstays Blue Hyacinth
and
Yankee Candle Lilac Blossoms
scents. It's not quite as perfumey as some other lilac scents I've smelled, like Better Homes & Gardens French Lilac.
Magnolia Blooms
Top - Nectarine, English pear, black currant; Middle - Pink magnolia, peony, wild daisy; Base - Blonde woods, amber, sueded musk
A pleasant floral scent with a fresh note and possibly a smidgen of lemon way in the background. It's not a body wash scent, as it's too sweet and full-bodied, although it's not overly sweet so it's not really perfumey either. Maybe more like a woman's body spray. Looking at the scent notes, I guess the lemon (citrus) I detect is nectarine (although it doesn't smell like peach to me). Although it's a very nice scent, I think it's too similar to other scents to justify the $3.99 price.
Pink Champagne
Top - Pink grapefruit, citrus bitters; Middle - Strawberry; Base - Vanilla, musk
This smells like a Victoria's Secret Love Spell dupe (like
ScentSationals Magic Spell
, Tuscany Stressless,
Scentsy Lucky in Love
, etc.) mixed with lemon and extra grapefruit. It's not a sweet scent. It smells like watery grapefruit and lemon. I'm not a fan of Love Spell type scents, as they smell like bland grapefruit scented paper to me, but with the extra citrus, this one is quite nice and smells kind of refreshing. Looking at the scent notes, I don't smell strawberry.