Pink Zebra Sprinkles Reviews
May 25, 2019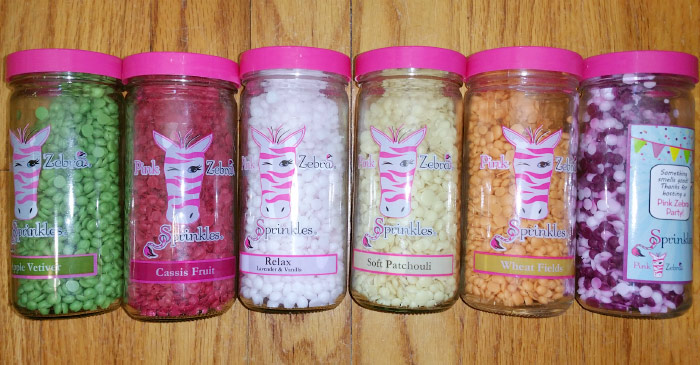 This is a review of Pink Zebra Sprinkles. I've reviewed more Pink Zebra scents HERE.
Pink Zebra Sprinkles are easy to use because you can sprinkle the wax chips into a warmer without having to touch the wax, or you can even make your own candles. This also makes blending of scents very easy. Pink Zebra Sprinkles are available in jars and cartons, and they are made from soy. The jars (the smallest amount available) are 3.75 oz. and cost $9.00, which is quite expensive. Like Scentsy, they are sold by independent commissioned sales reps.
Apple Vetiver
Enhanced by the addition of natural cedarwood (which emulates the fragrance of vetiver), eucalyptus and fir needle oils (which add a clean freshness)
This smells like a combination of apple and pine, and it's fantastic. It's quite similar to
ScentSationals Country Living
, but with much more of the pine note, like 50% Pine and 50% Apple. Vetiver is an herbal grass similar to lemongrass (although I don't smell any lemongrass in this scent). But depending on the type of Vetiver, it can have an earthy, woodsy, slightly balsam scent, which is probably why I detect pine. Although looking at the scent notes, there's the fir! I don't smell cedar.
Cassis Fruit
Wonderful for use in baking, this red berry is a little tart and a little sweet.
Cassis is a blossom of black currant, and I love currant scents. Currant is a very slightly tart, fig-like soapy scent with a very slight berry note and only a smidgen of sweetness, very similar to fig. However, the actual currant fruit is scentless, but tastes like lemon, quite sour. Cassis is very similar to currant, but more fruity, and has a slight cedar, clove or patchouli note. Unfortunately, this scent smells kind of like real cassis fruit tastes... sour, savory, and a bit vinegary. It doesn't even smell very fruity, although it does have a hint of an apple note. I'm not a fan.
Midnight Plum + Relax
Midnight Plum (dark, juicy plum combined with tart huckleberry, bergamot and raspberry) and Relax-Lavender & Vanilla (addition of natural cedarwood, clove and lavender oils)
This was a December 2018 Host Booking Jar from a Pink Zebra party. I do smell the Relax scent (which I reviewed below), but it's overpowered by the plum scent, which does not smell like plums at all. The plum part of this mix is "very" slightly fruity, but it's mostly zesty, savory and vinegary, although it's different from the Cassis Fruit scent. It has a hint of a eucalyptus type note which might actually be the medicinal lavender. I don't care for this one.
Relax (Lavender & Vanilla)
Enhanced by the addition of natural cedarwood, clove and lavender oils
This is different from Lavender and Vanilla scents I've smelled from other companies. It's not a perfumey scent; it's a sharp, medicinal lavender with just a smidgen of sweetness, but I don't actually smell vanilla. I think it's more of a clean scent rather than a relaxing type scent. I prefer sweet, powdery lavender scents, but this would probably smell great mixed with one of their perfumey scents. Or even go the opposite direction and mix it with lemon. After melting for a few hours, THIS ONE GREW ON ME and I like it!
Soft Patchouli
Enhanced by the addition of natural orange, bergamot, clove, cedarwood and patchouli oils
I smell the patchouli, but it also has a super soapy note (like Ivory Soap), as well as a sweet baby powder note and maybe a smidgen of oriental spices. Wait, I recall describing another scent the same way recently. Aha, it's the exact same scent as the
Pier 1 Patchouli
scent. I just compared them side by side. Fantastic scent! Looking at the notes, I don't smell orange at all.
Wheat Fields
Enhanced by the addition of natural juniper and fenugreek (this golden seed adds a touch of maple sweetness) oils
This is such an unusual scent, and I've never smelled anything like it before. I really like it. It smells like molasses, and I've smelled other scents that had a molasses like note in them, but this is pure molasses. But it's not intensely sweet, as it has a bready note, but not yeasty bread, more like, well, wheat bread! Looking at the notes, the fenugreek adds a maple scent, so that's probably the molasses note I smell, although it smells much more like molasses than maple. I don't smell juniper, which would have a pine note.