Pleasantville Oils (The Melt Stash) Wax Melts Reviews - February 2020
February 9, 2020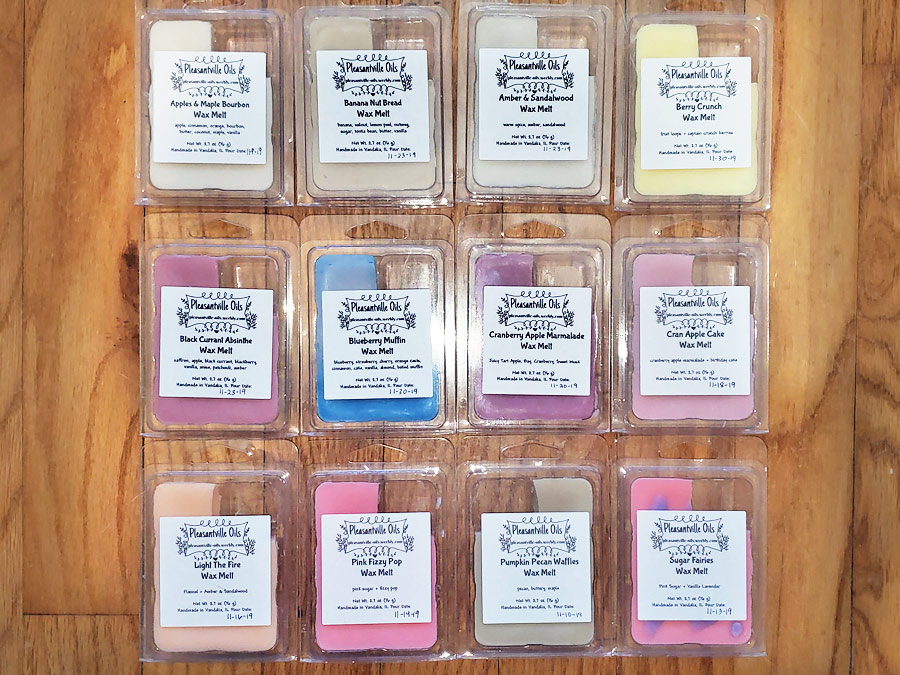 This is my second review of Pleasantville Oils Wax Melts (renamed The Melt Stash in early 2021), and once again, these are fantastic scents with very strong throw!
Pleasantville Oils can be found on their NEW website at https://themeltstash.com, as well as Facebook.
The wax melts I reviewed this time are in clamshell format rather than scent shots, and the scent notes are printed on the label, which is a nice touch. The wax is a parasoy (soy and paraffin) blend but from a different company than the ones I reviewed in November.
I review A LOT of vendor wax melts, and I'd say maybe only 10% are what I would consider fantastic in terms of both scent quality and throw. Pleasantville Oils (The Melt Stash) is definitely one of those companies, and may very well be a top 10 favorite wax melt vendor of mine!
Amber & Sandalwood
Warm Spice, Amber, Sandalwood
This smells like a nice, warm perfume with a hint of gardenia maybe, and a tiny bit of a baby powder note. If this scent smelled like a color, it would be "gold". I do smell the warmth of the amber, which is really more like cashmere, and possibly a smidgen of vanilla way in the background. It's a fantastic scent!
Apples & Maple Bourbon
Apple, Cinnamon, Orange, Bourbon, Butter, Coconut, Maple, Vanilla
Fantastic, super yummy scent that smells like sweet, rich, buttery caramel apple with brown sugar and a hint of maple. Looking at the notes, I don't smell orange or coconut, and if cinnamon is in this scent it's very subtle (it's not an apple cinnamon scent). I think I do detect the bourbon note, but it's also subtle although it adds to the richness of this scent. Incredible scent!!
Banana Nut Bread
Banana, Walnut, Lemon Peel, Nutmeg, Sugar, Tonka Bean, Butter, Vanilla
I smell rich, milky vanilla with caramel and banana, and a smidgen of nut. The banana note faded a bit after around 2 hours, and it became more of a 'Nilla Wafer cookie type scent with just a hint of banana. The banana note is not authentic, more like a candy banana. But it's a fantastic, yummy scent!! Looking at the notes, I don't smell lemon at all.
Berry Crunch
Fruit Loops + Captain Crunch Berries
I don't know the difference between what these sweet fruity cereals smell like. Fruit Loops has an orange note, and I guess Captain Crunch Berries has a red berry note. And in this custom blend I smell both the fake orange and fake red berry (in a good way) notes, with a little bit of a lemony note, and a smidgen of creamy vanilla. It's a fantastic scent that reminds me of
Better Homes & Gardens Orange Buttercream Cupcake
, but better.
Black Currant Absinthe
Saffron, Apple, Black Currant, Blackberry, Vanilla, Anise, Patchouli, Amber
A fantastic scent of rich blackberries with a slightly bitter, pungent, maybe Eastern spice note, which is probably the absinthe. Looking at the notes, I don't know what saffron smells like (supposedly it has a subtly earthy and grassy aroma, but with a sweet floral and honey note), I don't smell apple, and I definitely don't smell anise at all (which would have a licoricey note). I do detect the currant, although it's subtle. And I smell the vanilla, which gives it kind of a foodie note. But I don't see an actual absinthe note (although a reader pointed out that absinthe is a liquor that has anise/licorice as the main ingredient). It's different from other scents I've smelled, and I really like it. Plus it lasted 8 hours, and probably would have gone longer if I hadn't turned off the warmer for the evening.
Blueberry Muffin
Blueberry, Strawberry, Cherry, Orange Zests, Cinnamon, Cake, Vanilla, Almond, Baked Muffin
This smells like every other blueberry muffin scent out there at first. But that doesn't mean it's not good, because it's a fantastic scent, even though it's not authentic blueberry at all. It has a bit of a Concord grape note to me, and a smidgen of nuttiness, and a tiny bit of a bready note, so put together it smells a little like a peanut butter and jelly sandwich, but in a good way!
Cranberry Apple Marmalade
Juicy Tart Apple, Bay, Cranberry, Sweet Musk
This smells like a slightly tart apple cider type scent. I do smell a little bit of the cranberry. Not sure what bay smells like, but I definitely don't smell musk or any perfumey notes.
Cran Apple Cake
Cranberry Apple Marmalade + Birthday Cake
This custom blend smells just like the Cranberry Apple Marmalade scent, but it's just a little sweeter, with a smidgen of a yellow cake note. It smells a little like an apple cake (not pie) made with tart Granny Smith apples. I like this scent more than the Cranberry Apple Marmalade because it's a little sweeter, although I would have liked to have had more of the cake note in it.
Light the Fire
Flannel + Amber & Sandalwood
This custom blend smells like the Amber & Sandalwood scent, plus vanilla, and maybe just a smidgen of a laundry note way in the background.
Pumpkin Pecan Waffles
Pecans, Buttery, Maple
This smells like Bath & Body Works Pumpkin Pecan Waffles, a super rich scent that smells like buttery waffles with pecans and maple syrup on top! SO yummy!!
Pink Fizzy Pop
Pink Sugar + Fizzy Pop
This custom blend smells like fizzy Ginger Ale with lemon and lime, and a little bit of the pink sugar note that actually makes this scent smell like fizzy cotton candy because of the sweet perfumey raspberry of the pink sugar and the lemony lime note of the soda! I really like it.
Sugar Fairies
Pink Sugar + Vanilla Lavender
In this custom blend I smell mostly the lavender vanilla on cold sniff, which smells like
Scentsy Lavender Vanilla
and Yankee Candle Lavender Vanilla (both of which might be dupes for Bath & Body Works Lavender Vanilla). But there's also a smidgen of the pink sugar note (a sweet perfumey raspberry and lemon scent). However, when melted, I smell more of the pink sugar scent so it's an equal balance of both notes. Fantastic!