Pleasantville Oils (The Melt Stash) Wax Melts Reviews
November 6, 2019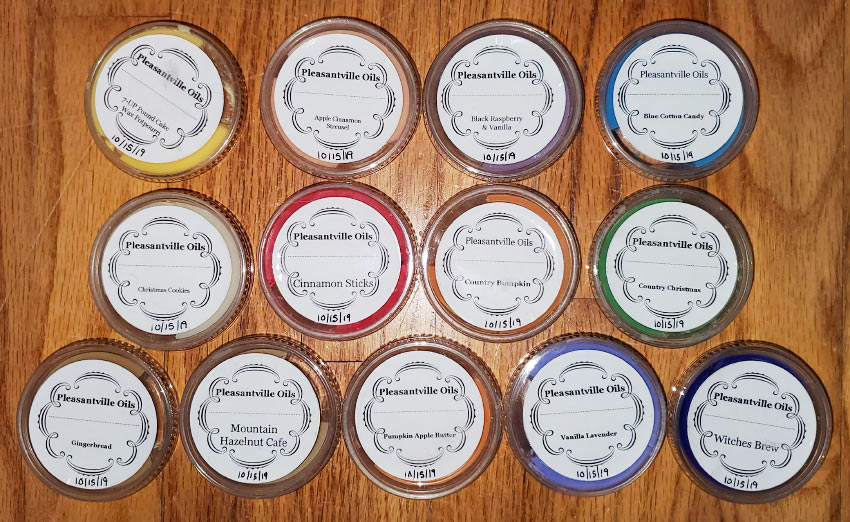 This is a review of a new wax melt vendor called Pleasantville Oils Wax Melts (renamed The Melt Stash in early 2021). Pleasantville Oils is a new wax melt company based in Illinois that opened in September 2019. They make wax melts, wax potpourri, room sprays and lip balm, and their wax melts are available in scent shots, clamshells, and a variety of shapes.
Pleasantville Oils (The Melt Stash) can be found on their website at https://themeltstash.com as well as Facebook.
Michelle Sanders, the owner, was a breeze to work with. I received the order on time, and she kept in close communication with me, answering any questions I might have had.
We really enjoyed these wax melts. The wax is a parasoy (soy and paraffin) blend, and in general they threw very well, better than many other vendor/indie wax melts we've tried. The only negative we could find, and it's very very minor, is that some of the lids keep popping off the scent shots. We would also love to see some custom blends in the future!
With great smelling wax melts that throw well, and excellent customer service, we think that Pleasantville Oils (The Melt Stash) is going to be a very successful indie wax melt company!
7-Up Pound Cake
Warm cake, almond, lemon, lime, vanilla, and sugar. Top: lemon, lime, coconut, almond; Mid: maple sugar, red berry, cinnamon; Base: vanilla cake, brown sugar, musk
Fantastic sweet lemon scent that smells like rich lemon vanilla buttercream with a bit of a lemon scented dish detergent note. We love this scent!
Apple Cinnamon Streusel
Top: apples, pears, applesauce; Mid: banana leaves, cinnamon bark; Base: vanilla, hazelnut, almond
A slightly tart Granny Smith apple scent with cinnamon and a hint of a bakery note.
Black Raspberry & Vanilla
Blackberries and raspberries, with middle notes of white floral greenery, and bottom notes of musk and vanilla. Top: lemon, raspberry, black raspberry, strawberry, coconut; Mid: peach, violet, honeysuckle; Base: plum blossoms, musk, vanilla
A bright, sweet, very slightly tart raspberry scent with maybe a smidgen of a fizzy soda type note. Looking at the notes, yes I do detect the lemon.
Blue Cotton Candy
An airy sweet cotton candy fragrance with fruity notes of strawberry and raspberry, laced with caramel swirls and hints of nutty almond sweetened with vanilla
A yummy rich vanilla buttercream scent with a super sweet sugary caramel note, and a hint of pink sugar (which smells like fruity candy with raspberry and sugar notes, combined with a musky perfumey note). I barely detect any fruity notes in this scent though, and it doesn't really smell like cotton candy because that vanilla buttercream is too rich. There's something else in the background that I can't figure out and seems like it doesn't belong. Looking at the notes, it's probably the almond, although I don't smell almond per se. It's a very nice scent. I think another name for this scent is Blue Sugar.
Christmas Cookies
Butter cookie, buttercream, and vanilla
A fantastic super sugary sweet vanilla scent with marshmallow. It smells like sweet sugar glaze, not the actual cookie itself. It might even have a white chocolate note. This one will give you cavities!
Cinnamon Sticks
Freshly ground cinnamon bark
Sweet cinnamon candy, but not a "red hot" cinnamon. The scent lasted at least 8 hours!
Country Bumpkin
Top: apples; Mid: candied yams, cinnamon bark, clove, nutmeg; Base: marshmallow, sweet cream butter, brown sugar
This smells like sweet pumpkin pie filling with the addition of ginger, a hint of apple cider, and more cinnamon than is usually in a pumpkin pie scent. It's like a combination of all different fall foodie scents in one!
Country Christmas
Top: orange zests, apple; Mid: bayberry, cranberry; Base: nutmeg, clove
I smell pine, cloves, and a sour note that might be sage or something a bit savory. The combination of notes is not appealing to me, but one of the other reviewers liked it. Looking at the notes, the pine is the bayberry. And although I don't smell orange, this is kind of a pomander scent, which does have a soapy, sour note. I'm not a fan of pomander scents. This one has more pine than other pomander scents I've smelled, many of which don't include pine at all.
Gingerbread
Top: Cinnamon; Mid: Ginger, Nutmeg; Base: Baked Cookie, Vanilla
This really does smell like warm baked gingerbread or ginger snap cookies. Yummy!
Mountain Hazelnut Cafe
Rich roasted hazelnut with buttery accents compliment this roasted coffee blend. Sweet undertones of brown sugar create a caramelized effect.
This is coffee with a sweet, slightly nutty buttery caramel note. It's very sweet, with an artificial note, but it's still a very nice scent.
Pumpkin Apple Butter
Top: orange, apple, pear, pineapple, and cherries; Mid: pumpkin, cinnamon, nutmeg, and clove; Base: warm vanilla
This smells almost exactly like
ScentSationals Apple Pumpkin Spice
, and might in fact be the same scent. It's a super rich, slightly salty scent that smells a little like pretzels with apple, along with caramel and brown sugar, even though it's not overly sweet. It's yummy and fantastic, and the scent lasted at least 12 hours! Looking at the notes, I don't smell orange or cherries, but I do smell the pineapple, although if I didn't know it was there I wouldn't detect it; it's kind of under the surface but provides a tiny bit of "zing" to this scent.
Vanilla Lavender
Fresh lavender, fresh vanilla beans, with orange zests and patchouli
This is a dupe of
Scentsy Lavender Vanilla
, down to the exact scent notes. It might also be the same as Bath & Body Works Lavender Vanilla. It's a very common scent that smells like lavender and vanilla, but there's another very strong note of warm amber or something else. Looking at the notes, I do kind of smell the patchouli, but not the orange. This scent has always had a bit of a bug spray note for me, but not enough to ruin the scent. And no matter who makes it, it's always a very strong thrower and lasts for an entire day!
Witches Brew
n/a
I've smelled this scent before, and I'm pretty sure it's the same scent as, or very similar to,
AmbiEscents Purple People Eater
from 2016. It smells like nutmeg, cinnamon and cranberry, with maybe a hint of orange. It has a little bit of a raisin-y note, and there's something else I can't figure out, possibly anise or licorice but if so it's way way in the background. It's just okay for me, not one of my favorites.