Quality Scents LLC Wax Melt Reviews
October 22, 2017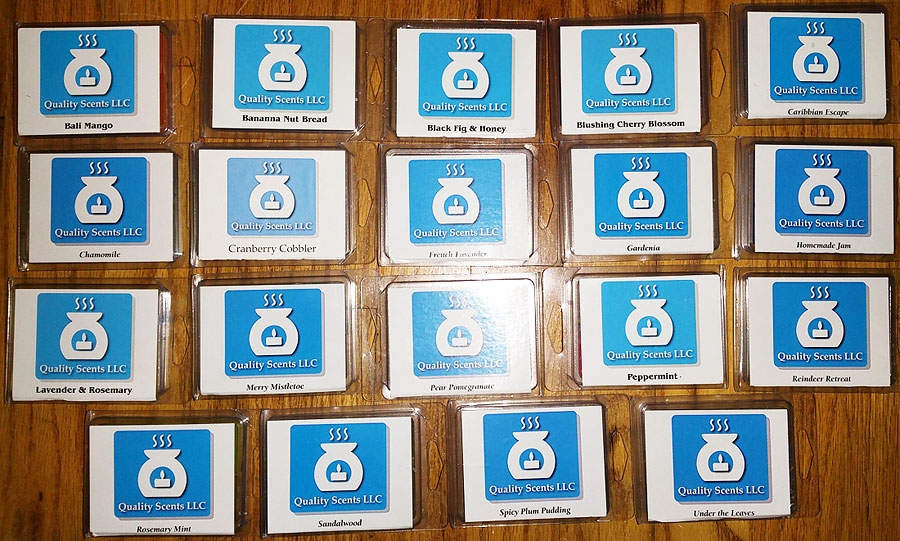 This is a review of Quality Scents LLC wax melts, located in St. Charles, Missouri. The scents are fantastic and threw very well. I really enjoyed these wax melts!
Quality Scents LLC's wax melts can be found on their website, as well as Facebook and Instagram.
As of the date of this review they have 42 scents. They use a wax blend consisting of mostly paraffin (but no soy). Paraffin wax tends to throw better than soy wax, and Quality Scents LLC wax is proof of that!
My only complaint would be that the wax was stuck to the inside of the package and was very hard to remove. I had to use a sharp knife to cut the cube out of the clamshell, which was difficult to do because the wax is quite hard. But this was not a dealbreaker for me at all. My other critique would be that the labels on the clamshells are quite generic, but I personally don't care about that.
The wax melts I reviewed were in a clamshell format, but starting in November they will be switching over to a 1 oz. wax tart format, reasonably priced at $1.25.
Bali Mango
A sweet, tropical, fruity fragrance with subtle hints of citrus.
A nice sweet tropical fruit scent, without any sour notes like some tropical fruit scents tend to have.
Banana Nut Bread
The warm, inviting smell of freshly baked banana nut bread with undertones of cinnamon and spice
This is a nice banana scent with a nutty and bakery vanilla note. On cold sniff it's just "okay", but melted, it's fantastic. Looking at the scent description, I don't smell cinnamon or spice.
Black Fig & Honey
A floral sweetness with an earthy, nutty aroma.
This smells like a combination of old mildewy wood and chicory coffee substitute (which has kind of a burnt coffee like scent). I really can't figure it out. It's not sweet at all and I don't detect honey or any fruity notes. There may be a smidgen of fig, although I wouldn't detect it if I didn't know it was in there. At first I thought "eww", but now that it's melting, I like it because it's so weird. I'm also detecting a hint of butter and coconut, and maybe a little bit of nuttiness. Like I said... weird.
Blushing Cherry Blossom
A soft and sleek floral scent like springtime in full bloom.
This smells like, well, cherry blossom, a nice powdery floral scent but not overly sweet.
Caribbean Escape
All the sweet, floral, refreshing fragrances of summer in paradise.
A nice creamy coconut scent with a hint of vanilla and maybe a smidgen of tropical fruit (which might consist of a little bit of pineapple, but not much). It's not overly sweet, and it's not one of those fake air freshener type tropical scents. Looking at the scent notes, I don't really smell floral.
Chamomile
Our gentle, rural herbal Chamomile fragrance is relaxation in a bottle. Notes of lilac and rose provide a mini vacation for the most hectic of days.
This smells like gardenia with a very soapy note, and it's not overly sweet. A very nice, scent, but it started fading within 1.5 hours.
Cranberry Cobbler
The perfect combination of sweet and tart cranberries with a hint of vanilla
I smell sweet and slightly tart cranberry, but it smells like there's another berry note in there like cherry or blackberry. I like this! Looking at the scent notes, no other berries, but what I think is cherry or blackberry might be the sweet cranberries, in addition to the tart ones.
French Lavender
A subtle and relaxing aroma with an earthy, floral scent
A perfect lavender scent! It smells like there's real lavender oil in this. It's probably the most authentic lavender scented wax I've ever smelled, but it doesn't smell medicinal because it has a hint of sweetness. This scent does contain lavender essential oil, which explains the authenticity!
Gardenia
A luscious aroma of everyone's favorite floral fragrance, with a sweet, earthy, tropical scent.
A perfect gardenia scent, warm and sweet, with a perfumey note, but not overly sweet. It's a rich floral scent; in fact, it's so rich it smells like there might be a subtle hint of vanilla or even caramel. I love this scent!
Homemade Jam
An extra special, cozy fragrance with top notes of sweet raspberry, cherry and soft cinnamon, with a sugary caramelized base.
I really like this scent, although it's not a "foodie" fruit scent. It smells like a very fruity creamy raspberry and/or blackberry scented skin cream. Looking at the scent notes, I don't really smell cherry, and I don't smell cinnamon at all, or caramel, although it's a very rich scent. It has a smidgen of tartness from the raspberry, in a good way. And it's sweet, but not cloyingly sweet, and it's not a perfume scent. It's slightly similar to
Scentsy Luna
or
ScentSationals Blackberry Cider
, but with more raspberry and fruity notes.
Lavender & Rosemary
A very calming effect given off by the soft sweetness of lavender and subtle earthiness of rosemary
This smells almost exactly like the French Lavender scent, but slightly less sweet, and with a barely noticeable savory kick from the rosemary. This is a very slightly more medicinal type lavender than the French Lavender scent, but not by much. Like the French Lavender scent, this is also very authentic, and I love them both. Like their French Lavender scent, this scent also contains lavender essential oil.
Merry Mistletoe
Fir needle, red berry, pine, clove with a woody base.
Pine with a very slightly sweet note like vanilla, and perhaps a smidgen of berry. Melted, it also has a little bit of warmth, which might be the clove, but I don't smell clove per se. It's a very nice scent.
Pear Pomegranate
Juicy pear is the star, with sparkling pomegranate adding the fresh fruity bottom
This smells like orange to me, with maybe a hint of cranberry. It's not an overly citrusy orange. It smells like a cranberry mandarin type scent, so I'm wondering if this one might be mislabeled. I don't smell pear at all (which would have more of an apple type note).
Peppermint
A refreshing minty aroma with blends of earthy pine and sweet menthol.
This smells like a blast of peppermint breath spray. I suspect this one has real peppermint oil in it. It's very minty and has that sinus clearing effect even on cold sniff. It's slightly sweet but not as sweet as peppermint candies, and it doesn't have the creamy vanilla note of a candy cane. I wasn't sure if I would like it based on cold sniff, because it's so strong and pepperminty, but I really liked it when melted. And it had that sinus clearing effect in the room, not just up close! This is a perfect scent to melt when you have a cold or sinus infection. It's clearing my sinuses right now. Wow! Looking at the scent description, I don't smell pine at all, and I don't detect menthol (which would have a bit of a medicinal note), although the menthol is probably what gives this scent its intense and far-reaching sinus clearing effect.
Reindeer Retreat
Fragrant northern pine, enveloped in green, woody fir needle, sprinkled with lilies of the valley and jasmine. Fresh cedar and green moss reach into the musky bottom.
A smoky pine with a hint of mint perhaps. Looking at the scent notes, I don't smell lily-of-the-valley or jasmine or any floral notes at all.
Rosemary Mint
A very refreshing smell of Rosemary and Mint
This is spearmint all the way. It smells like toothpaste. But even though it's sweet, because of the rosemary it's not overly sweet. I'm not a fan of spearmint, but I like this one. It's very fresh!
Sandalwood
A fresh, soft, earthy scent that brings the woody aroma of nature indoors
Light on cold sniff, this smells like plain wood, like a freshly sharpened pencil or a plank of lumber. I really like this scent, but it's not sandalwood (sandalwood is a milky, slightly sweet woodsy scent).
Spicy Plum Pudding
Juicy ripened plums with a little bit of spicy for a twist that would make a sweet holiday blend.
This is very weak on cold sniff, but I think I smell a sweet cinnamon. Although the wax is a lavender color.
Under the Leaves
Remember jumping in freshly raked pile of leaves as a kid? This blend will take you back, with notes of hay, lemon peel and orange, and the fresh outdoorsy notes of lavender, gardenia and jasmine.
A nice fresh very herbal shower gel scent. It's not perfumey or cologney or overly soapy, and it's almost a little savory, but still has enough sweetness to smell like a shower gel. Very nice, fresh scent. Looking at the scent description, this does not smell like a fall leaves type scent at all, which is actually a good thing because there are so many of those types of scents out there. I've smelled this scent a few times before in wax from other companies, and I always liked it, but the throw was never good... until now! This scent lasted all day, at least 10 hours!