Scents & Nonsense Wax Melt Reviews
July 3, 2019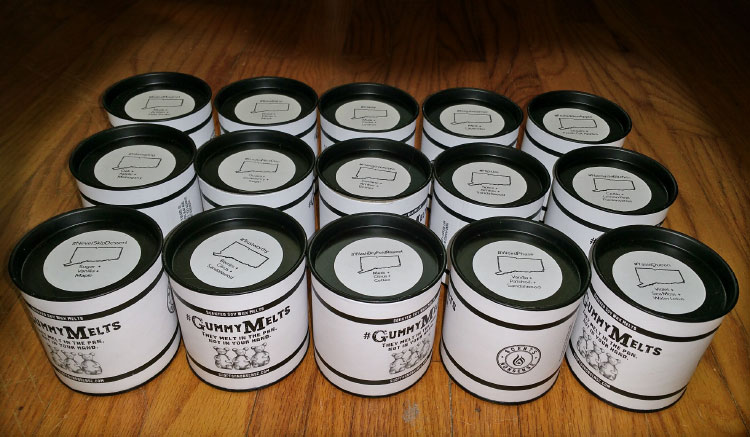 This is a review of Scents & Nonsense wax melts Gummy Melts, which are shaped like teddy bears and come in round tins.
Scents & Nonsense is a small business in Connecticut that makes wax melts and warmers. Beliz Olmeda, the owner, uses a proprietary blend of premium soy wax. The company donates a percentage of their proceeds to charitable organizations.
The Scents & Nonsense website is https://shopfornonsense.com, and they can also be found on Facebook.
I reviewed their Gummy Melts, which is 4 oz. of teddy bear shaped melts that come in a round tin and costs $6.99. I like the idea of simply shaking a couple of "bears" into the warming tray rather than having to touch the wax. 5 bears seems to be equal to 1 cube of a standard 2 oz. wax melt clamshell. The instructions say to add only 2 to 3 bears, but unless you're using a tiny plug-in wall warmer, 2 or 3 bears won't cover the bottom of the warming tray. Each tin comes with 2 or 3 different colored bears, which I assumed were different scents. But I also melted some of the scents individually, and each color smelled like the mixed scents. Even though they use soy wax, the wax is hard, not soft or crumbly like soy wax often is.
The format of the Gummy Melts (teddy bears in a round tin) is pretty much the same as that of Happy Wax (even down to the black and white label), but the bears are "cuter" and the wax is cheaper ($6.99 for 4 oz., while Happy Wax is $12.95 for 3.6 oz!) And in general, I liked the Scents & Nonsense scents and throw a bit more. In fact, I loved almost all of these scents, and on average the throw was strong. However, many of the scents started dissipating within 1 to 3 hours.
Babe Magnet
Musk + Amber + Palo Santo
This smells like a combination of men's cologne, Oriental spices, cinnamon, and a hint of leather. I love it!!
Boss Babe
Floral + Citrus + Musk
I've smelled this before. It smells a lot like ScentSationals Beachwood and ScentSationals White Sandalwood (the same scent, both discontinued several years ago). It's a super sweet cedar scent with vanilla and maybe even caramel notes, but it's also perfumey with sweet floral notes.
Classy
Musk + Leather + Cedar
A nice men's cologne with a smidgen of leather and just a barely detectable hint of smokiness. It's not overly sweet or too "cologney". It reminds me a bit of
ScentSationals Black Tux
.
Daydreamer
Mint + Lavender
A strong sinus-clearing sweet mint scent that smells like spearmint and peppermint, with just a little bit of sweetness, like a hard peppermint candy. It doesn't have the creamy vanilla note that a candy cane would have. I don't smell lavender.
Forbidden Apple
Leaves + Fresh Cut Apples
A nice sweet juicy apple scent that smells like a cross between an authentic apple and potpourri. I like it, although I like all apple scents in general. Despite the "leaves" note, it doesn't have that sour brown fallen leaves apple note that some apple scents have, particularly in the Fall.
Glamping
Oak + Apple + Mahogany
This smells like men's cologne with an authentic apple note and a hint of mahogany. The men's cologne note becomes stronger the longer it melts. I like it!
Guava Nice Day
Guava + Strawberry + Sugar
A nice super sweet strawberry scent with a tiny bit of guava. I think I also detect a smidgen of watermelon. It's quite nice, but the scent dissipated within an hour.
Hangover Cure
Jasmine + Amber + Berries
I smell a jasmine type floral, but it's not perfumey, and not even overly sweet. There's something else in there, maybe a grassy note, and I also smell vanilla and maybe a hint of caramel. Looking at the scent notes, I don't smell berries at all, or amber (it's not warm or perfumey). It's a pleasant scent. It took over an hour for the scent to start throwing though, so if you like this scent, just be patient!
Hipster
Spice + Amber + Sandalwood
This is a sweet soapy scent with exotic spices and a hint of Nag Champa. It has a smidgen of a musky perfume note. Although I don't detect patchouli (although it may be way in the background), it's very similar to
Pink Zebra Soft Patchouli
and
Pier One Patchouli
. I love this scent!
Namaste Bitches
Cedar + Lemon Peel + Frankincense
This smells like ginger root (not gingerbread), but there's another note in the background that I can't figure out, almost like an herbal note or a smidgen of woodsiness. Looking at the notes, I don't smell lemon at all. I'm not sure what frankincense smells like, but I guess it could have a hint of an incensey note. The other note I can't identify may in fact be the cedar, and now that I know it's there, yes I think that's what it is. I've never smelled anything like it before, and I don't care for it.
Never Skip Dessert
Sugar + Vanilla + Maple
A yummy scent of brown sugar and sweet vanilla, with a hint of maple.
Trustworthy
Berries + Citrus + Sandalwood
This kind of smells like apple and cinnamon, but there's another fruity note in there, and a smidgen of a light woodsy note. The cinnamon is very subtle, and I don't smell citrus at all.
Wash Dry Fold Repeat
Musk + Citrus + Cotton
This smells nothing like what I expected based on the scent name and notes. It's not a laundry scent at all. It's a sour, savory scent of maybe lemon and orange, but it's not citrusy either. And it's not a satsuma or sour tropical fruit scent either. It almost has a basil note or something. No sweetness at all, no musk, and no cotton notes. I don't care for it.
Weird Phase
Vanilla + Patchouli + Sandalwood
A fantastic sweet incensey scent with a baby powder note (Nag Champa?), patchouli, cedar, and a hint of a raw wood note (but not smoky).
Yasss Queen
Violet + Sea Moss + Water Lotus
This is a very natural oceany water type scent with a strong mossy or even a smidgen of a brackish/briny note. It's not overly sweet and it's not a body wash or cologne type scent. Looking at the notes, I think I do smell a smidgen of floral.