Sizzlin Scents Wax Melt Reviews - April 2021
April 23, 2021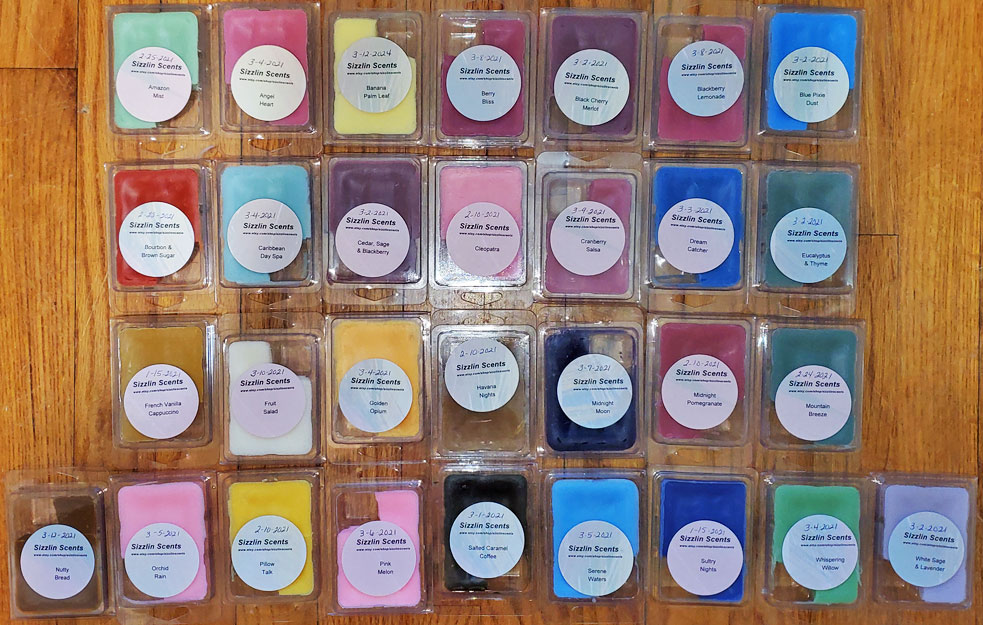 This is another review of wax melts by Sizzlin Scents, a small candle and wax melt business in Indiana that can be found on Etsy and Facebook.
As usual, I enjoyed these wax melts, and Chris Anderson, the owner, was friendly, helpful and professional. Also, she recently changed the labels on her clamshells, and the new labels look really nice and professional. Check them out on her Etsy page!
Amazon Mist
The moist fragrance of fresh dew, alive with hints of flower gardens, exotic herbs, green grass, rain drops and light earthy tones.
An herbal scent with apple (or pear), a fresh note, and a hint of black pepper. It smells just kind of like a fresh, slightly fruity, herbal shampoo, but it doesn't have any bergamot or cologne or body wash type notes. I like it!
Angel Heart
An intense, romantic fragrance with top notes of mandarin, apricot, orange, and tagetes. It's warm and inviting undertones are comprised of balsam, rum, rose, violet, jasmine, ylang ylang, and iris. The sexy and sensual base notes are a heady blend of sandalwood, black currant, wild pears, vanilla, musk, and vetiver.
There are a lot of notes going on in this scent and I can't figure out exactly what I'm smelling. I smell a fruity floral, a hint of wood, maybe a hint of citrus, a hint of vanilla, possibly a smidgen of pine way in the background, a teensy bit of bitterness. It's sweet but not perfumey at all, and not even overly sweet. I like it. Looking at the notes, I knew there would be a lot. Tagetes is marigold, and marigold flowers are bitter.
Banana Palm Leaf
Tropical fusion nuances of pineapple leaves, dragon apple, banana puree and palm wood.
On cold sniff this smells like pineapple, banana, and a hint of coconut. I also think there's a hint of vanilla and maybe a smidgen of a perfumey note. I don't smell palm per se, which is a nutty coconut scent with a hint of light wood, and this scent doesn't have any nutty or woodsy notes. I like it! When melted, the banana note dissipates and I smell more of the pineapple and coconut.
Berry Bliss
A mouth-watering berry fragrance with top notes of red berry, mid notes of sheer floral, on a dry base of sweet musk.
An absolutely fantastic berry scent that smells like a super sweet berry and vanilla candy, but with a pink sugar, spun sugar, cotton candy note. I love this scent!
Black Cherry Merlot
A deep, dark, succulent Black Cherry combined with Merlot; a sweet, fruit, and sophisticated plums, strawberries, and pears float above a light layer of fresh green leaf, gardenia and Neroli. Middle notes are anchored with a soft and delicate musk.
A rich, sweet scent that smells like black cherry and a bit of grape, a little bit like punch but not "punchy" enough because I also detect a hint of sweet vanilla and/or a perfumey note. It's very, very sweet and doesn't smell like Merlot at all, but that's okay, because it's a great scent and I love it! Looking at the notes, there's the musk, and the gardenia and neroli (neither of which I detect per se) make this scent extra sweet. Plums, yes I do get that. No pears or strawberries though. And I'm surprised I don't see grape.
Blackberry Lemonade
Sun-ripened blackberry, plum, fresh strawberry and ripe banana with mid notes of tart lemon, red currant and Bartlett pear on a dry base of caramelized sugar, raspberry jam and soft musk.
A very nice combination of blackberries and lemon. Although rich and sweet, this is slightly sour and more tart than most similar scents. I like it! Looking at the notes, there's the "tart" lemon. I don't smell banana or musk at all.
Blue Pixie Dust
Sweet sugary raspberry and tart blackberry highlight the mouth watering lemon, orange and sour green apple that make this scent unique. Inspired by Jolly Rancher Blue Raspberry candy with a touch of bubble gum.
This smells like fake (in a good way) blueberry with a candy note and a little bit of a pink sugar note (raspberry and lemon with spun sugar). It smells a lot like Berry Bliss, but that scent is richer and more fruity, with the sweet vanilla note. This scent is a bit less fruity, no vanilla, and a hint of a sour fruit candy note. Looking at the notes, they're spot on, although I don't actually detect the lemon, orange and apple notes. I like it!
Bourbon & Brown Sugar
Buttery caramel, dark oud wood, and aged bourbon whiskey. Hints of soft vanilla and velvety brown sugar emerge from the woody and musky base.
This smells like burnt sugar, caramel, and a very slightly bacony smoky note. I've smelled other scents like this, and this is the combination that's supposed to smell like bourbon. But it doesn't, at all. It's actually quite nice though, and sweeter than most scents like this, with an additional maple note, and maybe a hint of sweet tobacco. Looking at the notes, I don't detect any woodsy or musk (perfumey) notes.
Caribbean Day Spa
Sparkling sea air and ozone fused with nuances of muguet, lilac, spicy saffron, fennel, moss, and sandalwood. Relax and renew with this fresh, clean scent!
This is a very soapy scent with possibly a smidgen of fruit (grapefruit?) and coconut way in the background. But it's mostly just like a bar of soap, a combination of plain Ivory soap with fresh, crisp, clean soap. Like 90% of that soapy note and 10% of the other notes. Which is perfectly okay, as it smells fantastic. It's not overly sweet at all, and would be perfect for a bathroom. It's different from other scents that sound similar.
Cedar, Sage & Blackberry
A beautiful, calming, herbaceous blend of fresh sage, woody cedar and sweet, dark blackberry
This smells like cranberry with a bit of sage, a hint of wood, and maybe a smidgen of a perfumey note way in the background. It's sweet but also kind of tart. I like it.
Cleopatra
Ripe red currant with notes of Egyptian musk
On cold sniff this smells like red currant with berry and lemon notes, as well as a musky perfume note. But when melted, it smells like a nice strawberry vanilla scent with just a hint of perfume. Although it's not a pink sugar scent at all. It's quite nice.
Cranberry Salsa
Crushed juicy cranberries mixed with grapes, lemon, pink grapefruit, strawberries, and pomegranate with nuances of apple blossoms and heliotrope. This scent is more complex than a cranberry sauce or cranberry marmalade.
This smells a little bit like the Berry Bliss scent, but not nearly as sweet and rich, and with no vanilla notes. It's a very sweet scent of cranberry and maybe pomegranate, with a tiny bit of a pink sugar vibe, but the tartness of the cranberry tempers some of that sweetness (the tartness is subtle). I like it.
Dream Catcher
A sultry, oriental-floral type opens with a subtle berry, muscadine, and apricot nuance, and is followed by a floral explosion of heliotrope, jasmine, carnation, geranium, ylang, rose and black orchid, and finishes with rich burnt cedar, dark patchouli, creamy sandalwood and vanilla musk. A one-of-a-kind designer perfume type fragrance.
Super sweet, rich, warm, ambery, musky Oriental perfume scent. It has a teensy bit of an incense note and maybe a smidgen of vanilla. Very nice!
Eucalyptus & Thyme
An awesome eucalyptus scent with a hint of thyme added for balance and smoothness.
Fantastic scent of eucalyptus and pine, like Vicks VapoRub mixed with pine. I smell the thyme too. Even though it's definitely eucalyptus, it doesn't have any nasal clearing effects that eucalyptus scents usually do.
French Vanilla Cappuccino
Roasted coffee combined with hints of California lemon and a touch of berries in a pool of rich melted butter mixed with sugared vanilla, tonka beans, and a pile of toasted marshmallows.
I smell coffee, sweet vanilla, and maybe a hint of nuts, but it also has a smidgen of a leather or vinyl note, not enough to be annoying and I don't smell it in the room. Looking at the notes, coffee and lemon is an odd combination, although I don't actually smell lemon at all.
Fruit Salad
The top is a fruity citrus with strawberries, grapefruit and orange tangerine. The heart blends plums, black currant and green apple, and cherry. The dry is a fresh white violet and raspberry vanilla with soft sandalwood. A mouth-watering array of candied citrus fruits of grapefruit, orange, lemon and lime coated with sweet sugar crystals.
This is a very sweet fruit punch scent that's mostly orange, then cherry, then strawberrry, and maybe a hint of lime way in the background. Like 55% orange, 35% cherry, and 10% other fruits. It's not a fruity cereal type scent at all. I love it!
Golden Opium
Notes of citron, rich patchouli, soft jasmine, cinnamon spice and bright carnation are fused with nuances of golden amber musk, clove bud, myrrh, and evergreen forest
A lovely warm, ambery perfumey patchouli scent with a little bit of an Oriental spice note. Fantastic scent! Looking at the notes, I don't detect any evergreen notes at all, but maybe a smidgen of cinnamon in the background. This is completely different from the Dream Catcher scent in that this scent has much more patchouli and that scent is primarily the Oriental perfume.
Havana Nights
Hints of fruity wine and spicy cinnamon, warm cloves, aromatic incense, and earthy patchouli - this spicy and somewhat sweet fragrance you will be transported to a magical evening with that special someone.
This smells like cloves with a little bit of cinnamon and a hint of tobacco. It's sweet, warm and kind of yummy, and when melted it reminds me of A-1 steak sauce (in a good way), but sweeter. And the scent lasted all day! Looking at the notes, no tobacco, but maybe that's the patchouli. And I don't detect wine or any fruit at all.
Midnight Moon
A fresh woodsy blend of crisp pine needs and white fir, warm notes of clove, on a bed of patchouli, oak, and sugar pine combined with a soft floral blend of bergamot, mimosa, jasmine, violet, muguet, ylang, soft woods, and musk.
This may be one of the weirdest scents I've ever smelled, and I'm not sure if I love it, but I can't stop smelling it! I can't figure out the notes, and that's what makes it interesting. The base is very sweet and floral, like violet or maybe gardenia (but I don't really smell that much sweetness when it's melting), but it's also, I want to say smoky but it's not actually smoky, maybe more like "ashy", kind of like cigarette ashes, which sounds bad, but not exactly that either. I also get black pepper and soapiness, and maybe a hint of incense like patchouli. Looking at the notes, I don't smell pine, although the pine and cloves could be part of that "ashy" note.
Midnight Pomegranate
Juicy red pomegranate with notes of anise, patchouli, blackberry, musk, dewberry, iris, vanilla, sandalwood, tobacco flower and cassis.
A nice, rich fruity scent that smells like blackberry, cranberry, pomegranate, and maybe a hint of apple, with maybe a barely detectable smidgen of perfuminess.
Mountain Breeze
The sweet, magical fragrance of Lily of the Valley with its tiny white bell-shaped hanging flowers blended with the fresh essence of pure Australian Eucalyptus oil working in synergy with American Spearmint.
On cold sniff this has an odd chemical note that thankfully dissipates when melted. On cold sniff it smells like a sweet floral mixed with pine and a smidgen of spearmint that makes it smell a tiny bit like
ScentSationals Zen
, but it also has a little bit of a fresh shower gel note. Melted, it's just a nice fresh air type scent with a bit of a body wash note and I don't notice the pine or mint notes. It's basic but nice.
Nutty Bread
Tender chestnuts roasting on an open fire... reminiscent of a cozy winter night at the cabin in the country combined with the savory aroma of buttery baked bread fresh from the oven
This really does smell like bread! Toast, specifically, as it has a bit of a burnt note, but not in a bad way as it makes it smell more authentic. On cold sniff it has just a little bit of sweetness that gives it a bit of a sweet bread note, but it's not a cake or bakery scent at all. But melted, the sweetness dissipates and it's more of a rich, salty, slightly buttery toast scent. I don't smell any nutty notes though. Looking at the notes, I don't smell chestnuts per se, but they're salty and rich which might be where the salty richness is coming from. I love this one!
Orchid Rain
Delicate Orchid petals dripping with dew drops and fresh rain. Upscale and sophisticated, this beautiful floral and watery ozone fusion has a touch of powder to round out the tones.
A soft, sweet, watery, mostly laundry perfumey scent. It's very very sweet, much more so than a typical laundry scent, since there's a lot more going on. Like 60% laundry and 40% of all the other notes. The floral is more like a rose than orchid, but with some other florals like possibly magnolia (but without the lemon note), with a baby powder note and a bit of soapiness. It's a perfect scent for the bathroom, bedroom, or baby's room. I love this one!
Pillow Talk
A sexy and enchanting, musky, woody scent with a hint of mulled fruit, citrus peel and spiceberry in the top note, a green berry and vetiver middle, and a musky, creamy, patchouli, sandalwood and myrrh base note
A lovely, warm ambery or cashmere musky scent with maybe a smidgen of vanilla. On cold sniff I think I detect a smidgen of fruit, but I don't smell that when melted.
Pink Melon
A sweet, tangy scent, you can freshen up your home and your life. This is simply a ripe, juicy honeydew melon! Honeydew lights up your life with its refreshing and invigorating fragrance combined with notes of sparkling pear, peach nectar, and wild berries with mid notes of water lily, apple blossom, tiare flower, and jasmine on a base of vanilla orchid, sandalwood, coconut milk, and chiffon musk.
A fruity floral with pear, honeydew, and a hint of peach, and a little bit of a sweet floral like gardenia or jasmine. Melted, I smell mostly the pear and honeydew, which ends up smelling kind of like cantaloupe but a little sweeter.
Salted Caramel Coffee
Fresh brewed coffee with a salted caramel, grated almond and a trace of orange sweeten the buttery accord that opens this decadent treat. Maple sugar is spiced with cinnamon and layered with creamed vanilla to complete the caramel sensation
A yummy salted caramel scent with a coffee note, a bit of chocolate, and maybe a smidgen of maple. Maybe 60% caramel, 25% coffee, 10% chocolate, and 5% maple. Very nice! Looking at the notes, yes I think I do detect a smidgen of almond way in the background, but no orange. I don't smell cinnamon at all.
Serene Waters
A shimmering blue lake stretching as far as the eye can see inspires this sparkling, luminous scent. Juicy lime is spiked with wild mint and swirled with ocean lilies, musk, palm trees, and sea moss. A distinctively unique scent.
A fresh but slightly bitter scent, and only a little bit sweet. It has an oceany water note, and garden mint with a little bit of a nasal clearing effect (although I don't smell the mint in the room, only up close). Looking at the notes, I don't detect lime or any citrus or fruity notes at all.
Sultry Nights
This is a richly aromatic blend of peppercorns, juniper berries, clary sage, ylang ylang, elemi, citrus bergamot, clove buds, and nutmeg.
An incredible sweet, rich, opulent perfumey scent of patchouli, cloves, maybe a hint of cinnamon, and even a smidgen of smokiness. For some reason I'm associating this scent with deep-toned jewels. After a few hours, it starts to take on a little bit of an aged old-fashioned perfume note, but in a really good way! Looking at the notes, I'm surprised I don't see some type of floral because it's very sweet and kind of perfumey. And I'm surprised I don't see patchouli. I don't detect any citrus or bergamot (bergamot gives scents a cologney note, but maybe that's the perfuminess of this scent). Peppercorns are basically black pepper, and I don't get that either, although it could be somewhere in the background. I ADORE this scent! And it lasted all day, at least 12 hours, and would probably have gone longer if I hadn't turned off the warmer for the evening.
Whispering Willow
This is a green tea and willow with notes of leafy, green tea and wood. Hints of fresh ozone air, melon, bergamot, coriander, night blooming jasmine, watercress, earthen moss, peppergrass, white willow, pink cyclamen, cedar amber, sacred datura, and white musk.
A pleasant scent that smells like green grass, a hint of floral, a soapy note, and a hint of slightly lemony, slightly savory herbs. It's sweet but not overly sweet. Looking at the notes, I don't smell tea per se, but that might be the slightly lemony herbal note.
White Sage & Lavender
Bright and clean scent of white sage combined with the dreamy scent of lavender.
This smells like a bubble bath! It's a combination of lavender (very subtle), musk, and baby powder, with a really soapy note. But it's not really perfumey or even overly sweet. When melting, I do smell a bit more of the lavender, but it still smells more like soapy lavender scented bubble bath. I adore this scent!