Swan Creek Drizzle Melts Wax Melt Reviews
November 2, 2017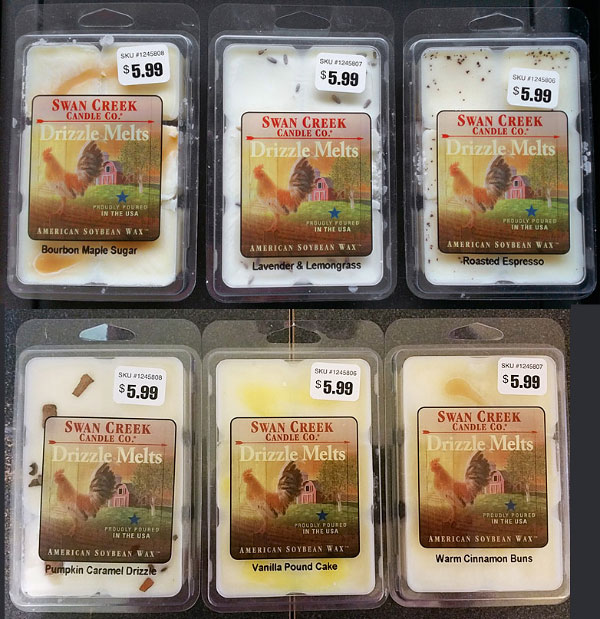 This is a review of Swan Creek Candle Drizzle Melts Wax Melts. I bought these from Tractor Supply. They can be purchased from the Swan Creek Candle website, some other websites, and also Tractor Supply, Bass Pro, and other stores.
At Tractor Supply they were $5.99 each. But they're 4.75 oz. instead of the usual 2.5 oz. wax melts. Each clamshell has 6 cubes. If you normally use 1 cube of wax from a regular 2.5oz. package of wax, then you'll need to cut a cube of Swan Creek wax in half. These are 100% soy wax, so the texture of the wax is soft, greasy and messy, and it crumbles easily. More details HERE.
Bourbon Maple Sugar
A mild bourbon note blends with a rich aroma of brown sugar and maple
This smells so good I want to take a bite out of the wax! It smells like butterscotch and maple syrup and it's very very sweet and rich. But unlike a lot of caramely mapley scents, it's not salty at all. And I detect another note that does indeed smell like bourbon or some kind of sweet liquor. But unlike other liquor type scents I've smelled, this one does not have that sour fermentation note at all. It's an unbelievably yummy scent. The scent lasted about 3 hours.
Lavender & Lemongrass
A lovely spring fragrance with a potpourri twist of lavender and citrus notes.
This is a spa lemon scent with a lemongrass note, a little bit of a soapy note, and just a smidgen of lavender. The lemon is quite strong, like the juicy inside of a lemon mixed with a little bit of the bitter rind. It's a very nice spa scent. The scent lasted about 3 hours.
Roasted Espresso
Our all-time best selling fragrance! Pure espresso, a heavy rich coffee throw!
Espresso is right! This is a super strong, super bitter coffee scent with no sweetness at all and maybe just a smidgen of cream. It's a very authentic espresso scent too, not a fake coffee at all. But it's very strong and bitter. I would have liked it better mixed with vanilla to cut the bitterness a bit. If you're a fan of strong, bitter espresso, this is the scent to get! The scent lasted about 3 hours.
Pumpkin Caramel Drizzle
A fall favorite combines the familiar scents of pumpkin and caramel with seasonal spices
I smell molasses, brown sugar, a little bit of cinnamon, and a hint of nutmeg. It's not really a pumpkiny scent, and it's quite nice, but similar to a lot of fall scents I have.
Vanilla Pound Cake
Authentic aroma of Vanilla Pound Cake
Super rich sweet buttery confectionary scent that smells more like rich vanilla white chocolate frosting than cake. It smells great!
Warm Cinnamon Buns
The aroma of warm fresh baked spicy cinnamon rolls with sweet smooth vanilla icing
It's a nice cinnamon bun scent, not overly sweet, and a bit more authentic than some other similar scents I've smelled.