Swan Creek Candle Wax Melt Reviews
May 19, 2019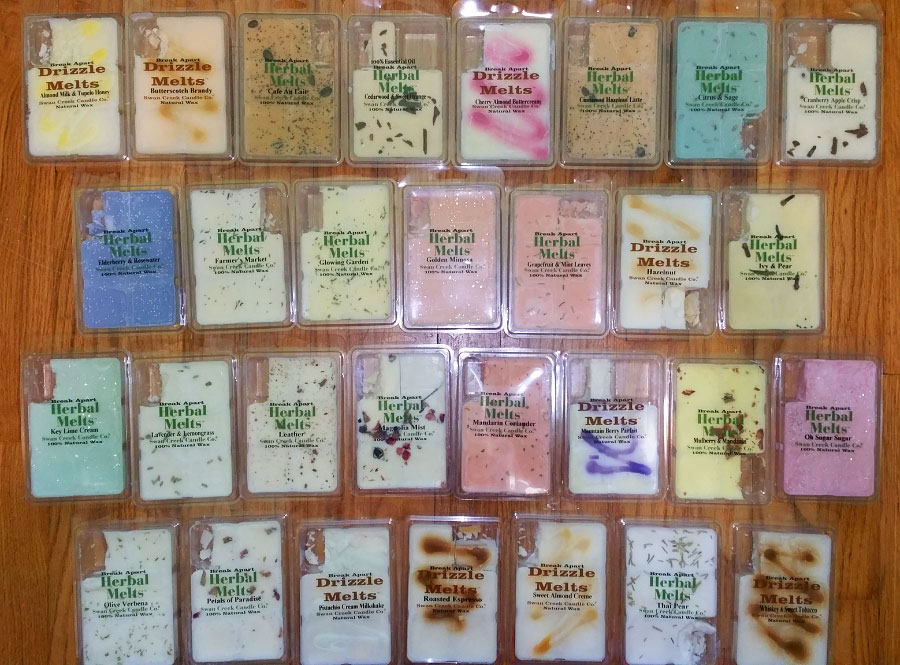 This is a review of Swan Creek Candle Wax Melts (Drizzle Melts and Herbal Melts). I bought these from Cape Candle because they were only $4.99 each, with free shipping over $35.
Swan Creek Candle wax melts can also of course be purchased directly from Swan Creek Candle, but they're the most expensive ($6.25 ea). Also Candles To My Door ($5.49 ea), The Lamp Stand ($5.49 ea), and other websites. At stores, you can find them at some Tractor Supply, Bass Pro, Cabela's, Hallmark, and small local stores, although they might not be available at all of these stores, and if so, the store probably won't carry all Swan Creek Candle scents (and there are a lot!)
Swan Creek Candle wax melts are generally $4.99 to $6.25 each, which seems expensive, but they're 4.75 oz. instead of the usual 2.5 oz. wax melts from Walmart. $4.99 works out to $1.05/oz. (Walmart wax is $2 for 2.5 oz., which is $.80/oz), which would be equivalent to $2.62 if it were 2.5 oz (or $3.29 if the price is $6.25). So the price for the amount of wax you get is actually quite reasonable.
Swan Creek Candle wax melts are made with pure soy, so they are soft, greasy, crumbly, and very messy, like blue cheese crumbles. But unlike a lot of soy wax melts I've tried, the throw is actually quite good. And these are probably the best smelling wax melts I've ever smelled. They're authentic and yummy, with very few that have odd or sour of off-putting notes. However, the deal breaker is the duration of the scent. Just about all of these scents lasted 1 to 3 hours. Many of these are new scents, so it's not like they were in the warehouse for months or years. I used a standard 20W electric hotplate warmer. I also tried them in a 15W, 17W, and 24W electric warmer, tried melting double the amount (one entire cube, which equals two cubes of a standard 2.5 oz. pack), and melted them in different rooms. Nothing I did made a difference. I'm returning all but 6 scents, and thankfully Cape Candle was accommodating in that respect. But the guy I talked to seemed a bit offended and said nobody has ever once complained about Swan Creek Candle wax melts (in general, I've seen that they get excellent reviews), but I find that hard to believe since there are many people in our Facebook Group who have had similar complaints. So... as incredible as these smell (which makes this even more disappointing), I will not buy Swan Creek wax melts again. :-(
Almond Milk & Tupelo Honey
The rarest and sweetest of honey - "Sweet as Tupelo Honey" - only harvested in Georgia and Florida - is combined with rich and creamy roasted Almond Milk for a nutty, rich and buttery fragrance
A fantastic sweet almond scent that smells like an almond confection, like marzipan or almond fudge. It's very rich with a sweet buttercream note. It smells almost exactly like Sweet Almond Creme, but sweeter and richer. I don't smell honey per se though.
Butterscotch Brandy
Mild hints of brandy and caramel mix with a delicious throw of butterscotch
This smells like butterscotch candies with a rum note. It's a fantastic combination! And it's super strong on cold sniff. Looking at the scent notes, I smell more butterscotch than caramel.
Cafe Au Lait
The strong fragrance of roasted coffee infused with chocolate, creamy vanilla and roasted hazelnuts
I love this scent! It's a strong, authentic coffee with a bit of a sweet vanilla buttercream note, and possibly a hint of chocolate, and I think there's a smidgen of nuttiness in the background. Looking at the notes, they're spot on. But the scent dissipated in under an hour!
Cedarwood & Sweet Orange
A welcoming woodsy tone of cedarwood with hints of pure orange zest
I really like this one! It smells like a combination of rich patchouli, cedar, and just a smidgen of orange. I can smell the orange on cold sniff, but barely when melted. Fantastic scent! And the scent lasted all day, at least 8 hours!
Cherry Almond Buttercream
Sweet cherries, roasted Italian almonds and whipped fresh buttercream are layered with hints of black plum and mandarin
This smells just like the scent name: almond with a maraschino cherry note, and a hint of sweet vanilla buttercream. It's so yummy! The cherry note is a bit artificial, but doesn't detract from the scent at all. It also smells like there may be a hint of bourbon or whiskey in the background. Looking at the scent notes, I think I do smell a smidgen of the mandarin (orange) way in the background. Fantastic scent! But the scent fizzled in under an hour!!
Cinnamon Hazelnut Latte
Spicy cinnamon, cream, light nutty hazelnut and a mild coffee
I like this yummy scent. I smell the sweet hazelnut first (which smells more like hazelnut than their Hazelnut scent), with a vanilla buttercream note, and a hint of coffee and cinnamon. The cinnamon is subtle, not as spicy as the scent notes suggest. When melted, a rich buttery note comes out that makes this smell a little bit like a cinnamon roll (even though the cinnamon is subtle).
Citrus & Sage
The refreshing aroma of mandarin, tangerine, ruby red grapefruit, and lemon rinds, with base notes of fresh sage leaves.
This smells like a combination of very zesty lemon and lime juice with maybe a tiny bit of grapefruit. I don't smell sage per se, but it does have a tiny bit of a savory note way in the background. It's also lip puckeringly zesty and a little salty, with just a tiny bit of sweetness, and a little bit of sourness, like a super lemony/limey lemonade with barely any sugar. I really like it! It's a nice change from all the lemon bakery, cake and cookie scents out there. The notes don't show lime, but they do show mandarin and tangerine, although I don't really smell orange. The scent fizzled within 1 to 2 hours.
This is a more "literal" interpretation of sage and citrus, and most similar scents I've smelled are completely different, like a sweet herbal scent with an industrial cleaner note (not in a bad way). Some other wax melts that combine sage and citrus are Tuscany Candle Sage & Citrus, Yankee Candle Sage & Citrus, and Goose Creek Candle Sage Leaf & Citrus.
Cranberry Apple Crisp
Rich cranberry, fresh apple cider, and mild cinnamon
This yummy scent smells more like pears than apples, although I do smell a bit of apple as well. There's also a sweet, buttery bakery note as well, but it's not an overly sweet scent, so it smells authentic. There may be just a smidgen of tartness from the cranberry, but I don't think I actually smell cranberry. I don't really smell cinnamon either, although it might be very subtle and way in the background. It's a nice, yummy scent, but there's something harsh in there (not tart), but like it's too rich or something. Best suited for a very large room! This scent lasted longer than the others, around 5 or 6 hours.
Elderberry & Rosewater
Delicate, wild-harvested elderberries are infused together with Bulgarian rose petals, wild ginger and Belgian sugar pearls
This might be one of the best, yummiest, and most unusual berry scents I've ever smelled. It smells like a thick, super sweet blueberry compote with possibly a hint of brown sugar or maple, but it's not "really" a foodie scent either, and not even overly fruity. I don't smell rose on cold sniff, but I do smell it a bit in the background when melting. I think this is my favorite scent of all the Swan Creek wax melts I've tried.
Farmer's Market
A cornucopia for the senses - earthy wood notes, green leaves, summer citrus and bamboo all combine together to replicate a fresh, local market with hints of wild grass as an undertone. Fresh, light and layered!
This smells like fresh, crisp green grass mixed with sweet greenhouse flowers. It's very natural and it smells great! Looking at the notes, I don't really smell any woodsy notes, although maybe a hint of sweet cedar way in the background. I don't think I smell citrus either, unless it's a smidgen of grapefruit perhaps. And bamboo has a nutty coconut note, but I don't smell that at all.
Glowing Garden
Overflowing with healthy fruits and veggies, this bright, crisp fragrance consists of guava nectar, turmeric, baby carrots, beets, radishes and pink tangerine.
This is very weak on cold sniff, so I'm not sure what I'm smelling. I think I detect orange. Melted, it's rich creamy strawberry with a bit of an orange note, although it smells more like strawberry scented lipstick or skin cream rather than real strawberries. It's quite nice. Looking at the scent notes, the strawberry I'm smelling might be the guava nectar, and there's the orange (tangerine). I don't smell carrots, beets or radishes, and turmeric has a ginger note but I don't smell that either.
Golden Mimosa
Bold throws of orange, grapefruit and citrus blended with a hint of champagne
This smells like orange soda, although it's just slightly less sweet (maybe because of the grapefruit, although I don't specifically smell grapefruit). It's a nice scent with a little bit of fizziness.
Grapefruit & Mint Leaves
A refreshing throw of grapefruit combined with a cooling tone of fresh mint
I love this scent! It's grapefruit with a zesty, slightly lemony note. It's not a sweet grapefruit though. And I don't smell mint at all (or any cooling tones or sinus clearing effects), unless it's supposed to be garden mint, because it does have a bit of a savory note.
Hazelnut
Wonderful aroma of freshly toasted hazelnuts with base notes of vanilla and butter
This is a creamy, buttery vanilla scent with a slightly nutty note (not necessarily hazelnut, but not peanut either), and maybe a smidgen of coffee. It's just a little bit sweet. I like it, but it's similar to a lot of cakey bakery type scents I've smelled.
Ivy & Pear
A ripe, crisp pear blended with green, leafy notes and a touch of Agave Nectar
This smells like fresh, crisp, sweet juicy pear. That's it, nothing else added. It's totally authentic and if I close my eyes, I really think someone is eating a pear! I don't smell any green, leafy notes. It's very similar to Thai Pear, and although both are authentic, this scent is more authentic. After melting for about an hour, it started taking on a little bit of a bug spray note, but not enough to ruin the scent.
Key Lime Cream
A perfect combination of lime, sweet cream and of course sugar makes this a MUST have for all sweet tooth lovers!
A very tart, zesty, lip-puckering lime scent with a little bit of creaminess and just a hint of sweetness. It's not as sweet as the scent notes would suggest. But it's very refreshing and summery.
Lavender & Lemongrass
The calming effects of traditional Lavender combined with the aroma of fresh cut lemongrass
A fantastic spa type scent that combines authentic lavender and zesty lemon, and a bit of a lemongrass note. I think the lemon is very slightly stronger than the lavender. It's not a sweet scent at all. I also reviewed this scent in
2017
.
Leather
The distinct scent of rich leather
This is a unique scent and I really like it. It smells like sweet tobacco with smoky marshmallow and a smidgen of leather. As times goes on though, it smells more like a smoky campfire marshmallow with a hint of sweet tobacco, and no leather notes. I still like it though. Very nice!
Magnolia Mist
Fantastic, authentic scent that really smells like a magnolia flower, with that lemony note. It has a little bit of a "hothouse flower" type note, and it's not overly sweet, not perfumey at all, and the lemon note is quite strong but it's definitely a floral scent, not a lemon scent. This scent lasted longer (around 6 hours) than some of the other Swan Creek scents (many of which started dissipating within 2 hours or so).
Comparing this scent to ScentSationals Magnolia, they're similar, but definitely not the same. They both have that lemony floral scent, and they're both authentic. But ScentSationals Magnolia is sweeter, with a soapy powdery rose note that makes it smell a bit more like authentic rose than magnolia. They're both fantastic scents with the same throw, and I can't say I like one more than the other.
Mandarin Coriander
A citrusy treat, the blend of fresh mandarins and coriander is perfect for anyone who loves to cook!
I can't figure out the notes for this scent. I do smell orange, but it's mostly something else, like an earthy or mossy type scent, maybe? Possibly with a hint of light wood? A smidgen of a soapy note? I've never smelled anything like it, but I like it! I don't know what coriander smells like, but most of Swan Creek Candle's scents are authentic, so what I'm smelling might really be coriander. It has barely any sweetness, but it's also not savory or sour.
Mountain Berry Parfait
Wild blueberries, red raspberries, peach and strawberry fuse together with fresh coconut, condensed milk, orange zest and sweet cream for a bright and buttery berry confection!
This is one of the yummiest scents I've ever smelled! I smell sweet berries (blueberries I think) mixed with a super rich, buttery, almost nauseatingly sweet buttercream frosting. There may also be a smidgen of coconut in there. The scent lasted only 2, maybe 3, hours. I even tried melting it again with double the amount (1 full cube, which is equal to 2 cubes of a regular 2.5 oz. wax melt), and it didn't increase the duration.
Mulberry & Mandarin
Richly scented with ripe sweet berries and fresh peeled mandarin oranges
I smell mostly the mulberry, and a little bit of the orange (mandarin), but the combination makes it smell like an intense and very fruity grape juice. It's nice if you like grape type scents.
Oh Sugar Sugar
Luscious layers of spun sugar, candy sprinkles, lemon zest, marshmallow and blue raspberry are blended together with vanilla cream
I adore this scent! It's pink sugar (super sweet raspberry and lemon with a perfumey note), but although it's very sweet, it's more fruity and less perfumey than other pink sugar scents I've smelled. It's more like a cotton candy or fruity candy scent. I smell sugary marshmallow with zesty lemon and tangy raspberry, and possibly a hint of blueberry. Looking at the scent notes, they're spot on!
Olive Verbena
Fresh and delicious blend of crushed Olive leaves and Verbena plant fragrances
A perfect lemon verbena scent with a lemongrass note. This is a little sweeter than other lemongrass and verbena scents I've smelled, like there may be a hint of floral in the background, like orange blossom. I don't smell any olive notes, which I assume would give this a savory or salad-like vibe, which this scent is not. This is a wonderful spa scent, but it's also a clean scent because it smells a little bit like lemon scented Pledge (in a good way)! This one lasted longer than the other Swan Creek scents, around 5 or 6 hours.
Petals of Paradise
This incredible fragrance is like stepping into a garden paradise with tropical florals and a hint of mandarin orange.
This is a fruity scent rather than a floral. It smells like strawberry and sweet, rich vanilla buttercream. There may be a barely detectable smidgen of a floral way in the background? Looking at the scent notes, I don't smell any tropical or orange (mandarin) notes. It's quite nice.
Pistachio Cream Milkshake
Roasted pistachios, whipped honeycomb, white rum and fresh cream
This is weak on cold sniff. Pistachio smells a lot like almond, but this scent smells more like milky vanilla with a hint of a nutty note and maybe a smidgen of almond. It's not very sweet, more like a vanilla cookie. It's a nice scent, but not what I expected.
Roasted Espresso
Fresh, richly brewed espresso! Best Seller!
This is the most authentic coffee scent I've ever smelled, and it really does smell like fresh, strong, slightly bitter espresso. It smells more like strong freshly ground coffee beans. It has just a smidgen of sweetness but it's definitely not a sweet coffee scent. I'm not a fan of a lot of coffee scents because they usually smell fake, but this one is insanely good and crazy strong! I also reviewed this scent in
2017
.
Sweet Almond Creme
Relax with the richness of fresh sweet almonds
This smells almost exactly like Almond Milk & Tupelo Honey scent, a barely noticeable difference. Although it's sweet, it's just a tiny bit less sweet and a little less rich, without the buttercream note. It smells more like sweet almond extract or almond paste, rather than marzipan or almond fudge. I love both scents.
Thai Pear
Fresh and crisp, a pure pear fragrance with earthy notes on the back end
A fantastic, authentic sweet pear scent. It smells a lot like Ivy & Pear, but that scent is not as sweet, and this scent has maybe a hint of an apple note and possibly a smidgen of a barely detectable floral way in the background. It's a bright, "happy" scent! Although the notes say "earthy", I don't detect any "earthiness".
Whiskey & Sweet Tobacco
A pure tobacco leaf and crisp whiskey
On cold sniff I smell sweet tobacco, cedar, a hint of patchouli, and a smidgen of a rum note. But when melted, I just smell patchouli and cedar, with maybe a smidgen of tobacco, and no rum. It's a very nice scent.