Shortie's Candle Company Wax Melt Reviews
May 8, 2020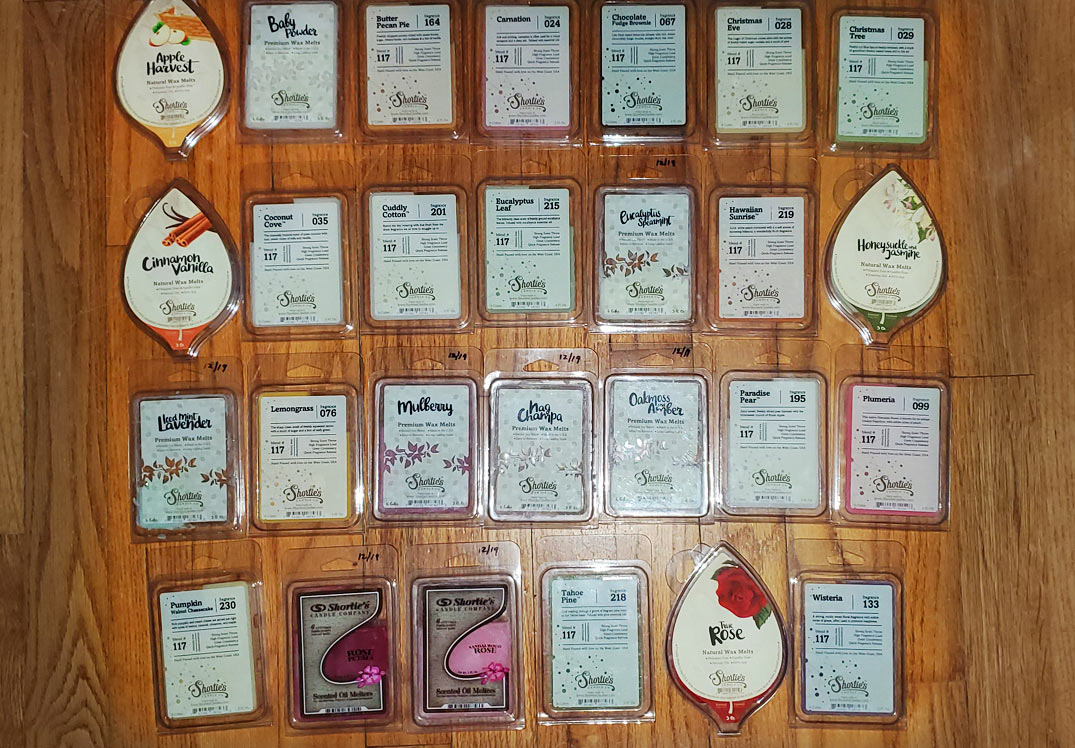 Shortie's Candle Company has become one of my favorite wax melt companies because of their fantastic scents, strong throw, excellent customer service, and super fast shipping. What's not to love??
They've recently changed their wax formula again, and offer two types of wax in 3 oz. clamshells: their new paraffin wax blend (called blend #117) which is $5.95 and 100% soy which is $6.50. They also offer 2, 3 and 4 packs which ends up costing less per pack. Although these are on the pricey side, I think they are well worth it. Scentsy wax melts are $6 each, and I think Shortie's blows Scentsy away!
I also LOVE the new slightly industrial looking labels. They're very professional!
Shortie's Candle Company can be found online at their website at https://www.shortiescandles.com, and on Facebook and Twitter.
I did another review of Shortie's wax melts in December 2017.
Apple Harvest
A true, ripe apple fragrance combined with bright fruit notes and just a touch of spice. It's infused with natural cinnamon, nutmeg, clove, orange, and cedarwood essential oils.
Soy formula. A high quality fall apple cider scent, a bit sweeter (a good thing) than some I've smelled from other companies.
Baby Powder
This is their older formula. And yep, it's baby powder. What else can I say? I love this scent! It's an authentic baby powder scent and although it's very sweet, it's not quite as sweet as some other baby powder scents I've smelled. And it has a smidgen of a nag champa type incense note, which makes me like it even more! The scent lasted all day, at least 10 hours!
Butter Pecan Pie (Fragrance #164)
Freshly chopped pecans mixed with sweet brown sugar, creamy butter, rich molasses & a hint of vanilla
I smell burnt sugar and brown sugar with a hint of caramel and molasses. I don't smell pecans or any nutty notes, but I think there's almost a barely detectable smidgen of coffee. It's quite nice.
Carnation (Fragrance #024)
Enjoy the wonderful scent of freshly picked carnation flowers trimmed and arranged just for you with a message of love. This great fragrance is made with essential oils for accuracy.
I don't think I've ever smelled such an authentic floral wax melt scent. It's a little sweet, but more of a "green", natural sweetness. And it's also a little bitter, but not a bad bitterness, more like the natural bitterness of a real flower. It's like sticking your nose in the middle of the flower and getting the full aroma of the petals, stamens, stigma... all of it! Amazing! When melted, it smells like there's a freshly picked bouquet of flowers in the room. Again, not overly sweet, and definitely not perfumey, just totally natural (although up close it smells very bitter and not so good, but that's perfectly okay because it smells incredible in the room). I do prefer floral scents that are a little sweeter, but then I can mix this scent with any sweet or perfumey floral. I adore this scent!!!
Chocolate Fudge Brownie (Fragrance #067)
Like fresh baked brownies infused with rich, sweet chocolatey fudge chunks, straight from the oven
A yummy chocolate scent that smells like a Tootsie Roll rather than a brownie, as it doesn't have a warm, fudgy cocoa note. What differentiates this scent from other chocolate scents is that it has a smidgen of a woodsy floral note which makes it smell odd, but not in a bad way. It's a unique chocolate scent and I like it!
Christmas Eve (Fragrance #028)
The magic of Christmas comes alive with the aroma of freshly baked sugar cookies and a touch of pine.
This smells like vanilla cookies, and it's not overly sweet; in fact, it's less sweet than other vanilla cookie scents I've smelled, which makes it a little different. Looking at the notes, I don't smell pine. But now that I know it's in there, I'm wondering if I do detect a smidgen of pine or eucalyptus way in the background. Possibly, but I don't think so. I do think it's the pine note that's blocking some of the sweetness of this scent. I would like to actually smell the pine though, but if you're not a fan of overly sweet bakery scents, you'll probably like this one!
Christmas Tree (Fragrance #029)
Freshly cut Blue Spruce freshly trimmed, with a touch of grandma's freshly baked treats still in the air
This is a combination of pine and cranberry. On cold sniff I smell more of the pine, but when melted it's an even combination. The cranberry is tart rather than sweet, and the pine is a harsh, slightly sour pine rather than an aromatic fir or spruce. It's not one of my favorites, but it smelled better when melted. Looking at the scent notes, I don't detect any bakery notes. And the scent dissipated within 2 hours.
Cinnamon Vanilla
Indulge yourself in the wonderful aroma of spicy cinnamon mixed with the soft sweet scent of creamy French Vanilla.
Soy formula. This is a nice combination of cinnamon and sweet vanilla. I smell the cinnamon first, but I also smell the sweet, creamy vanilla that makes this scent smell a bit like a cinnamon roll.
Coconut Cove (Fragrance #035)
The intensely tropical scent of pure coconut with lush, sweet notes of milk and vanilla
This is unlike any other coconut wax melt I've tried. At first I didn't like it, until I realized that it's authentic coconut, like the coconut pulp scraped from the inside of an actual coconut, before it's mixed with pineapple and sugar and all the other notes that make it smell like a "typical" coconut scent. It's an authentic milky coconut with barely a smidgen of sweetness, but no other notes added. Actually, it smells like coconut water! I like it, although on its own it's a bit bland, but for that reason it's a great coconut scent to mix with other notes like vanilla, floral, tropical fruit (or any kind of fruit), and even chocolate!
Cuddly Cotton (Fragrance #201)
Spend the day relaxing with that fresh from the dryer fragrance we all love to snuggle up to.
Eucalyptus Leaf (Fragrance #215)
The brilliantly clean scent of freshly ground eucalyptus leaves, infused with eucalyptus essential oil
This is pure, high quality eucalyptus and it smells like Vicks VapoRub (in the best way!), mixed with a hint of camphor. It has the most intense nasal clearing effect of any wax melt I've ever tried, so it most likely has real eucalyptus oil in it (and there it is, in the scent notes!). It's the perfect scent to melt if you have a cold or allergies. And unlike every other eucalyptus wax melt out there that I've melted, I notice the sinus clearing effect as soon as I walk in the room! With most eucalyptus wax melts, even those with strong throw, you have to get within a foot of the warmer to feel it in your sinuses. Wow!
Eucalyptus Spearmint
All of the relaxing properties of fresh eucalyptus, but with an uplifting splash of fresh mint leaf to invigorate your spirit
This is their older formula. It's a fantastic nasal-clearing mint scent that smells like a blend of peppermint and spearmint with just a smidgen of eucalyptus that tempers the sweetness. If it were sweet, it would smell like peppermint candy. But this scent has very little sweetness. It does, however, have a creamy, milky note, as well as perhaps a smidgen of wood way in the background. I love this scent!
Hawaiian Sunrise (Fragrance #219)
Juicy, white peach combined with the soft aroma of blooming hibiscus, a wonderfully fresh fragrance
This smells like peach and a floral, with a bit of a tropical note. It's not very sweet, despite the floral (which might not actually be floral at all). It's a bit bland and a little bit waxy, but pleasant.
Honeysuckle & Jasmine
Soy formula. This is a super super sweet jasmine scent with a honeysuckle note and maybe a hint of musk and smidgen of baby powder and even a barely detectable smidgen of vanilla. It's not an authentic floral because it's too sweet, but it's not an artificial, chemical type scent at all. If you're like me and like sweet florals, you'll adore this scent!
Iced Mint Lavender
Top notes of cool water combine with a body of chilled mint on a base of lavender
This is their older formula. I can't figure out what I'm smelling as it's weak on cold sniff. It smells like herbal soap with a peppery note, and it's not sweet. I think I detect both the lavender and mint, but if the lavender note is in there I wouldn't notice it if it were not in the scent name. The mint is more of an herbal garden mint rather than a nasal clearing mint. It's a great scent, but I wish the throw were stronger. I've tried this scent in an even older formula, and throw was almost non-existent. And I've heard the throw in the new formula is quite faint as well. So it may be an issue with the scented oil itself.
Lemongrass (Fragrance #076)
The sharp clean smell of freshly squeezed lemon with a touch of sugar and a hint of leafy green
Most lemongrass wax melts I've tried tend to have a strong spa vibe and a citronella note. This is lemongrass plus a soapy "kitchen" lemon (like lemon-scented dish detergent), and a bit of sugar. It has only a smidgen of the citronella note, so I like it more than most lemongrass scents. And I think it would smell great mixed with fresh mint and/or lavender!
Mulberry
This is their older formula. It smells more like a harsh black cherry scent with a little bit of a cough syrup note. It's not an authentic berry scent at all, but it smells quite nice.
Nag Champa
Musky and ancient combination of Sandalwood and the sacred Champa flower, with underlying notes of black pepper, cinnamon, & French Lavender
This is their older formula. I love nag champa! It's an incensey, slightly exotic spice scent with a baby powder note. This one has a little bit of a super sweet musk note in the background, which makes it slightly different from other nag champa wax melts I've smelled (in a good way).
Oakmoss & Amber
A strong masculine woody body with notes of orange & clove
This is their older formula. It's a super fresh men's body wash scent with a salty, herbal note, and maybe a hint of woodsiness way in the background. It's very nice!
Paradise Pear (Fragrance #195)
Juicy, sweet, freshly sliced pear blended with the bittersweet crunch of Royal Apple
Fantastic pear scent with an apple note, and a hint of sweet caramel. This is sweeter than other pear scents I've smelled, in a good way. I'm surprised I don't see caramel in the scent notes, because I definitely smell that, as well as a smidgen of a bakery note (but no cinnamon or any spices at all). Fantastic, yummy scent!
Plumeria (Fragrance #099)
This native Hawaiian flower is known for its unique creamy fragrance, with subtle notes of peach.
A super bitter floral scent with barely any sweetness. Much too bitter for me, but perfect for toning down sweet, rich perfumey scents like their Baby Powder, Nag Champa, and Honeysuckle & Jasmine scents.
Pumpkin Walnut Cheesecake (Fragrance #230)
Rich pumpkin and cream cheese are spiced just right with notes of walnut, caramel, cinnamon, and maple
A yummy sweet, rich caramel scent with notes of brown sugar, maple, a hint of nuttiness, and a smidgen of tanginess (the cheesecake?). I don't smell the pumpkin per se (nutmeg and cinnamon). Fantastic!
Rose Petals
Long stemmed roses in full bloom, with an added touch of rose perfume for a bit of romance
This is their "older" older formula. It's a very nice rose scent with a soapy note and also a little bit of a chemical note, but not enough to ruin the scent. It may also have a hint of a light woodsy note, perhaps sandalwood. It's not overly sweet, and has a tiny bit of bitterness.
Sandalwood Rose
A fresh and fragrant combination of earthy sandalwood and alluring soft roses
This is their "older" older formula. I smell Eastern spices with soapy, peppery, slightly woodsy notes. It's only a tiny bit sweet, and strangely, I don't smell rose, although that might be the slightly sweet note. And although I do detect a hint of wood, I don't smell sandalwood per se, which has a milky note. It's nice, and unusual. I thought I detected a hint of sandalwood in the Rose Petal scent, but it's a totally different scent from this one.
Tahoe Pine (Fragrance #218)
Like walking through a grove of fragrant pine trees in the Tahoe basin, infused with pine essential oils
True Rose
Soy formula. This is an authentic rose scent! It's not perfumey or soapy like a lot of rose scents tend to be. It's just like sniffing the roses in my mom's garden. I love it!
Wisteria
A strong, mildly sweet floral fragrance with subtle notes of grape, often used to promote happiness
What an incredible scent! It smells like a sweeter version of hyacinth, like hyacinth with a jasmine note. And although it's sweet, it's an authentic sweet floral rather than a perfumey scent. I don't notice any grape notes.