Tuscany Candle Halloween Wax Melts Reviews - 2017
September 25, 2017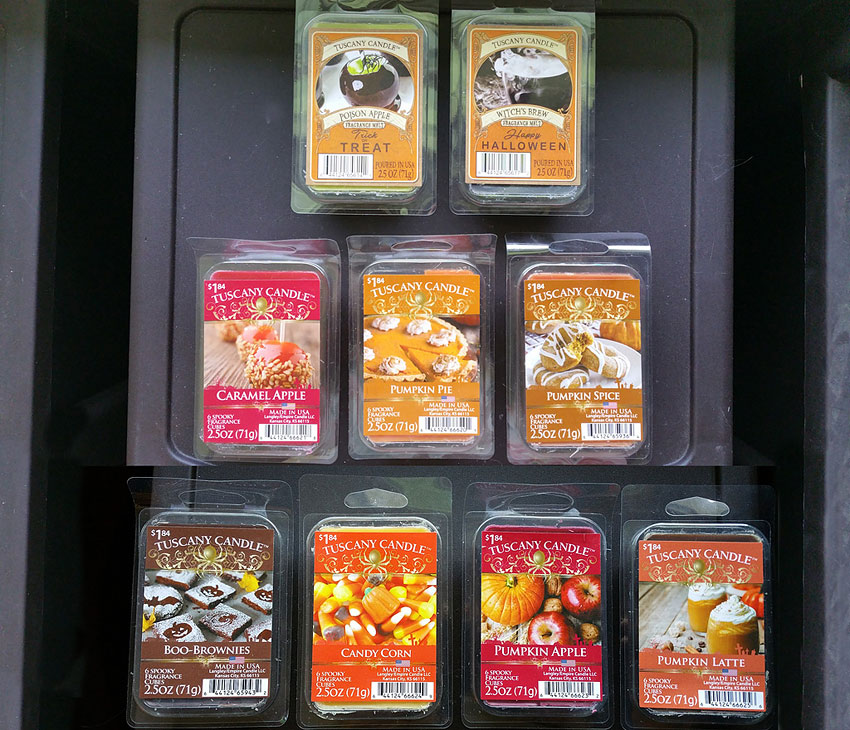 This is a review of Tuscany Candle Halloween Wax Melts from 2017. I found all but two of these scents at Walmart for $1.84.
I suspect that most (if not all) of the Tuscany Halloween scents that I got from Walmart are very old. They have the same label as the ones I bought in 2015, still showing the brand Langley/Empire Candle LLC even though the company was renamed Empire Brands Co. last year. The throw on these scents was weak even in 2015.
Boo-Brownies
A generic chocolate scent with a fake note. Not bad, but I've smelled better chocolate scents.
Candy Corn
This does smell like candy corn, but it's more of just a very sweet vanilla scent with a slight chemical note (not a rich buttercream scent though). Nice scent.
Caramel Apple
A nice fake apple or pear candy scent with caramel (like a potpourri type scent).
Monster Cookie
I couldn't find it this year, but I did buy it a few years ago from Joann Fabric. It's a rich vanilla cookie scent with a nutty note. Nice, and not overly sweet.
Poison Apple (Trick or Treat)
I got this as Wegmans food store for $2.99. I can barely smell anything on cold sniff. It smells a little like a sour apple candy.
Pumpkin Apple
This is just a generic apple cider scent. No pumpkin. They should have just called it apple cider. It's a nice scent though.
Pumpkin Latte
I smell a rich buttery caramel/butterscotch with vanilla buttercream and a little bit of cinnamon, and smidgen of nut, but no pumpkin (nutmeg) notes. I think I also detect a tiny bit of a creamy milky sweet coffee note, but maybe that's just because my nose thinks it should have a coffee note based on the scent name. Fantastic yummy scent.
Pumpkin Pie
Despite the name, this is not a pumpkin pie scent at all. It's another fake apple or pear scent with caramel, but this one doesn't smell like candy, more like a bakery scent with a warm note and perhaps a smidgen of pumpkin spice. It's a nice scent, and it's similar to
Better Home & Gardens Farm Apple Pumpkin
.
Pumpkin Spice
A pumpkin pie scent. It's slightly different from many of the other pumpkin pie scents out there as I detect a hint of sweet vanilla.
Witch's Brew (Happy Halloween)
I got this as Wegmans food store for $2.99. I can barely smell anything on cold sniff or when melted. I detect a fake apple note but it's not a very sweet apple.