WoodWick Wax Melt Reviews (Walmart)
August 25, 2020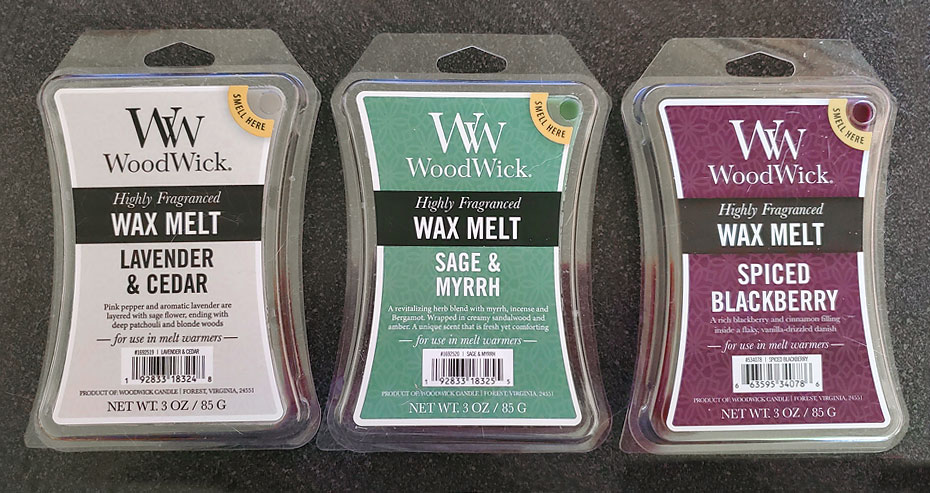 This is a review of the 3 new WoodWick wax melts scents from August 2020: Lavender & Cedar, Sage & Myrrh, and Spiced Blackberry.
Find out about WoodWick wax melts here.
Lavender & Cedar
Pink pepper and aromatic lavender are layered with sage flowers, ending with deep patchouli and blonde woods
On cold sniff I smell sweet cedar wood with a bit of lavender. When melted, however, I don't detect the lavender, just the sweet cedar, which is quite perfumey when melted. I really like it though! Looking at the notes, no cedar even though it's in the scent name.
Sage & Myrrh
A revitalizing herb blend with myrrh, incense and bergamot. Wrapped in a creamy sandalwood and amber.
Spiced Blackberry
A rich blackberry and cinnamon filling inside a flaky, vanilla-drizzled danish
This is more of a Christmasy scent than a fall scent, as it smells like sweet sugared plums and cinnamon, with maybe a hint of brown sugar. It's like Christmas cranberry, but without any tartness. It may also have a hint of apple. It's not a totally authentic scent, kind of artificial actually, but that's okay because it smells great! Looking at the notes, no apple, and I don't smell any bakery notes.