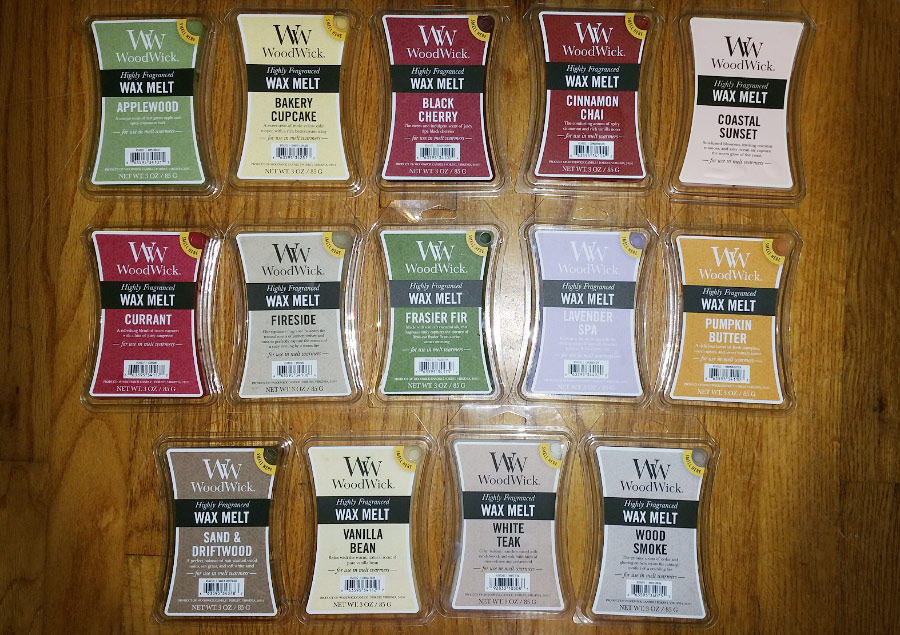 Read Reviews of WoodWick Wax Melts!
WoodWick Candle is owned by Newell Brands, which also owns Yankee Candle (as of 2018). The WoodWick Candle wax melts use soft, greasy wax that is most likely a soy mix, although it's not crumbly and messy like pure soy. For the most part, the scents are "safe" scents, and they smell very nice.
At $4.79 each (reduced to $4.67 in 2020), they are quite expensive, especially for Walmart. Even though they are 3 oz. packs (rather than 2.5 oz. packs for ScentSationals and Better Homes & Gardens wax melts at Walmart), $4.79 works out to $3.89 if they were 2.5 oz., which is still pricey. However, you can buy them for $3.99 at candlestomydoor.com, or $1.49 for a 0.8 oz. pack of mini melts from thelampstand.com. Keep in mind that you'll have to pay shipping when you purchase online, and you may be getting melts that have been sitting around for a long time.
Since each pack is 3 oz. rather than 2.5 oz. like Walmart wax melts, each cube is larger (.5 oz. vs .42 oz). So if you usually use 2 cubes, you might be able to get by with 1 or 1.5 cube of WoodWick wax melts.
| | |
| --- | --- |
| | In general, most of their scents are pleasant, with a couple of excellent "stand out" scents. And they include a brief description and scent notes right on the label. |
| | Expensive. Soft wax. On average, throw is good to very good, but for the price I would expect average throw to be very strong. "Safe" scents. Two holes at top of clamshell for sniffing, but allows scent to dissipate (tape over these holes when you buy this wax). |