Yankee Candle Walmart Wax Melt Reviews - Spring 2020
February 17, 2020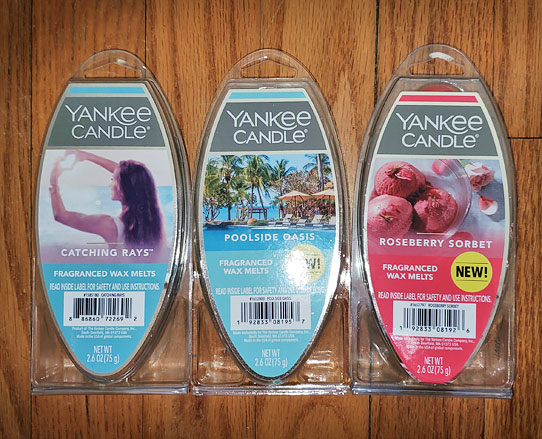 This is a review of Yankee Candle wax melts from Walmart for Spring 2020. There are only 3 new scents at Walmart: Catching Rays, Poolside Oasis, and Roseberry Sorbet.
Meijer stores have 7 additional scents that I'm unfortunately not able to get: Afternoon Escape, Alfresco Afternoon, Camellia Blossom, Garden Picnic, Homemade Herb Lemon, Summer Daydream, Water Garden.
Catching Rays
Sharp orange and golden amber bring that great beach feeling of being warmed all the way through by a perfect summer sun.
Top: Orange; Mid: Lavender, Rosemary, Geranium; Base: Amber, Cypress, Moss, Musk
This is not the same scent as Yankee
Catch a Wave
from Spring 2017. This is a sweet fresh men's body wash type scent, but it doesn't have the slightly salty note that most fresh or oceany type body wash scents tend to have. It has a hint of floral and fruit (maybe pear), and possibly a smidgen of lavender. It's different and I like it, although it does have a little bit of a bug spray note but not enough to completely ruin the scent. Looking at the notes, there's the lavender. But I don't smell orange or rosemary (a savory note, which this scent does not have) at all.
Poolside Oasis
Relax by the pool with a view of the ocean just beyond the palms...with airy notes of sea salt, bright botanicals, and a touch of island fruit.
Top: Sea Salt, Marine, Feather Moss; Mid: Waterlily, Freesia, Melon; Base: Beach Wood, Violet
This smells a lot like
Better Homes & Gardens Caribbean Sea Breeze
, one of my favorite scents, a fantastic coconut scent with a hint of fresh air, a smidgen of tropical fruit, and a barely detectable floral note. I like the Better Homes scent more because it's sweeter and stronger, and this Yankee scent has bit of a waxy note. It's still a nice scent though.
Roseberry Sorbet
Pure refreshment on a sunny day: tangy berry sorbet topped with a sprinkling of candied rose petals.
Top: Brazilian Grape, Orange Zest; Mid: Rose Petals, Hibiscus; Base: Marine, Vanilla
This scent has received some negative reviews both on the Yankee website and in our Facebook group, because it supposedly smells "weird". And it does. It smells like sour, fermented wine! I do smell the rose, along with a sour tropical fruit. But it's not a "good" type of sour. It's a bad sour, almost like cat pee. And it's not sweet at all. I think mixing it with a pine scent would help, but at $3.93 it's just not worth it. Looking at the notes, there's nothing in there that could create such a sour scent. Unless the grape is indeed wine. I don't detect orange, or any floral notes, or vanilla. This doesn't smell like any kind of sorbet I would want to eat!