Ador Wax Melt Reviews (from Target)
Nov 2018 & Sep 2019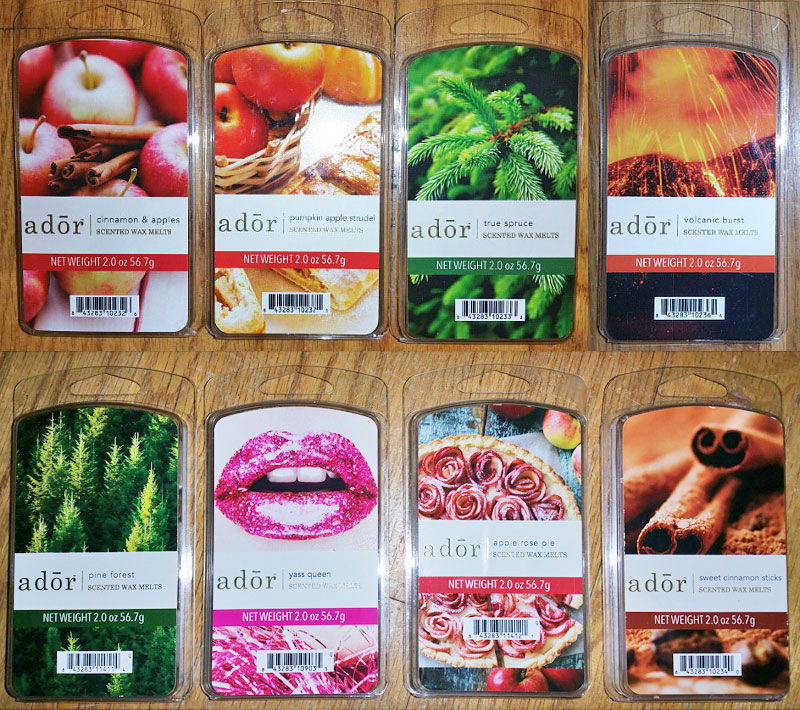 This is a review of the Ador wax melts from Target. Guess who makes these Ador wax melts? Rimports, which makes ScentSationals wax melts!
They're $2.99 at Target, but they were on sale for $2.24 when I bought them. They only have maybe 6 scents but I only found 3. It's the same hard paraffin wax with a strong scent on cold sniff as ScentSationals and Better Homes & Gardens wax melts.
Since the ScentSationals version of these scents are available at Walmart as of October 2018, at $2.00 each for 2.5 oz., it doesn't make sense to buy these at Target at $2.99 each for 2 oz. (even if they're still on sale for $2.24), unless you have a coupon.
We reviewed 4 of these scents in November 2018, and 4 more in September 2019.
As of 2020, Target no longer carries Ador wax melts, and I believe they've been discontinued by Rimports.
Apple Rose Pie
Slow-mulled apple and pumpkin fruit baked between flaky all-butter pastry layers dusted with ground cinnamon, golden nutmeg, and aromatic clove sprinkled with candied brown sugar
This is the same scent as ScentSationals Warm Apple Pie, a classic apple pie scent with apples, cloves, cinnamon, and buttery pie crust. Warm Apple Pie has been around for years, and it's a wonderful, authentic apple pie scent.
Cinnamon & Apples
This is the same scent as
ScentSationals Cinnamon Apples
from August 2016. On cold sniff, I thought this was a typical generic cinnamon apple scent, but I was wrong! Melted, it smells like sweet apple juice, or maybe a light apple cider with just a hint of cinnamon but none of those harsh mulling spices. It smells like walking into a Michaels Arts & Crafts store full of fall potpourri. The scent lasted for an entire day, and even after I turned the warmer off overnight, the next morning it still smelled strong in the house. A winner!
Fantasy
This is the same scent as ScentSationals Illusion, a fresh men's cologne scent.
Pine Forest
This is a dupe of a ScentSationals pine scent, but I'm not sure which one. It's not the same as Ador True Spruce, which is sharper with a "biting" pine note. It might be the same as
ScentSationals Perfectly Pine
, a nice standard pine scent without any harshness.
Pumpkin Apple Strudel
Freshly baked, brown sugar muffins full with ripe golden apple, spiced pumpkin, fresh ground cinnamon and sweet hints of pure vanilla
Sweet Cinnamon Stick
Aromatic notes of bright red hot cinnamon accented by crushed clove bud, sweet allspice, and a touch of shimmering nutmeg
I believe this is the same scent as
ScentSationals Red Hot Cinnamon
, a pure cinnamon scent with a sweet candy note and a bit of "heat", like red hot cinnamon candies. It smells almost exactly like
Better Homes & Gardens Spicy Cinnamon Stick
, and may in fact be the same scent. But I think this scent (and Red Hot Cinnamon) has a slightly warmer note, like maybe a smidgen of cloves.
True Spruce
This is the same scent as one of the ScentSationals or Better Homes & Gardens pine scents, not sure which one (I don't think it's Perfectly Pine). It's a strong pine scent with just a hint of sweetness, and a little bit of a "biting" note. Very nice!
Volcanic Burst
Sunny clementine, sweet orange, and sugared zest (another source shows the notes as "citrus and red orange")
This is the same scent as
ScentSationals Molten Orange
, a fantastic intense orange scent with a rich, sweet, slightly salty note. Interestingly, the description on the Molten Orange label is, "An eruption of happiness" (like a volcanic burst!)
Yass Queen
Sweet orange zest, juicy apples, and tonka bean. This alluring blend is topped off with jasmine petals, pink berry, and coconut milk
This is the same scent as
ScentSationals Girlfriend Night
, a super sweet girly perfume scent that smells like pink sugar (a very sweet girly scent that smells a bit like cotton candy, with lily of the valley, vanilla, musk, and faint raspberry notes) but with more musk and maybe a slight blackberry note. I've heard that it's very similar to a Juicy Couture perfume. It's VERY sweet, almost nauseatingly so, but I like girly perfume scents so I love this one! Looking at the notes, I don't smell smell orange. This is one of my favorite scents!