Aldi Holiday Wax Melt Reviews 2020
October 21, 2020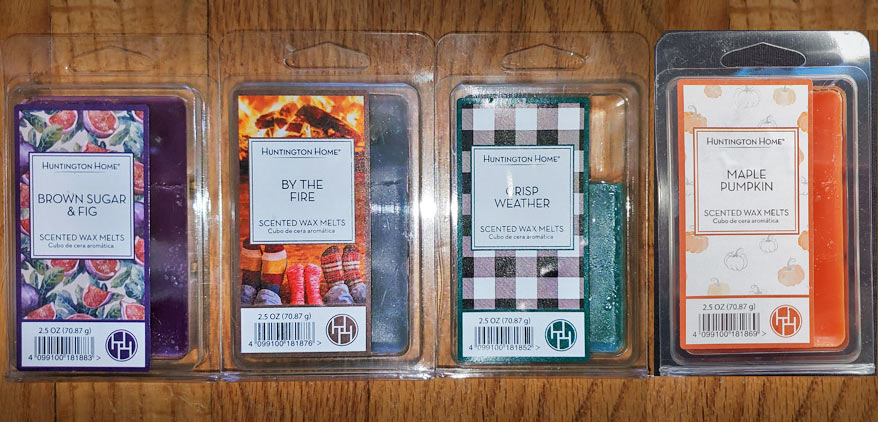 This is a review of the Aldi Holiday 2020 wax melt scents: Brown Sugar & Fig, By the Fire, Crisp Weather, and Maple Pumpkin. They're only $1.69.
The Aldi wax melts sell out within about 2 weeks, and then they're gone. And they can only be purchased from the Aldi store, not online. Although some scents may return next year, it's best to just stock up on these as soon as they hit your stores (most Aldi stores should have received them today, October 21, or earlier this week.
Brown Sugar & Fig
This is different from other fruity scents I've smelled. I do smell some kind of fruit, which I guess is the fig but might be more like red currant, but it's blended with a watery, slightly grassy note like aloe or cucumber, with maybe a hint of a subtle grassy floral (nothing super sweet like gardenia). It's a little soapy and only a little bit sweet, but not in a fruity way, and definitely not perfumey. There may also be a smidgen of barely detectable light wood way in the background. I really like it on cold sniff. But melted, I don't smell the fruit as much, the little bit of sweetness decreases even more, and the bland aloe note takes over, along with a slightly musty, very subtle slightly vinegary note. I don't like it as much when melted, but I think it would smell great mixed with a sweet fruity scent.
By The Fire
This scent is pure smoke, and it's fantastic. It doesn't have the sour Play-Doh note that a lot of smoky scents tend to have. And it's not an intense bacony or mesquite type smokiness like
AmbiEscents Happy Camper
(which I love). It might have a hint of woodsiness, but really it's just... smoke. Some people have said it smells like an ashtray, and I guess I can kind of see that. It's kind of one-dimensional, but I really like it, especially because it's so different. Since it doesn't have any other notes, it's great for mixing with other scents like pine, to give them a smoky note.
Crisp Weather
Pine with a fresh, watery, aldehydic note that spruce scents tend to have. It's not a biting pine at all, and it has just a smidgen of sweetness (not perfumey or cologney). I think it also has eucalyptus in it, and maybe a smidgen of garden mint, although there's no nasal clearing effect. It's a fantastic, chilly winter scent!
Maple Pumpkin
(Not pictured) This smells like a combination of candy corn, butterscotch and maple. It's super cavity-inducing sweet, with no pumpkin (cinnamon, clove or nutmeg) notes at all. It smells incredible! Aldi comes out with a Maple Pumpkin scent almost every year in the fall, and every year they smell different. In
2019
it was a caramely vanilla with a little bit of brown sugar and a slight raisiny note,
2018
was rich sweet pumpkin pie with a slight maple note, and
2016
was sweet apple cider with no maple and maybe a nutmeg note that gave it a pumpkin vibe.