Autsy Box Subscription Wax Melts Review
November 30, 2021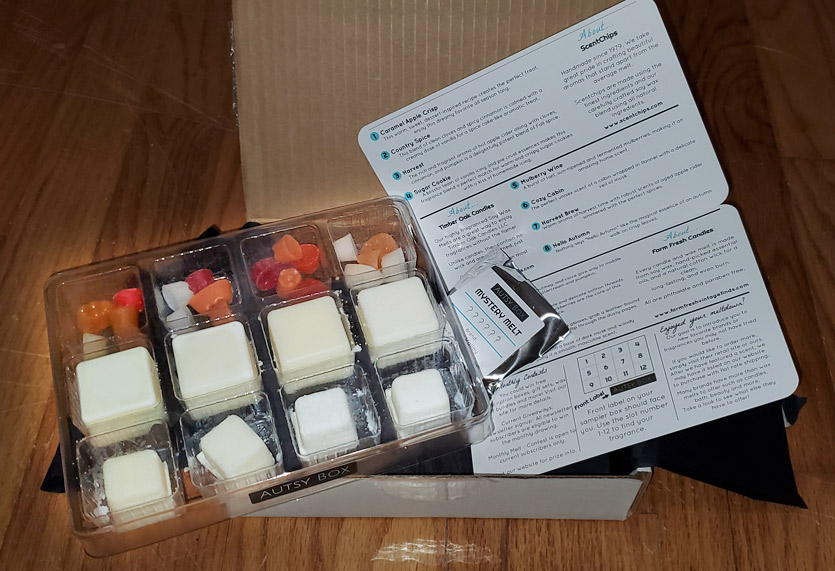 This is another review of Autsy Box Wax Melt Subscription Service (Fall wax melts), at http://www.autsybox.com.
Autsy Box purchases wax melts from various small companies to include in their monthly subscription box. Each month, they send out 12 wax melts, which feature at least 3 brands with 4 wax cubes of different scents from each company. It's a great way to discover new wax melt brands that you may not yet be familiar with! And as always, April, the owner, is wonderful to work with!
Read all about Autsy Box HERE.
Farm Fresh Candles - Down Yonder
Light traces of apple and delicate saffron threads. Luscious black currants and blackberries are at the core. Patchouli and cedarwood essential oils enhance the intensity.
I originally reviewed this scent in
May
. I can't figure out this scent, and I don't know if I like it or not. I have no clue what the notes are or how to describe it. The main note is something almost foodie I think, like a spice, but not cinnamon or pumpkin type spices at all. Maybe cardamom? Patchouli or some other exotic or incensey type note? I think there's also a fruit in there but I don't know which one, maybe apple or currant. It has a weird harshness, almost metallic, but not quite, and this will sound terrible but the harshness reminds me of perspiration, but strangely, not in a bad way. Looking at the notes, I'm surprised I was right about a lot of them! I don't know what saffron smells like, but that must be the weird harsh note. I'm 50/50 on whether I like this scent or not, but it's growing on me. Yep, I do like it! And it lasted all day, probably would have gone longer if I hadn't turned off the warmer for the night.
Farm Fresh Candles - Fall Y'All
Toasty scents of cinnamon, nutmeg, and clove give way to middle accords of silky buttercream and pumpkin.
I smell mostly sweet almond in this scent that makes it smell like marzipan. I also get a bit of cinnamon and vanilla buttercream. Looking at the notes, no almond, but that's definitely what I'm smelling. And I'm not getting nutmeg, clove, or any pumpkiny notes. Delicious!
Farm Fresh Candles - Hayride
An earthy fragrance mixed with a base of dark musk and woody undertones, making it a smooth, masculine scent.
A wonderful scent of sandalwood with perhaps a smidgen of oud and possibly a barely detectable smidgen of smoky pine. It doesn't actually smell like hay, but it's a great scent. Looking at the notes, this scent is just a teensy bit sweet, and I don't detect musk or any "masculine" type notes. I really like it.
Farm Fresh Candles - Library
Put on your smoking jacket and reading glasses, grab a leather-bound novel from the mahogany shelves, and flip through the dusty pages.
An interesting scent that kind of smells like old perfume, but not in a bad way. And it's not overly sweet or perfumey at all. Close up, it's musk with mint and wood, with maybe a smidgen of leather (not sure about the leather). I get the nasal clearing effect from the mint.
ScentChips - Caramel Apple Crisp
This warm, sweet, dessert-inspired recipe creates the perfect treat. Enjoy this dreamy favorite all season long.
A sweet, warm scent of molasses, caramel, and a bit of apple. Very nice!
ScentChips - Country Spice
This blend of clean cloves and spicy cinnamon is calmed with a creamy dose of vanilla for a spice cake-like aromatic treat.
A nice, sweet scent of cloves and a bit of cinnamon with creamy vanilla and a smidgen of apple. Looking at the notes, no apple.
ScentChips - Harvest
The rich and fragrant aroma of hot apple cider along with cloves, cinnamon, and pumpkin is a delightfully potent blend of Fall spices.
This smells like a combination of gingerbread, nutmeg, and apple cider with slightly sour mulling spices. It's like 60% gingerbread, 25% apple cider, and 15% nutmeg, so not as "apple cidery" as the notes would suggest. I like it!
ScentChips - Sugar Cookie
A blissful team of vanilla icing and pie crust essences makes this fragrance blend a perfect match for warm and crispy sugar cookies with a kiss of homemade icing.
A pleasant bakery vanilla scent, not quite as authentic as a cookie, but it's quite nice. Looking at the notes, I do get a hint of a pie crust note.
Timber Oak Candles - Cozy Cabin
The perfect unisex scent of a cabin wrapped in flannel with a delicate veil of musk
A fantastic scent of laundry, wood and fall apple, with maybe a smidgen of amber to give it a bit of warmth. It's sweet but not overly sweet, and not perfumey. I love it!
Timber Oak Candles - Harvest Brew
Warm aroma of harvest time with robust scents of aged apple cider simmered with the perfect spices
A yummy gingerbread scent that's not overly sweet, and has a little bit of a bready or even a fruitcake note. It's very gingerbready, with some nutmeg and a hint of cinnamon as well. Unlike most gingerbread scents, it's sweet but not all that sweet, almost to the point of being slightly sour, kind of like sour apple mulling spices, but not at all in a bad way. It's a very authentic scent. I like it!
Timber Oak Candles - Hello Autumn
Nothing says "Hello Autumn" like the magical essence of an autumn walk on crisp leaves.
Apple cider with mulling spices, mixed with brown leaves. A typical fall apple/brown leaves type scent, although not as sour, rich, or full-bodied as some others I've smelled. It might also have a bit of nutmeg and a hint of vanilla. It's a nice, standard fall scent.
Timber Oak Candles - Mulberry Wine
A burst of tart, sun-ripened and fermented mulberries, making it an amazing home scent
Fantastic harsh black cherry scent with a bit of vanilla. This is much sweeter than most black cherry scents. I guess because it's actually mulberry? Thankfully, I'm not getting any wine notes, which often have a sour, fermented note.
Star Valley Candles - Day Spa
Lemongrass and black currant with hints of patchouli and sugar cane
I originally reviewed this scent in
April
. In this box, it's a "mystery melt", which is included in every Autsy Box. This particular scent is a fantastic scent of lemongrass, but with other notes. It's not bland and soapy, or with that slight citronella note that lemongrass scents tend to have, and it has a bit of a creaminess to it that almost gives it a foodie quality. I also smell lemon verbena and a tiny bit of fruit (not sure what kind), and it's a bit sweeter and more full-bodied than a regular lemongrass scent. Looking at the notes, the other fruit is black currant. I don't detect patchouli, although that might be where the richness is coming from. The Star Valley Candles
website
is gone.