Big Lots (Living Colors) Wax Melts Reviews - August 2020
August 25, 2020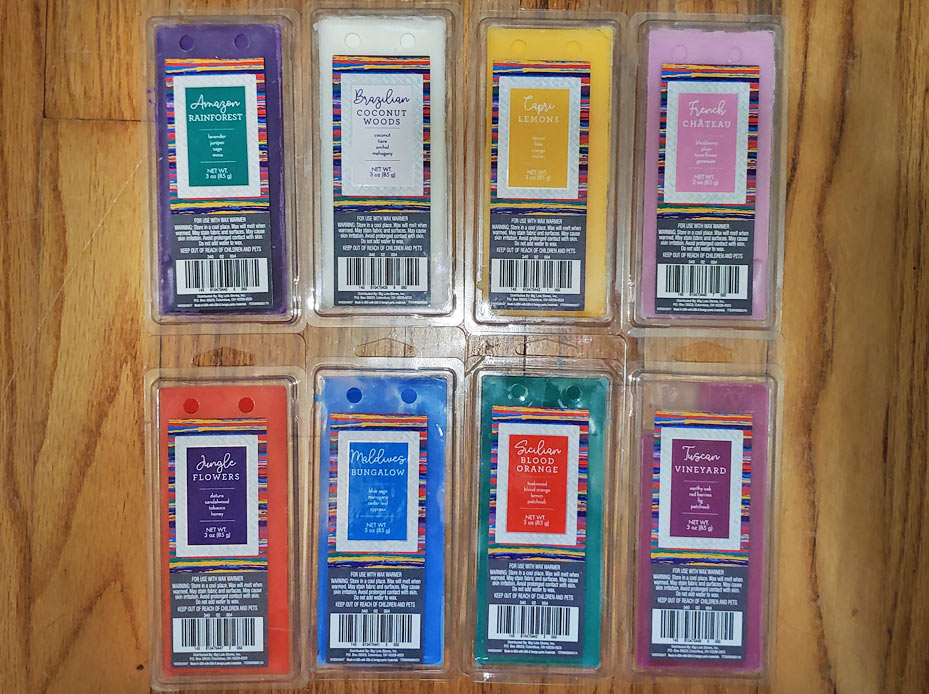 This is a review of Big Lots (Living Colors) Wax Melts from August 2020. Three of these have the wrong label on the wrong wax, a mistake that was made at the factory.
You can see that the candles for these 3 scents are labeled correctly: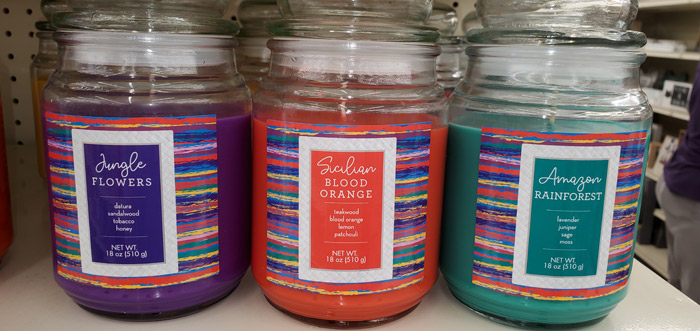 Amazon Rainforest
datura, sandalwood, tobacco, honey
Due to a mix-up at the factory, this purple wax is actually the Jungle Flowers scent, which has the purple label. So this review (and notes shown above) is actually for the purple Jungle Flowers wax.
I would consider this a fruity floral, as I smell a super sweet floral, as well as a fruity bubble gum type note, and a metallic note that I don't care for as it gives it a little bit of an industrial chemical note. Looking at the scent notes, Datura is jimsonweed, a poisonous flower that looks like morning glory but is highly toxic if ingested. Jimsonweed has no scent at all though. Not sure why they would think adding a deadly plant scent to their wax melts would be a good idea; it's giving me the heebie jeebies just thinking there could be a smidgen of toxic oil in this melt (which I know is not the case).
Brazilian Coconut Woods
coconut, tiare, orchid, mahogany
A lovely coconut scent with maybe a smidgen of light wood. Unlike most other coconut scents, this doesn't have pineapple or tropical fruit notes. It's a little milky and waxy, like the inside of the coconut, but also not quite that authentic. It's kind of sweet and would smell like coconut scented skin cream if it were sweeter. Nice scent!
Capri Lemons
lemon, lime, orange, melon
This is the same as
Sugared Lemon
from May, and their
Sugar Lemon
from March 2019. It smells like "kitchen lemon", like a fresh sweet lemon scented dish detergent. It's not a bakery or lemonade or spa type lemon scent at all. It's sweet and lemony and clean (but not soapy), and smells quite nice, but has a bit of a chemical note that I've never liked in this scent, that gets stronger after it's melting for a half hour or so.
French Chateau
blackberry, plum, tiare flower, geranium
This scent is my favorite out of all the scents in this collection. It's a sweet, super rich, super fruity blackberry (with maybe a hint of raspberry) with a salty note that brings out the richness. Looking at the notes, I don't detect any florals. And geranium usually adds a bitter note to scents, but this scent has zero bitterness. I adore this scent!
Jungle Flowers
teakwood, blood orange, lemon, patchouli
Due to a mix-up at the factory, this orange wax is actually the Sicilian Blood Orange scent, which has the orange label. So this review (and notes shown above) is actually for the orange Sicilian Blood Orange wax.
This is a tart, sour, satsuma type orange scent with grapefruit and a light woodsy note. I've smelled this scent before, and I like it. I think it's very similar to an old Better Homes & Gardens scent called Valencia Blood Orange. It might also be the same scent as Living Colors Grapefruit & Amber, based on my description (although I no longer have it to compare).
Maldives Bungalow
blue sage, mahogany, cedar leaf, cypress
This is a nice men's cologne scent that's not overly sweet (in fact, it's really just a little bit sweet) and kind of "dark" with maybe a barely detectable smidgen of leather. It smells just like
ScentSationals Black Tux
, although it's just slightly sweeter and with a soapier note. Very nice! Looking at the notes, I definitely smell the mahogany, and maybe a bit of the cedar. If you're not a fan of men's cologne scents because they're too sweet, you might like this one because it's really not.
Sicilian Blood Orange
lavender, juniper, sage, moss
Due to a mix-up at the factory, this green wax is actually the Amazon Rainforest scent, which has the green label. So this review (and notes shown above) is actually for the green Amazon Rainforest wax.
I smell wood, a tiny bit of pine, a hint of medicinal lavender, and a tiny bit of a mossy or mildewy type note. It's just a little bit sweet. Melted, however, it smells a lot like ScentSationals Agave Lime, which is odd since they're totally different notes.
Tuscan Vineyard
earthy oak, red berries, fig patchouli
I love this scent! It smells like old-fashioned department store perfume, along with a bit of plum, blackberry or cranberry, and a tiny bit of an earthy note. Looking at the scent notes, they're spot on.