Bridgewater Candle Wax Melt Reviews
November 16, 2018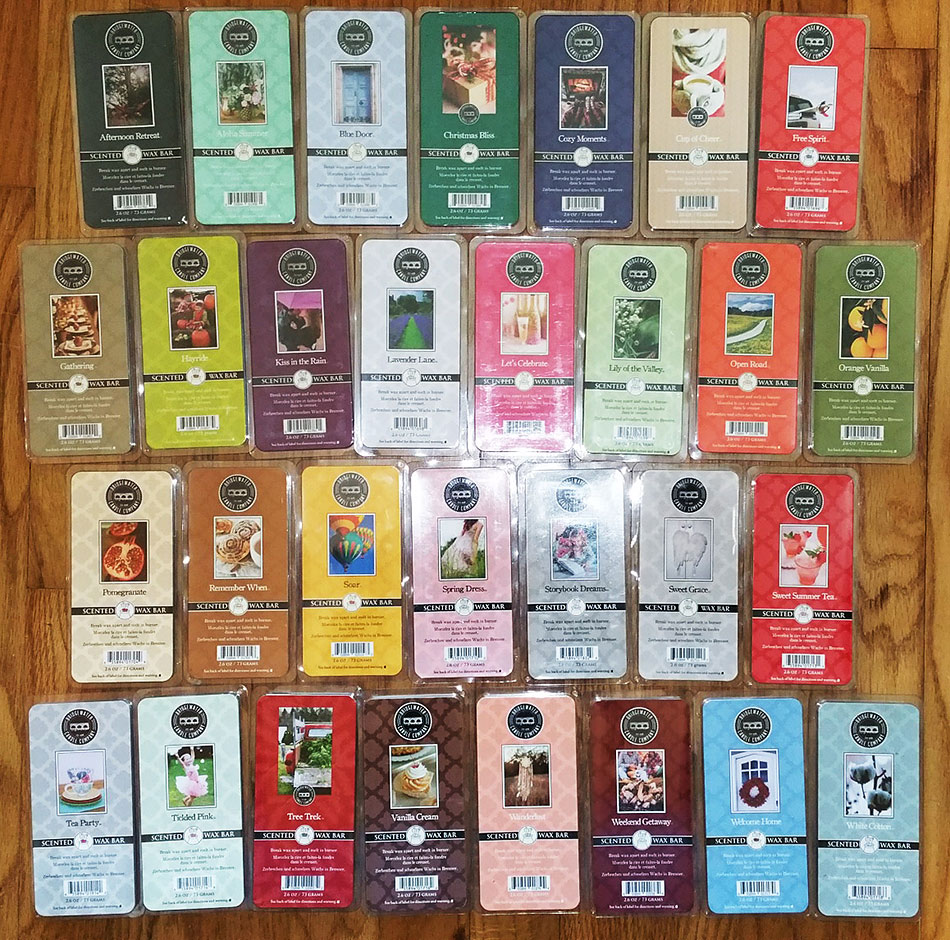 This is a review of Bridgewater Candle wax melts, all 30 of their current scents (which are also available in candles, sachets and other products).
Bridgewater Candle Company is a family-owned, U.S. based company that has their own in-house fragrance lab, compounding, and manufacturing facility. Unlike other companies that buy their fragrances from outside suppliers, Bridgewater has their own perfumers on staff who formulate and blend ingredients together to create unique fragrances that are only available through Bridgewater Candle Company. Their products are made with a proprietary soy blend. And Bridgewater Candle donates to Ricebowls.org, a non-profit organization that provides food for orphans around the world.
Bridgewater Candle products are sold at many small stores throughout the U.S., but can also be purchased from their website. They're also on Facebook.
The wax melts are $6 each for 2.6 oz, which is pricey, but they're good quality melts with scents that you won't find anywhere else.
I also reviewed 4 new scents in June 2019.
Afternoon Retreat
Sink back into a bed of soft moss with teak, sandalwood and amber as a light breeze of fresh bergamot and lime sweeps the air.
I love this scent! It smells like men's cologne with a slight patchouli note. Looking at the notes, I don't smell lime at all.
Aloha Summer
A succulent medley of pineapple, black currant, and peach greet with a kiss of cheer, while a flowering of jasmine, magnolia and water lily warbles cordial sentiments. Creamy vanilla blanketed in coconut shavings make the sweetest lasting impression.
It's a super sweet peach scent with a pineapple nectar note (if there were such a thing) with hints of coconut and maybe a smidgen of floral, plum, and vanilla. I'm not a fan of peach or pineapple scents, but I love this scent!
Blue Door
Pulling up to the house with the blue door, layers of mandarin and cedarwood filling the air.
This smells like men's cologne with a little bit of a sweet woodsy note, although it's not really a sweet scent. On cold sniff I thought I smelled cinnamon, but I don't smell that when melted. And when melted, I think I detect a hint of lavender along with that slightly sweet woodsiness. Looking at the notes, I think I do detect a bit of cedar, and that might be what I think is the combination of lavender and sweet woods. I don't smell mandarin (orange) at all, although I think there's a barely detectable smidgen of lemon way in the background that could be the mandarin. It's a pleasant scent, although similar to a lot of other men's cologne type scents I have.
Christmas Bliss
Embrace the Christmas spirit with warm vanilla, nutmeg, and cinnamon.
This smells like sweet cinnamon candy with a smidgen of bergamot that gives it a tiny bit of a cologney note. Melted, it smells more like straight cinnamon and very little of the cologne note. Looking at the scent notes, I don't smell nutmeg, and I'm surprised I don't see amber or bergamot. It sounds similar to the Blue Door scent, but it's really not. Christmas Bliss is sweet cinnamon candy with a smidgen of cologne, while Blue Door is mostly a cologne scent with a hint of woodsy cinnamon and not nearly as sweet.
Cozy Moments
Melt into soft surroundings of pure bliss as calming gingergrass and spicy nutmeg settle into a cradle of cinnamon leaf and clove. Creamy layers of honeyed caramel and maple sweetly bind the fragrance in snuggly warmth.
This smells like a cinnamon roll with ginger and a hint of a green tea note. It sounds like an odd combination, but it works.
Cup of Cheer
Frothy and warm, this blend of nutmeg, cinnamon, ginger and vanilla will surely warm the soul.
This is light on cold sniff so I can't figure out what I'm smelling. I expected it to be a coffee scent based on the name, and I think it is, but it's a mostly milky latte with a barely detectable cinnamon, and a rich whipped cream or marshmallow or creme fraiche note. I think there might be a tiny bit of coffee in this, but if so, it's barely noticeable. It's different, and I like it. Looking at the notes, no coffee. I don't smell ginger at all. Melted, I'm surprised at how much I like this scent; it's really different and smells fantastic!
Free Spirit
Fresh and crisp with notes of lavender and amber highlighted with marine notes.
A men's cologne or body wash scent with a little bit of lavender and a slightly soapy note. It's quite pleasant, although similar to other men's cologne scents I have.
Gathering
Radiating with golden warmth and sprightly spice, Gathering ushers the olfactory sense to fond inner circles of comfy familiarity. Crystalized Bosc pear bids an amicable welcome followed by delectable encounters of cinnamon and clove. Gourmand garnishes of rich baked vanilla seal the fragrance in an unforgettable sweetness that leave the senses in a state of pure satisfaction.
I like this scent and I've smelled it before but I can't place it. It's very unusual and I'm not sure of the notes. I think I smell a tart, harsh apple with sweet aromatic incensey spices and a tiny bit of a perfumey note, as well as a smidgen of cinnamon. It's almost tart to the point of having a slightly lemony note, but it's not lemon at all, and although it's tart and harsh, it's actually quite sweet. Very hard to explain. This scent is much more complex than the notes suggest, and it's not truly a bakery scent. It smells like
ScentSationals Turkish Spice Market
mixed with a tart biting apple note. Looking at the notes, the apple I'm smelling is actually pear.
Hayride
Pile in an open air wagon lined with golden hay bales, and set off down a bumpy dirt road colored with fiery autumn foliage and rows of plump pumpkins. Recalling memorable afternoons on the farm, Hayride bundles notes of crisp apple and pumpkin with spicy cinnamon, clove and creamy vanilla. Newly mown hay and powdery-sweet tonka close the fragrance in classic autumnal brilliance.
An apple cider scent with a little bit of mulled spices. It's a nice authentic scent.
Kiss in the Rain
Captures that undeniably magical moment of getting lost in one another as sparks fly from a dreamy embrace. A passionate mist of black currant, raspberry and strawberry dispels into a floral enmeshment of soft rose and violet. Gently knit together with a base of vanilla woods, amber and musk, the chemistry in this fragrant experience is unforgettable.
I think I smell plum and raspberry, but it's really not a fruity scent, more of a perfumey scent. I think I also smell a warm amber note, bergamot, and rose. But it also has an interesting "warm milk" note in the background that makes this scent very unique. I love it!
Lavender Lane
Meander through refreshing lavender fields.
It's lavender, and I love lavender. On cold sniff it was a bit medicinal with a smidgen of eucalyptus, but I liked it better when melted (a little soapy and very slightly sweet).
Let's Celebrate
Raise a glass and make a toast to a fragrance that embodies all things exuberant, bubbly and revel-worthy. Glittery bursts of succulent strawberry and mandarin fizz into a flowery trio of mimosa, honeysuckle and gardenia, while an infusion of buttery vanilla rum, sandalwood and musk exalt the senses into a holding pattern of pure jubilation.
On cold sniff this is a rich warm ambery men's cologne scent with a hint of honeysuckle I think, and possibly a hint of vanilla, and maybe a barely detectable smidgen of some kind of fruit like strawberry. I really like it. But when melted, I definitely smell orange (mandarin) which I don't really smell on cold sniff, and the cologney note is not nearly as strong.
Lily of the Valley
Embrace this classic floral, simple & pure.
A nice combination of orange flower and jasmine with a little bit of a soapy note. It's not really an authentic lily of the valley floral scent, and it's not overly sweet or perfumey, but it smells great.
Open Road
Floral bouquet wrapped with fresh cucumber and softened with sandalwood
I can't figure out what I'm smelling, but it's nice. It smells a bit like body wash with floral notes and maybe a smidgen of apple and vanilla. Looking at the notes, I don't smell cucumber or sandalwood; I really do smell a fruit note.
Orange Vanilla
Reminisce the summer days of frozen orange perfection with creamy smooth vanilla.
A yummy orange creamsicle scent that smells like a fake powdered orange drink mix (but not Tang, as it's not tangy at all) mixed with sweet vanilla. It's more artificial than many similar scents I've smelled, but I still really like it.
Pomegranate
Juicy tartness bursting with sweet pomegranate
I don't know what pomegranate actually smells like, but this smells like sweet rich strawberry with a little bit of a creamy note, like maybe strawberry candy. It's not an authentic fruit scent, but that's okay because it smells great. Looking at the description, no, this scent is not tart, or if it is it's very subtle.
Remember When
A dash of cinnamon, ginger, and nutmeg create a recipe handed down with love.
This is pure cinnamon, and I mean like the real thing, an authentic powdered cinnamon scent. It's not a fake "Red Hot" or "Big Red" cinnamon scent. I also smell powdered sugar in the background, so it smells like a cinnamon roll, but without that bready bakery note. I'm not a fan of cinnamon scents, but this one is quite nice. Looking at the notes, I don't smell ginger or nutmeg.
Soar
Sparkling grapefruit, sugared orange, sweetened lemon, and tangy lime satiate the air and awaken the sensorial experience. Refreshing and gratifying at its core, Soar's sweet raspberry and tropical hibiscus scents permeate throughout. Pure, natural amber and heady musk culminate the olfactory odyssey encouraging reminiscences and a keenness and aspiration of next endeavor.
I smell mostly orange, with a little bit of raspberry, and maybe a smidgen of floral. I really like this!
Spring Dress
Stroll through the garden in a spring dress of feminine blossoms of peony, magnolia, sparkling citrus and warmed with mahogany.
A lovely perfume scent with lilies, the warmth of amber, a hint of patchouli, and possibly a smidgen of barely detectable wood in the background. Looking at the notes, I don't smell citrus.
Storybook Dreams
Magnifying treasured time spent stealing snuggles from loved ones cradled in the warmth, comfort and security of an unwavering bond, Storybook Dreams is a calming reminder to retreat to that safe haven. Fluffy layers of warm linen collapse on a soothing sea of undulating lavender and herbal tea, gradually surrendering to the cozy familiarities of sandalwood and vanilla.
I've smelled this scent several times before. I think it's similar to Chesapeake Bay Snuggly Sweater, which a lot of people like. It's not one of my favorites, and I can't figure out the notes. It's a little bit of a laundry scent and I think I also detect a little bit of tea. But there's an odd "off" note that I can't figure out, maybe a little sour or bitter or mildewy. I don't like that note in scents by other manufacturers that smell like this one either. But I'm very sensitive to bitterness in scents, so I think most people will like this scent.
Sweet Grace
Illuminate the preciousness of life and effortless beauty of passionate fruits radiating with sparkling tea and classic patchouli.
This smells just like Angel perfume (there's a picture of angel wings on the label). I just can't figure out the individual notes. Maybe apricot, amber for warmth, and possibly a smidgen of patchouli. Looking at the notes, yes I do smell the tea; in fact, that might be the note that I think is apricot. This is a popular Bridgewater Candle Company scent, and I can see why. It's fantastic!
Sweet Summer Tea
Refresh yourself with chilled tea mingled with strawberries, lemons, and a kiss of lily blossoms.
This is a fantastic scent! It smells like a combination of lemon iced tea and sweet rich strawberry preserves, with possibly a smidgen of a floral in the background.
Tea Party
Fruity and mellifluous beginnings of mandarin, peach and apricot sift through dreamy puffs of peony and rose. Dribbling juices from ripened red berries surrender to a fountain of white musk capping this lovely blend in darling delicacy.
This is not really a tea scent, although I think I do detect a hint of tea in it. It's a perfumey floral (jasmine maybe?) with a hint of peach I think. It's quite nice.
Tickled Pink
Linden blossom and violet leaf sweetened with berries
I thought this was a Pink Sugar type scent based on the name, but it's not. It's quite girly though. It's a very sweet spring-like floral with jasmine or honeysuckle, and a hint of fruit in the background (strawberry and maybe apple). Very nice.
Tree Trek
A trek for the perfect fir tree begins in the crisp wintry woods amidst fresh mountain air.
A rich, warm spruce scent. It's not a biting pine type scent. Very nice.
Vanilla Cream
Rich, vanilla butter-cream frosting - so good to eat.
Unlike a lot of vanilla scents, this one is quite strong on cold sniff. And it smells just like the scent name, a rich vanilla buttercream.
Wanderlust
Fabricated with an airy and nomadic feel, the fragrance layers windblown marigold, and velvety apricot over dancing orange flower. A trail of buttery caramel, smooth vanilla, and earthy sandalwood sweetly beckon through the unruly breeze.
This is my kind of scent. I smell Nag Champa, orange blossom, warm amber, bergamot, and something rich and slightly foodie in the background like vanilla or caramel. Looking at the notes, no Nag Champa! I don't smell apricot at all. I love this scent!!
Weekend Getaway
Adventure calls and the great outdoors await to lure the senses on an open air escape. Herbal bay leaf and freshly-harvested pine deliver an uplifting opener of earthy splendor, while intriguing trails of spicy clove bud and Siberian Fir root the fragrance in woodsy wonder.
This smells like sitting in front of a campfire by a log cabin in the middle of the forest on a cold winter night as it starts to snow. It's a little smoky but not like a burning wood kind of smoky, with a little bit of clove and possibly a smidgen of eucalyptus and pine. A nice cozy winter scent! It's similar to
Better Homes & Gardens Winter's Sleigh Ride
and Winter Ski Resort.
Welcome Home
Welcome home to family with cinnamon notes mingled with plum and apple accords.
This is cinnamon with a smidgen of apple and berries in the background. It's not really a cinnamon apple scent because the main note is strong cinnamon, and there's that red berry note in the background. It's quite sweet, so it has a little bit of a candy note, or maybe sweet vanilla, or maybe even a smidgen of floral.
White Cotton
Dance through the sunshine filled crisp linen sheets.
A nice sweet fabric softener scent. It might have a barely detectable smidgen of oriental spices in it.