Candle Warmers Wax Melt Reviews
November 2017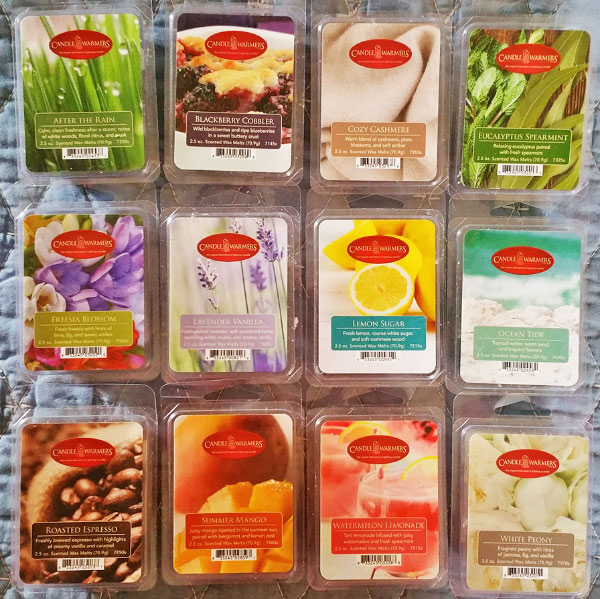 This is a review of Candle Warmers wax melts from 2017. They can be found on the Candle Warmers website, as well as at various stores and gift shops, such as At Home, Gabe's, and more.
In 2017 Candle Warmers changed the shape of their wax melt packaging from an odd oval shape that looked like a cross between a toilet seat and a hand grenade, to a standard rectangular package. They use hard wax.
After the Rain
Calm, clean freshness after a storm; notes of white woods, floral citrus, and musk
A nice fresh watery green scent with a little bit of an herbal note.
Blackberry Cobbler
Wild blackberries and ripe blueberries in a sweet buttery crust
A yummy blueberry bakery scent that I've smelled many times before. The blackberry note is a little tangy. Great scent!
Cozy Cashmere
Warm blend of cashmere, plum blossoms, and soft amber
This smells almost exactly like
Better Homes & Gardens Soft Cashmere Amber
, a beautiful warm rich cashmere/amber sweet musky scent, one of my favorites. It's a little perfumey, but like an expensive skin cream.
Eucalyptus Spearmint
Relaxing eucalyptus paired with fresh spearmint
Fantastic fresh mint scent with a hint of eucalyptus. It's not a toothpastey spearmint at all, but more like garden mint with just a smidgen of sweetness, plus the slightly savory eucalyptus. It's almost a spa type scent, and it has that sinus clearing effect if you put your nose close to it. Melted, it smells like savory salad mint, in a good way.
Freesia Blossom
Fresh freesia with hints of lime, lily and sweet amber
This smells like a fresh air oceany scent with a hint of floral and a smidgen of saltiness, and a soapy note. It's nice and not overly sweet. Perfect for a bathroom.
Lavender Vanilla
Fresh-picked lavender, soft woodland herbs, sparkling white musks, and creamy vanilla
This smells like lavender, but there's a smidgen of something else that gives it a richness, probably the vanilla. It's not a sweet, medicinal, or herbal lavender, but just right.
Lemon Sugar
Fresh lemon, coarse white sugar, and soft cashmere wood
A sweet lemony scent. It's kind of a lemonade scent with a hint of saltiness which adds richness, but it's also very sweet. It has a little bit of a soapy sour note on cold sniff, but not when melted. It also has a smidgen of a sweet perfumey scent, and looking at the scent notes, that's probably the cashmere wood.
Ocean Tide
Tranquil water, warm sand, and tropical flowers
This is a sweet watery scent but it has a strong weird bitter chemical note that both At Home Blushing Petals and At Home Clean Linen have. It really detracts from the scent, because that's all I can smell.
Roasted Espresso
Freshly brewed espresso with highlights of creamy vanilla and caramel
A fake but interesting coffee scent that smells more like that instant coffee made with chicory. It has a slight nutty note. It's not sweet, but it also doesn't have that strong burnt or bitter note that a lot of coffee scents have. Looking at the scent notes, I don't smell vanilla or caramel at all.
Summer Mango
Juicy mango ripened in the summer sun, paired with bergamot and lemon zest
This smells like orange with a smidgen of a tropical note. I really like it!
Watermelon Lemonade
Tart lemonade infused with juicy watermelon and fresh spearmint
This smells fantastic, and just like the scent name. It's a perfect combination of zesty lemonade and sweet watermelon, and there may be just a smidgen of tea. The scent was strong for about 2 hours then started fading. Looking at the scent notes, I think the tea note is actually the spearmint, although I don't smell mint at all.
White Peony
Fragrant peony with hints of jasmine, fig, and vanilla
A delicate floral with a slight baby powder note, and a hint of a warm almost ambery note. Maybe also a smidgen of vanilla, and hint of a classy slightly fruity note like fig or currant. Looking at the scent notes, they're spot on. It's a pleasant scent, and I really like it. Nice for a bedroom or a baby's room. Melted, I definitely smell the fruity fig note which smells like a warm rich slightly blackberry note, a little bit like
Scentsy Luna
and other similar scents.