Goose Creek Candle Wax Melt Reviews - May 2021 (4 of 4)
May 31, 2021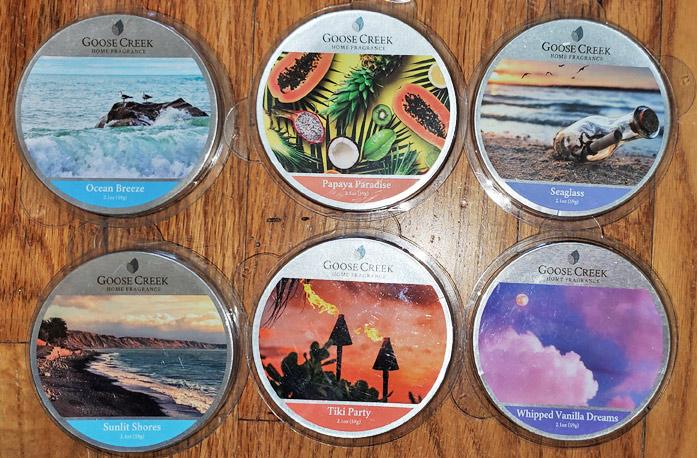 This is Review 4 of 4 of the new Goose Creek Spring/Summer 2021 wax melts. A great assortment of fantastic scents! These wax melts can be ordered on the Goose Creek Candle website at goosecreekcandle.com.
Goose Creek Candle is knocking it out of the park this Spring 2021 season with 36 new scents!
Reviews of the rest of the 36 new scents can be found HERE, HERE and HERE.
Ocean Breeze
Fresh Air, Seaspray, Jasmine & Beach Flowers
Coconut with fresh and floral notes, and a smidgen of soapiness. Like 60% coconut, 25% fresh, and 15% floral. It's a very nice, pleasant scent, a bit sweeter than most similar scents, but not perfumey or overly floral, and not a body wash type scent (no bergamot or cologney type notes). It's not nearly as sweet as Sunlit Shores (which is a little bit similar, although not nearly as much of the fresh note). I love this scent! And it lasted for TWO 12-hour days!! Wow!!
Papaya Paradise
Tropical Papaya, Orange, Lemon & Lime
This smells like peach with a tropical fruit note and maybe a hint of orange. Looking at the notes, there's the papaya and orange. I don't smell lemon or lime though... maybe a tiny bit of lime?
Seaglass
Lemon, Mandarin, Water Lily & White Sands
A nice sweet, fresh scent with a lemon note, a hint of orange, and maybe a smidgen of vanilla. I like it!
Sunlit Shores
Island Waterfruit, Ocean Breeze, Vanilla & White Sands
I smell coconut, vanilla, floral, fresh, and fruit, in that order. Like 55% coconut, 20% vanilla, 15% floral, 5% fresh, and 5% fruit. Maybe a slightly higher percentage of vanilla, as it does stand out. It's quite sweet and has a tiny bit of a soapy note. It's a bit similar to the Ocean Breeze scent, but much sweeter. Like that scent, this is not a body wash or cologney type scent. I LOVE this pleasant, relaxing, summery scent!
Tiki Party
Mango, Lychee, Coconut & Beachwood
A very nice combination of tropical fruit (pineapple and something else) and a woodsy note, but not a smoky wood, more like a light beach wood. I think I also smell coconut, which might actually be palm (which is a woodsy coconutty scent). There's some other fruit in there too with a little bit of a sour note, but not a bad sour. This scent is only a little bit sweet. Looking at the notes, the other fruit is lychee, which I do detect. This smells almost exactly like a scent from the Hanna's Candle Coastal Woods Trio called
Sand Dollar
.
Whipped Vanilla Dreams
Chiffon, Fluffy Vanilla, Sugar Crystals & Cream
A beautiful super sweet vanilla buttercream scent with a marshmallowy note, a hint of milk chocolate, and a smidgen of chocolate liqueur or cocoa butter (although it's not actually a chocolatey scent, maybe 20% chocolate on cold sniff, but when melted, I only smell a smidgen of chocolate). It also has a teensy bit of a warm perfumey note that keeps it from being a 100% foodie scent. I love it!