Goose Creek Candle Wax Melt Reviews - March 2021 (1 of 4)
March 31, 2021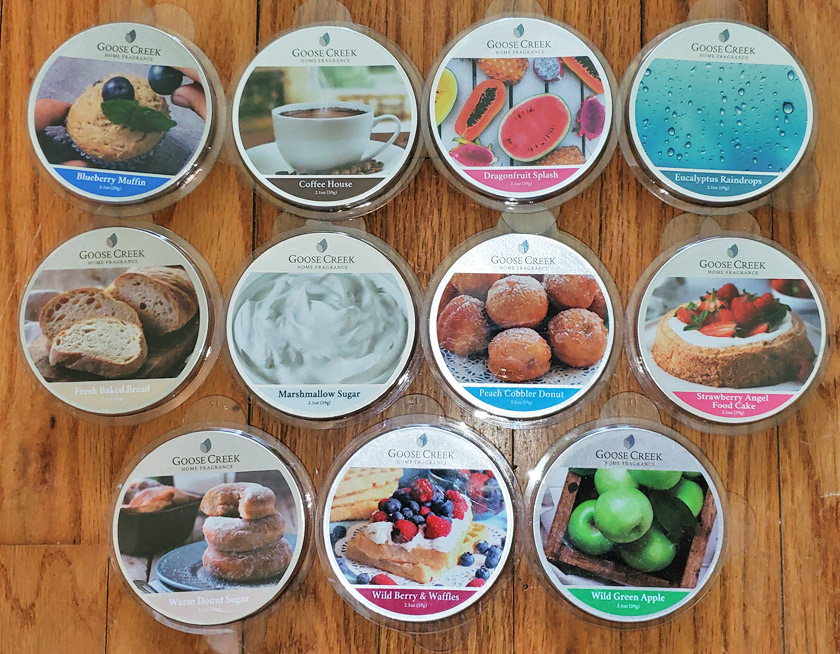 This is Review 1 of 4 of the new Goose Creek March 2021 wax melts. A great assortment of fantastic scents! These wax melts can be ordered on the Goose Creek Candle website at goosecreekcandle.com.
Goose Creek Candle is knocking it out of the park this Spring 2021 season with 36 new scents!
Reviews of the rest of the 36 new scents can be found HERE, HERE, and HERE.
Blueberry Muffin
Top: Juicy Blueberries, Black Raspberries; Mid: Buttercream, Muffins; Base: Vanilla Cake, Crystalized Sugar
A super sweet artificial (not in a bad way) blueberry scent with a little bit of a bakery note. It smells great!
Coffee House
Top: Fresh Brewed Coffee, Warm Chocolate; Mid: Soft Caramel, Cocoa Bean; Base: Vanilla Cream, Hazelnuts, Milk
A very nice mocha scent without any bitterness or pungent coffee notes. It's mostly chocolate, with a bit of the coffee note, a strong nuttiness, vanilla, and a bit of a milky note. Like 50% chocolate, 30% coffee, 15% nuts, and 5% vanilla and milk. Very nice! Looking at the notes, they're spot on.
Dragonfruit Splash
Top: Dragonfruit, Mango, Peach; Mid: Pineapple, Guava, Sugar; Base: Island Splash, Sea Breeze
I don't know what a dragonfruit smells like, but this is a very nice sweet, slightly tropical, very fruity scent. I think it's mostly peach, with a hint of pineapple, guava and kiwi. On cold sniff I also get a hint of floral or even a tiny bit of a perfumey note, which I still smell when melted, but not as much. It's very nice, and different. Looking at the notes, they're spot on, but no florals.
Eucalyptus Rain Drops
Top: Sparkling Bergamot, Falling Rain Drops; Mid: Eucalyptus Leaf, Jasmine Petals; Base: Amber, Precious Woods
A nice fresh watery scent with lots of black pepper, as well as eucalyptus (although it doesn't have that nasal-clearing effect), and bergamot that gives it a little bit of a body wash note. It's sweet but not overly sweet, and not perfumey (a bit more masculine). I like it! Looking at the notes, I don't smell jasmine, amber or woodsy notes.
Fresh Baked Bread
Top: Freshly Baked Bread, Dough; Mid: Warm Bread Crust; Base: Slow Melted Butter
I didn't like this on cold sniff because it smells "off", like a chemical version of bread. But melted, it really does smell like bread with a bit of butter. It's rich and a little salty, not sweet at all. If you like baked bread type scents, you'll love this one! Plus it's a great mixer for other scents that may be very sweet, to give them a bakery vibe and reduce some of the sweetness.
Marshmallow Sugar
Top: Fluffy Marshmallows, Batter; Mid: Warm Vanilla Bean; Base: Vanilla Sugar, Sweet Cream
I really like this scent! It smells like marshmallow fluff with super sweet cavity-inducing sugar added. The spun sugar sweetness is a little bit like Pink Sugar, but without the perfumey or fruity notes.
Peach Cobbler Donut
Top: Juicy Peach, Sweet Orange; Mid: Brown Sugar, Buttermilk, Praline; Base: Vanilla Glaze, Fried Donut
I'm not a fan of peach scents, but this is so much more. I do smell the peach, and also maybe a bit of pineapple. But it also has a rich, slightly buttery, bread note. Bread specifically, not pie crust. It's not overly fruity, maybe 60% fruit and 40% bread. And maybe a hint of brown sugar. It's an odd combination that works, and I really like it! Looking at the notes, I don't smell orange, but it's probably the combination of peach and orange that I think is pineapple. After a few hours, the scent turns more peachy, but it's still very nice. But... Why is the wax blue? :-D
Strawberry Angel Food Cake
Top: Fresh Strawberry, Juicy Pineapple; Mid: Fluffy Angel Food Cake, Warm Vanilla; Base: Buttery Vanilla, Sweet Caramel
A super sweet, cavity-inducing strawberry scent that smells like the strawberry in strawberry ice cream. On cold sniff I also smell the marshmallow, but when melted I don't detect the marshmallow as much but it does take on a tiny bit of a Pink Sugar perfume vibe (a super sweet marshmallowy perfumey scent with hints of raspberry and blackberry). It's fantastic! It's like their
Strawberry Jam
scent mixed with Pink Sugar, so not as rich and fruity, but much much sweeter, and with that smidgen of the perfumey note. Looking at the notes, I don't detect pineapple at all.
Warm Donut Sugar
Top: Cinnamon Sugar, Vanilla; Mid: Warm Fried Dough; Base: Sparkling Sugar, Vanilla Bean
This smells just like a cinnamon sugar donut! I smell the donut itself, dunked in a generous amount of cinnamon sugar, or cinnamon then sprinkled with lots of powdered sugar. It's yummy!
Wild Berry & Waffles
Top: Blueberry, Raspberry, Strawberry; Mid: Morning Waffles, Cream; Base: Vanilla Batter
I thought based on the name that this might be similar to Better Homes & Gardens Wild Berry Cheesecake, but it's a totally different scent. That scent is sweeter, not as fruity, with a vanilla note and of course the sweet cheese note (in a good way). This scent smells more like blueberry muffin type scents, although it's different from, but very similar to, their Blueberry Muffin scent (I can't figure out the differences; I think this scent is more fruity, and that scent is sweeter, more blueberry-ish, and more artificial but in a good way). This scent does, however, smell exactly like
ScentSationals H-E-B Berry Cobbler
,
Oak & Rye Fusion Berry Crunch Muffins
, and
Empanada de Fresa (Strawberry Empanada)
(all the same scent); I can't really tell the difference.
Wild Green Apple
Top: Wild Green Apple, Sliced Red Apple; Mid: Soft Pear, Green Leaves; Base: Gentle Woods
It's apple, a nice, authentic, very sweet apple scent without any spices. It doesn't have any watery or dewy notes, and I don't detect leaves or woods, but perhaps a smidgen of pear. I don't know how it compares to their Macintosh Apple scent, as I've never reviewed that one, but the notes are very similar (Macintosh Apple, Green Leaves, Apple Peels, Soft Woods). After a few hours it turns a bit artificial (like apple scented room spray), but still very nice.