Goose Creek Candle Wax Melt Reviews - April 2021 (3 of 4)
April 30, 2021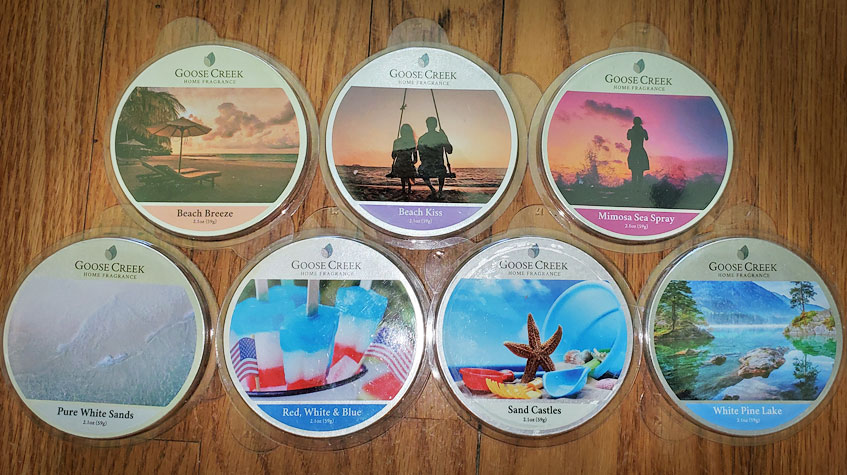 This is Review 3 of 4 of the new Goose Creek March/April 2021 wax melts. A great assortment of fantastic scents! These wax melts can be ordered on the Goose Creek Candle website at goosecreekcandle.com.
Goose Creek Candle is knocking it out of the park this Spring 2021 season with 36 new scents!
Reviews of the rest of the 36 new scents can be found HERE and HERE, and HERE.
Beach Breeze
Sea Breeze, Orange, Lemon, & Coconut
A fresh, very sweet coconutty scent with fruit and vanilla. I can't figure out the fruit; I don't think it's tropical, definitely not pineapple although that could be way in the background. Maybe strawberry and/or peach? But it's a different scent from Beach Kiss (which also smells like strawberry, peach, coconut and vanilla). It's a very nice, pleasant scent. Looking at the notes, I don't smell orange or lemon at all, although there could be a barely detectable smidgen of an orange creamsicle note, so the orange may be way way in the background. But I get zero lemon notes.
Beach Kiss
Apricot, Strawberry, Limeade & Island Sunset
On cold sniff this is a super sweet scent of strawberry, peach, coconut and creamy vanilla that makes it smell a bit like a creamy tropical fruity drink. Melted, I don't smell the peach, but I do get a smidgen of a red cherry note in addition to the strawberry and coconut notes (and the coconut is subdued). It's super sweet, like toothachingly cavity inducing fruit candy sweet. After a few hours the vanilla moves to the forefront. Looking at the notes, I don't smell lime (although that might be the cherry I think I detect?). And I'm surprised there's no vanilla. I love this scent, and it lasted all day, at least 12 hours!
Mimosa Sea Spray
Mimosa, Mango, Pineapple, & Sugar
A sweet, fruity floral with a hint of pineapple, and a slightly sour wine "fermentation" note that is sometimes added to scents that are supposed to smell like alcoholic beverages. That note is not so strong that it ruins this scent, and it's quite nice although not one of my favorites.
Pure White Sands
Top: Sea Spray, Green Tea, Bergamot, Grapefruit; Mid: Tropical Sands, Jasmine, Lavender; Base: Vetiver, Amber
A super sweet fresh, cologney scent with a super sweet floral note (gardenia?), yummy, rich, salty vanilla and spun sugar note, and maybe a smidgen of caramel or maple, and possibly a barely detectable smidgen of lemon. Looking at the notes, there's the bergamot that gives this a cologney note, I don't smell green tea but that might be the lemon note (along with the vetiver), and the sweetness is from the jasmine and amber. I don't smell the lavender per se, and I'm surprised I don't see anything foodie like vanilla. I really like this one. Melted, I'd say it's mostly a cologney type scent.
Red, White & Blue
Top: Juicy Strawberries, Soft Cherry; Mid: Orange, Mandarin, Black Raspberries; Base: Fruity Popsicles, Crystalized Sugar
Incredible fruity scent of red cherry, strawberry, orange, and maybe blackberry and/or raspberry and lemon. It's rich and super sweet, with a bit of citrusy, lemony tartness and a hint of a soda note but without the fizziness (which gives it a fake note, but in a really good way, like a kid's fruity drink mix). It's similar to
AmbiEscents Lemonade Pops
, but this scent is much fruitier. It's also similar to their
Beach Party
scent, but that scent didn't have (or didn't have nearly as much as) the cherry and strawberry notes. Everyone I know who has tried this scent loves it… AS DO I!!
Sand Castles
Top: Orange Flower, Coconut, Beach Sands; Mid: Water Notes, Peach, Mandarin; Base: Sunscreen Notes, Light Musk
This has a similar label and notes as
Day in the Sun
(which smells like Coppertone suntan oil), but this is a completely different scent. This smells like vanilla cookies and coconut, with a fresh oceany note and a smidgen of peach. It's quite nice! Looking at the notes, I don't smell orange (mandarin) or orange flower (which would smell a little like neroli). It's a bit similar to
Scentsy Vanilla Waves
.
White Pine Lake
Top: Sparkling Citron, Cool Waters; Mid: Pine, Fir Balsam; Base: White Cedar, Spring Breeze, Ivy Wreath
This smells exactly like I expected it would based on the name, and it's incredible! It's pine with a fresh air note (so not a Christmas tree type pine), eucalyptus, and lemon and/or grapefruit (like 60% pine, 20% fresh, 15% citrus, 5% eucalyptus). It's not sweet at all. Looking at the notes, the lemon or grapefruit I detect is probably the citron, which is an herbal, leafy, clean, lemon/lime scent. I recognized this scent as soon as I sniffed it, and it's almost exactly the same (or might actually be the same scent) as
Sweet Pine & Snowflakes
. Sweet Pine & Snowflakes may be just slightly more piney and doesn't have the fresh air note, but I think most people won't be able to tell the difference. The notes for Sweet Pine & Snowflakes are very similar as well (Top: Sparkling Citron, Starry Snow; Mid: Pine, Fir Balsam, Sugared Mistletoe; Base: White Cedar, Pink Poinsettia, Ivy Wreath)