Kohl's Sonoma Christmas Wax Melt Reviews 2021
November 14, 2021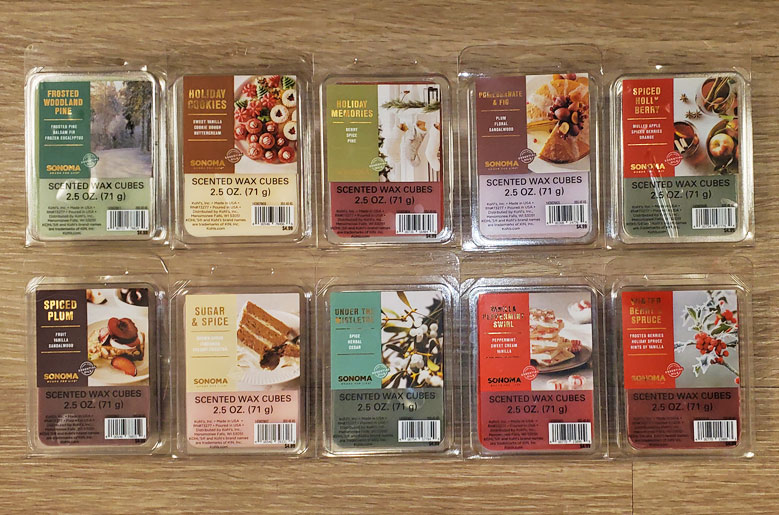 This is a review of the Sonoma Holiday wax melts from Kohl's for 2021. This year there are only 2 new scents: Sugar Plum and Vanilla Peppermint Swirl. The other 6 scents are from previous years.
The older scents are from 2016 (Under the Mistletoe), 2019 (Frosted Woodland Pine, Holiday Cookies, Spiced Holly Berry, Winter Berry & Spruce), and 2020 (Holiday Memories, Pomegranate & Fig, and Sugar & Spice).
Spiced Plum
Fruit, vanilla, and sandalwood
This smells like a combination of plum and cedar, and maybe a smidgen of milky vanilla. On cold sniff and from close up when melting, it also has a slight smoky note that I don't smell in the room. I'm not getting any spices though, so no cinnamon, nutmeg, cloves, etc. It's a very pleasant scent, not too fruity and not overly sweet, with almost a smidgen of bitterness, and a bit of that light woodsy note. Looking at the notes, okay I do get sandalwood, although I probably thought it was cedar because of the slightly sweet plum note. I like it!
Vanilla Peppermint Swirl