Michaels (Ashland) Wax Melt Reviews - Spring 2021
January 12, 2021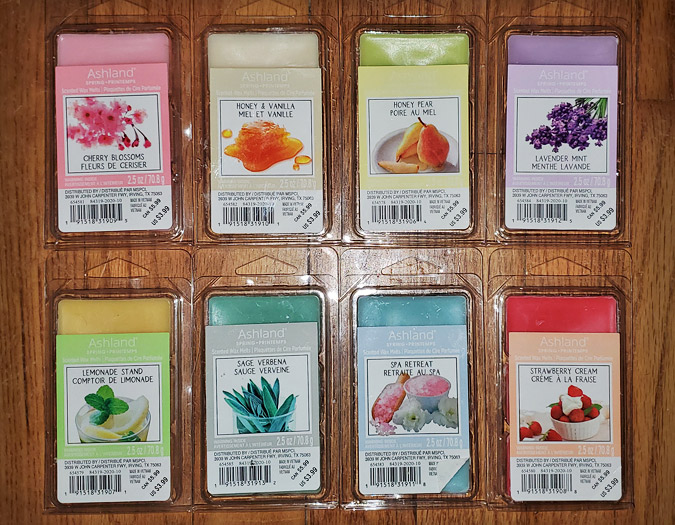 This is a review of the Michaels (Ashland) wax melts for Spring 2021. The scents were okay, but in general the throw is weak, as has been the case with these melts for the past few years. And most of the scents dissipated within 2 hours or so.
The way the wax is scored makes it impossible to break off one cube using just your fingers. They're easily breakable two cubes at a time, but if you want to break off just one cube, you'll probably have to cut it with a knife.
Cherry Blossoms
A pleasant, generic cherry blossom scent, like cherry blossom scented room spray. It's quite weak on cold sniff.
Honey & Vanilla
Plain vanilla, no honey. It smells like vanilla scented room spray. When melted, I think there's a smidgen of caramel, but it's too weak to tell.
Honey Pear
This is definitely a pear scent, and it's surprisingly authentic. Not overly sweet, which makes it smell like the real thing. No honey though.
Lavender Mint
Vanilla and lavender. It's not authentic lavender, but it smells quite nice. I don't detect any mint.
Lemonade Stand
This is not a fresh, juicy lemon scent at all. It's a salty, savory lemon with a bit of an herbal note that smells a lot like
Better Homes & Gardens Meyer Lemon Basil
(that scent is more savory and salty, and I think this scent has a smidgen more of the lemon note, but side by side it's really hard to tell the difference). It's a fantastic scent!
Sage Verbena
This is a lemongrass scent, that bland, soapy scent with a spa-like, slightly herbal lemony note. It's not quite as lemony as other lemongrass scents I've smelled, almost like it's mixed with the Spa Retreat scent, 80% to 20%. It's a very nice scent. But verbena has a sharp, more lemony note, so the lemon in this is lemongrass rather than verbena. I don't detect sage at all, which is a pungent, savory herb that has an almost marijuana type note.
Spa Retreat
A nice soft, relaxing, slightly sweet, slightly laundry type scent with a smidgen of spearmint. But the spearmint is soft and not really minty. Actually, it smells almost exactly like
ScentSationals Zen
(but slightly sweeter and with even less of the hint of mint that Zen has).
Strawberry Cream
This is pineapple, not strawberry, and no creaminess. It's sweet and almost-candy like, but with the tartness of the pineapple, and I think it does have a bit of strawberry in it. Actually, it's almost exactly the same as
ScentSationals Pineapple Strawberry Smoothie
(although I think this scent has a smidgen more pineapple, but side by side it's hard to tell the difference). It's quite nice!