Oak & Rye and Fusion Home Made Wax Melts Reviews
September 7, 2020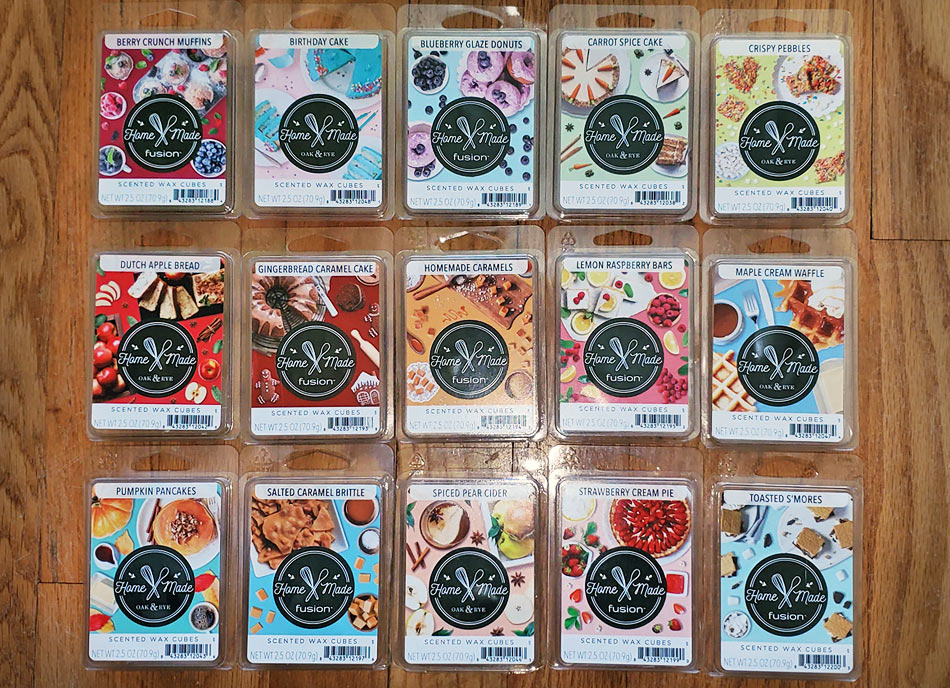 This is a review of the new Oak & Rye and Fusion "Home Made" Wax Melts made for Kroger and Meijer stores by ScentSationals. This collection features 15 bakery inspired scents, with an emphasis on caramel, gingerbread, and fruity bakery scents. They smell YUMMY!
This "Home Made" wax melt collection is only available at Kroger and Meijer stores, although they could be available at other stores as well (but not Walmart).
Berry Crunch Muffins
Melt in your mouth flakey all buttery pastry baked to perfection with sweet ripened blueberries.
I haven't smelled this scent in years, and I'm so glad it came back. It's the same scent as
ScentSationals Berry Cobbler
for H.E.B.,
Day of the Dead Empanada de Fresa (Strawberry Empanada)
, the very old (2013?) ScentSationals Berry Crumble (not Apple Berry Crumble, which is a different scent), ScentSationals Blueberry Flapjacks, and AmbiEscents Blueberry Muffin. It also smells exactly like
Goose Creek Candle Wild Berry & Waffles
(a totally different brand). It's a super rich, super buttery blueberry bakery scent, like blueberry muffins with a ton of blueberries. It's not totally authentic, but it's much better than most blueberry bakery scents I've smelled. I'm not a fan of a lot of bakery scents, but this one is incredible!
Blueberry Glaze Donuts
Delicious blueberries baked in a fresh donut mixed with a hint of lemon zest, vanilla, and brown sugar
This is the same as
ScentSationals Lemon Blueberry Donuts
. If you're looking for an authentic blueberry scent that's not the usual fake blueberry muffin type scent, THIS IS IT!! It smells like real blueberry compote with a donut note (and not just a bakery note, but specifically donut... how do they do that??). It's a sweet scent, but not that chemical sweetness that you can taste in the back of your throat. The blueberry has a very slight acidic quality and a teensy smidgen of tartness that lends to the authenticity, and even though I don't smell lemon per se, the acidity is probably due to the citrus of the lemon. Incredible, hoard-worthy scent!
Carrot Spice Cake
Fantastic scent that smells like warm gingerbread with a very sweet, rich, slightly buttery note. I'm not normally a fan of bakery type scents, but this one is truly scrumptious! I don't recall Rimports ever making a gingerbread type scent before.
Crispy Pebbles
Orange, lemon, lime and cherry sweetened with pure sugarcane and a hint of vanilla
This is the same as
ScentSationals Marshmallow Crispies
. It's like the new
Better Homes & Gardens Orange Buttercream Cupcake
, but done right. It smells like Fruit Loops cereal just like OBC, but OBC has always had a fake, slightly waxy chemical note to me, which was a bit nauseating because it's one of the strongest throwers out there. This scent is more lemony than orange, richer, and more full-bodied, although it's not really citrusy. It smells almost exactly like
Tuscany Candle Lemon Sugar Cookie
, and
Patriot Candle Lemon Sugar Cookie
(which is made by Tuscany), and also a little like
ScentSationals Iced Lemon Sugar Cookies
. It's not an authentic scent (but it doesn't have the strong chemical note that OBC has), but that's perfectly okay because it smells incredible. Looking at the notes, yes I suppose there could be a smidgen of lime as well, although I don't smell cherry. I love Love LOVE this scent!!
Dutch Apple Bread
Tart rhubarb, juicy green apple, and sun-ripened currant warmed with golden brown sugar, spicy cinnamon, and creamy butter baked to perfection in warm pastry dusted with powdered vanilla sugar
If you've been missing the discontinued
ScentSationals Pie Season
, you're in luck because this is the same scent! Although it smells a bit weird on cold sniff, when melted it's the most authentic pie scent I have ever smelled. It smells like blueberry pie with raisins and apples. It's totally different from any other bakery scent I've ever smelled in a wax melt. I think what makes it so different is I can smell the pie crust, but it's not that rich, buttery, slightly salty note that a lot of bakery scents have. Although I do kind of smell the "grease", but in a good way; it's not overwhelming or nauseatingly sweet. It smells just like those small blueberry pie snacks you get at convenience stores (in a good way). Looking at the scent notes, no blueberry, and I don't really smell cinnamon.
Gingerbread Caramel Cake
On cold sniff I smell mostly gingerbread, like real authentic gingerbread made with lots of ginger powder. I do smell a hint of slightly salty caramel in the background. Melted, however, the gingerbread is very subtle and I smell more of the caramel. This scent is similar to Carrot Spice Cake, but that scent has a little less gingerbread but also has a very sweet, rich, slightly butter note that this scent does not have (despite this scent having a caramel note). If I had to choose one or the other, I like the Carrot Spice Cake more.
Homemade Caramels
This is definitely caramel, not a salted caramel, and it smells burnt, but not in a bad way, so it's more of a toffee scent, although I think I detect a barely noticeable smidgen of cocoa (not chocolate, as the burnt note is kind of a slightly unsweetened cocoa note). I don't think it's a dupe of any other ScentSationals caramel scents. It's a little one-dimensional but quite nice. I think it would work as a great mixer for other foodie scents that need a bit of richness. I described
ScentSationals Salted Caramel Buttercream
similar, but this is a totally different scent; this scent is more milky, and that scent is much more salty with a smidgen of apple way in the background.
Lemon Raspberry Bars
A wonderful raspberry bakery scent, like a rich raspberry Linzer cookie. I do smell a bit of lemon as well, and a marshmallowy note. This scent is heavenly and SO scrumptious!! It might be the same as
Better Homes & Gardens Iced Lemon Poundcake
, but I'm not sure (although I did mention that Iced Lemon Poundcake had some similarities to a blackberry scent, so I must have detected a berry note in it). The scent started dissipating around 2 hours in, and it started taking on a bit of the chemical note that I didn't like in Iced Lemon Poundcake (but not enough to ruin the scent).
Maple Cream Waffle
This smells like a vanilla cookie, with maybe a smidgen of both maple and a pancakey note. On cold sniff there's also a barely detectable smidgen of citrusy orange way way in the background. It's not a salted caramel or buttery maple, and it's not as rich as other similar scents. Yummy! Because of that smidgen of citrus, I thought it might be the same scent as
Better Homes & Gardens Vanilla Bean Buttercream
, but sniffing them side by side I don't think so. I think Maple Cream Waffle has more of a cookie note, is not as sweet, and has that smidgen of maple that Vanilla Bean Buttercream doesn't have. Plus I do smell the lemon and orange when melting Vanilla Bean Buttercream, while I don't detect the citrus at all when melting Maple Cream Waffle.
Pumpkin Pancakes
This smells like gingerbread with a little bit of cinnamon, but also a strong nutmeg note, which also makes it smell like pumpkin. It's like gingerbread pumpkin pie!
Salted Caramel Brittle
This is a rich bakery note that smells like cookies. It's very rich and very buttery. And not nearly as sweet as other similar scents, which is what differentiates this scent from others. I think I do smell caramel, but it's not that really caramely butterscotch type caramel that's typical in other caramel scents, and it's not salty at all. It's not exactly vanilla either. Maybe toffee? I like it, and because it doesn't have any notes that stand out, I think it would be a great mixer for other scents to which you want to add a rich bakery note without covering up the scent or making it much sweeter. I don't think it's a dupe of any other Rimports scents. I described Homemade Caramels similarly, but they're different; Homemade Caramels is sweeter, with that smidgen of cocoa, and this scent is more milky and buttery.
Spiced Pear Cider
This smells just like the scent name: It's like a super sweet apple cider scent (no harsh mulling spices), but made with pears instead. Like pear juice with extra sugar and a little cinnamon. Very nice!
Strawberry Cream Pie
This might be same as Better Homes & Gardens Sunlit Strawberry Patch and ScentSationals Strawberries & Cream. I no longer have either to compare, but those scents had a very fake note, although I think it may have been because they were quite old. This is also an artificial strawberry scent, creamy and very sweet, but it smells fantastic!
Toasted S'Mores
This smells like marshmallow with a hint of a perfumey floral. It doesn't actually smell like s'mores (zero chocolate, no smokiness, and I do detect a hint of a pie crust or graham cracker note on cold sniff but not when melted), but I really like it!