ScentSationals Wax Melt Reviews from Walmart - Spring 2021
February 6, 2021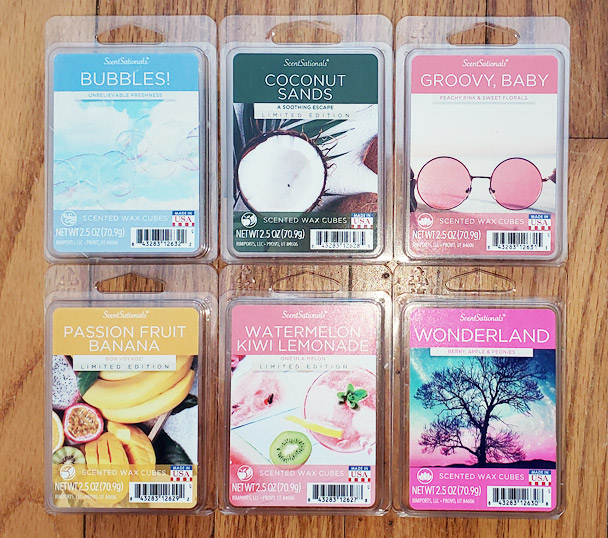 This is a review of the 6 ScentSationals Wax Melts from Walmart from Spring 2021: Bubbles, Coconut Sands, Groovy Baby, Passion Fruit Banana, Watermelon Kiwi Lemonade, and Wonderland.
ScentSationals usually comes out with 10 or 12 new Walmart wax melt scents in Spring and Fall, so this is the first time there are so few new scents. I do like the new labels though, with the much larger, easier to read scent names. There's also a small icon on the bottom left side of the label called a "Fragrance Family Icon" that represents the "type" of scent it is (floral, fruit, bakery, spice, wood, or fresh). ScentSationals will probably have the key posted somewhere near their melts in Walmart, and/or on their website (I've posted it below). This icon helps buyers to determine what type of scent it is, since it's not always apparent from the scent name or label.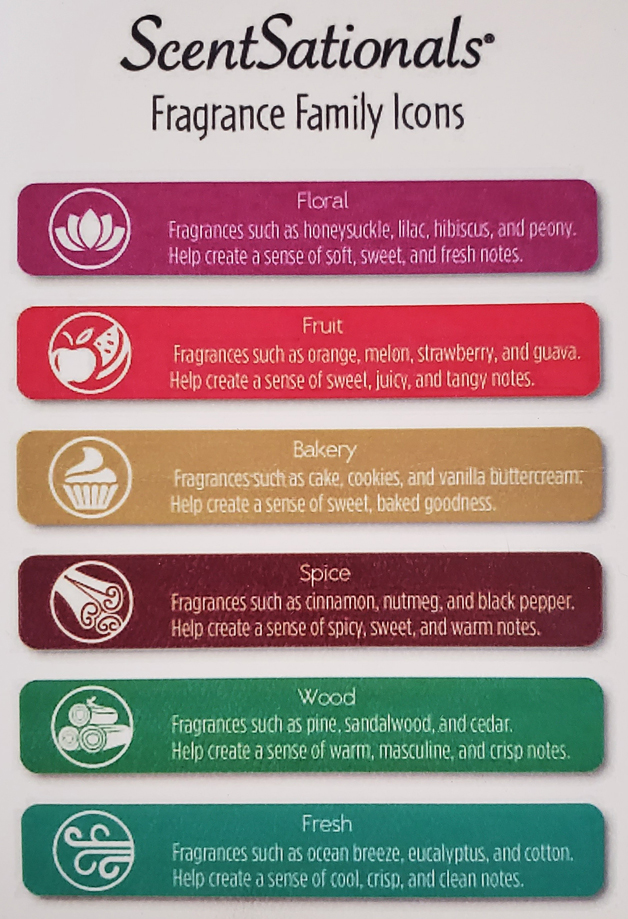 Bubbles
Crisp, breezy greens and white ozone fuse with brilliant notes of fresh florals and cool ozone finished with clean woods and ethereal musk.
The label says, "Unbelievable Freshness", and that's exactly what this scent is. It's a super fresh, super sweet laundry scent, but not a harsh detergent scent at all, more like fabric softener mixed with super sweet florals. It's similar to Febreze Downy April Fresh, but comparing them side by side, the Febreze scent is much sweeter with more of a gardenia note, while this scent has some other note in it, maybe a smidgen of coconut.
The notes are kind of the same as Better Homes & Gardens Line Dried Linen, just worded differently (line-dried linen infused with lush outdoor greens, shimmering citrus and blooming white florals lifted by breezy aldehyde freshness, tender musk and precious woods), but although they're both laundry scents, they're not the same scent (most notably, Line Dried Linen is not as sweet, and has a harsh detergent note).
Coconut Sands
The sophisticated blend opens with tropical coconut, peach and pineapple layered over a heart of lily, jasmine, rose and cyclamen for a gentle presence. Cedarwood, sandalwood and musk become the perfect finish with this harmonious scent.
An incredible scent of milky coconut (65%) with rich, warm mahogany (20%), bergamot (10%) which gives it a teensy bit of a cologney note, and maybe a hint of vanilla (5%). It could also have a smidgen of amber for warmth and a barely detectable sweet floral. It's like coconut with 25% of
Better Homes & Gardens Mahogany & Sandalwood
added. It's also similar to
AmbiEscents Beach Front
(but that scent had less of the coconut note and more of a soft, ambery perfumey note), and
Passion Fruit Coconut
(I don't think that scent had the cologney note). I thought based on the name and scent that it might be similar to
Sonoma Coconut Sea Salt
(formerly called Coconut Mahogany), but it's a different scent that, when melted, smells more like super sweet coconut candy. The guide on the bottom left shows this is a fruity scent. Looking at the notes, I don't detect any fruit at all, not even pineapple, which is often added to coconut scents, and no peach either. But there's the florals (although I don't smell rose), the cedarwood and sandalwood are probably what I think is mahogany, and the musk might be what I think is warm amber. This scent lasted all day!
Groovy, Baby
This new classic, beach-inspired scent combines luscious peach and apricot with coconut palm, orange and sea salt. In the heart, freesia and nectarine flower are mixed with sage and orange flower water for a soothing sensation. Warm sandalwood, golden amber sands and driftwood provide textural richness.
The label says, "Peachy pink & sweet florals", and that's what I smell. On cold sniff I smell mostly the floral, which is very sweet but with a hint of bitterness, not like rose. I've smelled this floral scent before but I don't remember what it is, perhaps peony. I do smell peach in the background on cold sniff. When melted, however, I smell more of the peach and a bit less of the floral. It also has a little bit of a watery, slightly soapy note (looking at the notes, that might be the coconut, although I don't smell coconut per se). I don't smell orange at all. I like it, although it's not my favorite because of the slight bitterness, and I'm not a fan of peach scents (but that's just me). The Walmart website shows the name of this scent as, "Rose Colored Glasses".
Passion Fruit Banana
Freshly sliced banana and tangy passion fruit are infused with glittering mango nectar, tart cassis, and pink grapefruit lavished with sweet vanilla sugar.
A fantastic, sweet tropical fruit scent that smells a bit like pineapple (passion fruit supposedly does have a pineapple note), but sweeter, not as harsh, and a bit "softer". It has a hint of sourness, but not nearly as much as some tropical scents, and in this case it actually works well with this scent. The softness might be the banana, but I really don't smell banana, although that might be what's tempering any harshness or sourness. It might also have a smidgen of vanilla way in the background. Looking at the notes, I don't smell grapefruit, although maybe that's the sourness, or the sourness could be from the "tart cassis" (although the sourness is not actually tart or bitter like grapefruit) or the "tangy" passion fruit. I'm not a fan of pineapple scents, but this scent is so much more. I really really like this one!
Watermelon Kiwi Lemonade
Sweet, juicy watermelon garnishes fresh squeezed lemonade sweetened with pure sugar cane
This scent smells like summer! It's a perfect combination of watermelon and lemon, and it's quite authentic. The lemon is a tart, lip-puckering lemon, in a good way. I don't think I detect any other fruits (like kiwi, which is a very sweet fruit). The scent is a little sour though, and just barely sweet (not as sweet as the notes would suggest), but it's great for mixing with other scents that may be too sweet, such as florals or very sweet fruity scents, and to which you'd like to add a summery watermelony lemonade note. Other people who have tried this scent say it's very sweet, like candy, and "sweet" and "sugar cane" are in the notes, so it must just be me! I'm also hearing that it smells like Bath & Body Works Watermelon Lemonade candles, which I haven't smelled.
Wonderland
Let your senses take a whimsical journey to Wonderland as you experience a magical blend of dewy white flowers, sparkling strawberry, & whipped vanilla.
A beautiful, relaxing sweet scent of apples and florals with a soft, watery note, and a hint of coconut. It might also have a smidgen of honeydew melon way in the background. The label says, "Berry, Apples & Peonies" (although there are no apples in the scent notes, but I do smell apple... I think... unless it's just the combination of strawberry and florals that smell like apple?). Peonies tend to have a rose-like fragrance, which I don't really detect, but the floral in this is sweeter, more like a gardenia or jasmine. As far as berries, it could have a smidgen of strawberry and that's what I think is the honeydew (and there's the strawberry in the notes). I'm surprised I don't see coconut, because I'm sure I smell a bit of coconut. It's a very sweet scent, and I love it!